Nougat bars are a great, tasty treat that's perfect for if you want something that's really easy to make. It is something that's fun, and they're absolutely amazing.
You can make them with three ingredients, or four ingredients, depending on how you want to incorporate it. You can even make these gluten-free if you want! Plus, it's super easy to do.
Another great thing about this, is that they're small. If you want to eat a handful of these, you're not going to feel regret with this, and you'll be able to feel good if you have a couple of these after dinner, and they're so tasty you definitely will have to hold back from having more than just a couple of them.
Tips:
What gumdrops should I use?
Try to get the sugar-free ones. The reason being, not just because they're healthier, but they don't stick together as much, which can make a huge difference in the way that you're able to pull them off.
It also makes it a lot easier for you to put together the dish when you're done, and when you cut this out in order to serve it, it's easier to manipulate, so it's better in the long haul for a few people, that's for sure.
Remember it later
Like this recipe! Pin it to your favorite board NOW!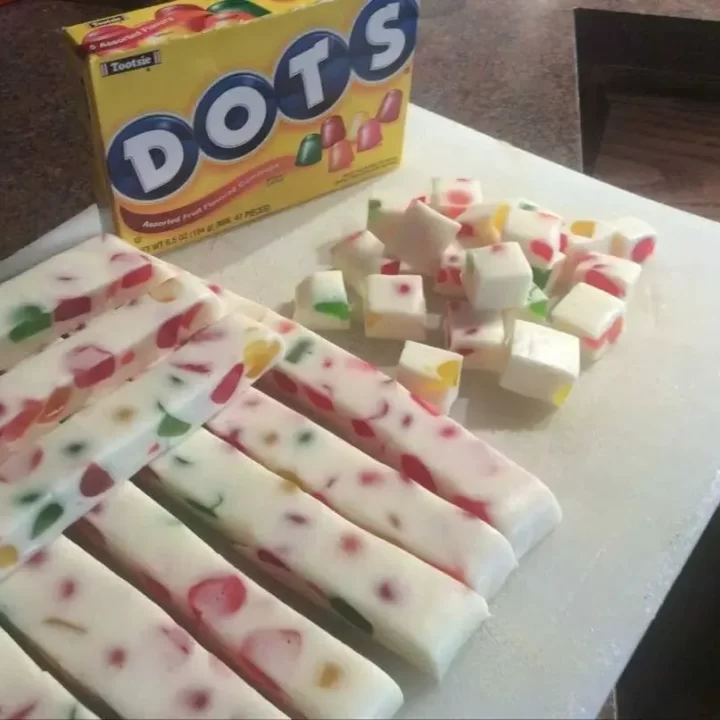 4-Ingredients Nougat Bars
Ingredients
2 tbsp butter
2 bags white chocolate chips (2 of the 225 gram bags)
2 bags of mini marshmallows (2 of the 250 gram bags)
1 1/2 cups chopped red and green gumdrops (see notes below for where to buy them)
Instructions
Get a baking dish and line it with parchment paper along the inside.
Take the gumdrops, put them in half and then put these inside
Grab the butter and melt it, and then, whisk together your marshmallows and the white chocolate so that it's able to be mixed together. You want to do this with some indirect heat. The best way to do this is to get a bowl that's heatproof, submerge it in water that's simmering a little bit, ensuring this is snugly put together so that it doesn't cause it to burn
Stir this together until everything's melted and smoothed out. It's good to make sure that you don't cook this, but rather you just melt it.
Take this off the heat, let it sit down there to cool for a couple minutes then put the gumdrops in there, stirring them in so that they are able to mixed well together.
Take the mixture, put this inside the pan that's prepared. It will be very sticky when you do put this in there, so you may need to cut off another piece of parchment paper to spread this out.
Once it's evened out, let it sit for at least 2 hours, ideally overnight, and then cut all of this into smaller pieces to serve!
You can store these in the fridge, and they're a great way to do so. you can also store them on the counter. Just when you're done, make sure to take the ones that are on top and put some parchment paper in between this so that the items don't stick altogether, in order to ensure an even, easy layer that's there to be used.
Nutrition Information:
Amount Per Serving:
Calories:

0
Total Fat:

0g
Saturated Fat:

0g
Trans Fat:

0g
Unsaturated Fat:

0g
Cholesterol:

0mg
Sodium:

0mg
Carbohydrates:

0g
Fiber:

0g
Sugar:

0g
Protein:

0g
Remember it later
Like this recipe! Pin it to your favorite board NOW!