Let's talk about the 5 Million Dollar Dip, a recipe that epitomizes simplicity, speed, and zero stress.
The 5 Million Dollar Dip is incredibly versatile and pairs well with a wide range of foods. It's the ultimate culinary companion, ready to enhance any meal.
With just five fundamental ingredients—mayonnaise, green onions, cheddar cheese, and bacon bits—this dip delivers a burst of flavor that will make your taste buds sing. The mayonnaise serves as a flavor amplifier, beautifully complementing the other ingredients and leaving your mouth feeling like a warm ray of sunshine.
Not only is this recipe a breeze to make, but it also won't break the bank. It's a budget-friendly option that won't cost you an arm and a leg.
So, indulge in the simplicity and deliciousness of the 5 Million Dollar Dip. It's an easy win that will elevate your dining experience without causing any stress. Enjoy every delightful bite!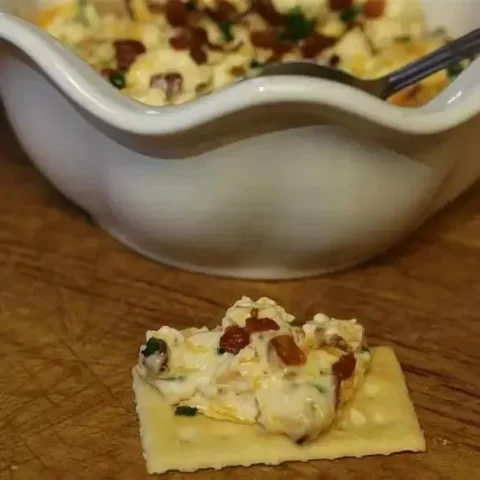 5-Minute Million Dollar Dip
Ingredients
5 green onions (chopped)
8 oz cheddar cheese (shredded)
1½ cups mayonnaise
½ cup real bacon bits
½ cup slivered almonds (cut)
Instructions
Step 1: Pour all the ingredients in a bowl and mix well until they are even and smooth.
Step 2: Keep in a refrigerator for at least 2 hours. You can serve with crackers or cookies depending on how you love it.
Tips and variations:
·If you do not like mayonnaise, you can change it and use greek yogurt or sour cream in the same proportion you'd use mayonnaise. However, the mayonnaise gives you the perfect taste for a 5 million dollar dip.
Nutrition Information:
Amount Per Serving:
Calories:

0
Total Fat:

0g
Saturated Fat:

0g
Trans Fat:

0g
Unsaturated Fat:

0g
Cholesterol:

0mg
Sodium:

0mg
Carbohydrates:

0g
Fiber:

0g
Sugar:

0g
Protein:

0g