These biscuits are amazingly light, fluffy, and easy! They are just like biscuits you get from fried chicken restaurants and are great with breakfast or dinner. Since moving to the South a couple of decades ago, I have been amazed at how many recipes call for a particular soda – all kinds of cookies, cakes, shrimp dishes, pulled pork, beans, grilled meats, ham, burgers… and biscuits. I felt for a long time that I was the only person who did not glaze a ham with Coca Cola.
I was excited to try these biscuits and I am glad I did. They only take 10 minutes to bake, and they are perfection! Eating one straight out of the pan is perfectly acceptable.
Notes:
• Dip biscuit cutter or rim of glass in flour to prevent dough from sticking.
• FREEZING BISCUITS: Baked biscuits can be frozen once cooled – the unbaked dough can also be frozen after you have cut the circles.
• To freeze baked or unbaked biscuits, wrap tightly in plastic wrap or foil, place in an airtight container such as a zippered freezer bag, removing as much air as possible. Freeze in a single layer so you can easily remove a few at a time. These will keep in the freezer for up to 3 months.
• Bake from frozen: biscuit dough can be baked straight out of the freezer at 450° F for 10-15 minutes. (Biscuits will take a few minutes longer to bake when dough is frozen.)
• Reheat baked from frozen: Reheat at 350° F for 10-12 minutes. Cover with foil, if needed, to keep your biscuits from getting too brown.
Print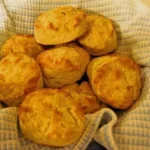 7 UP BISCUITS
---
4 cups of Bisquick (or another baking mix if desired)
1 cup sour cream (Greek yogurt will also work.)
1 cup 7-up (or any lemon-lime soda)
1/2 cup salted butter – melted
---
Instructions
Preheat oven to 450°
Mix together the sour cream and Bisquick until combined.
Add 7-up to the mixture. The dough will be very soft and wet.
Sprinkle additional Bisquick onto the counter, knead and fold dough until coated with your baking mix, and pat dough out (no rolling pin necessary) until it is about 1-inch thick.
Cut out round biscuit shapes with a biscuit cutter – if you don't have one, it's no problem, you can use a glass to cut out your biscuits. There are no hard and fast rules here so improvise if you need to.
Add enough dry Bisquick so that you can handle the dough without it totally sticking to your hands.
Melt butter in a 9-inch square pan. I stick my pan and butter in the oven for a few minutes. Only until the butter is melted, if left too long, the butter will burn, so watch for it to be done.
Place the cut biscuits on top of melted butter and bake for 12-15 minutes or until brown.
Bake pan of biscuits for 8-10 minutes at 450° F oven until golden brown. Serve with some jam, honey, butter, or honey butter.