Old-Fashioned Delight: Amish Apple Fritters
Take a step back in time with the simple, heart-warming recipe for Amish Apple Fritters. These sweet, fried treats filled with tender apples and a touch of cinnamon are a traditional Amish delicacy, bringing a piece of the simple life into your own kitchen.
Questions & Answers:
Q: Can I use a different type of fruit in this recipe?
A: Absolutely! While apples are traditional, you could substitute other firm fruits like pears or peaches. Berries could also work but might be a bit more fragile during the frying process.
Q: Can I bake Amish Apple Fritters instead of frying them?
A: Yes, while the texture will be different, you can bake the fritters as a healthier option. Place spoonfuls of batter onto a baking sheet and bake until they are firm and lightly browned.
Q: What type of apple works best for this recipe?
A: A firmer apple variety holds up best in these fritters. Granny Smith apples are a great choice due to their firmness and tart flavor, which contrasts nicely with the sweet batter and glaze.
Amish Apple Fritters are a deliciously sweet and slightly spiced treat that is perfect for a cozy breakfast or a decadent dessert. Try making them at home and enjoy a taste of the simple, satisfying Amish tradition in each bite. Let us know what you think in the comments below!
Print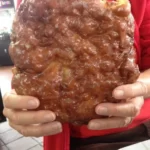 Amish Apple Fritter
---
3 cups all-purpose flour
1½ cups sugar
3 teaspoons baking powder
½ teaspoon salt
¾ teaspoon Apple Pie Spice
2 large eggs
1 cup milk
1 teaspoon vanilla
2 Tablespoons butter, softened
1½ cups peeled, chopped apples
Oil for frying
Confectioners sugar
---
Instructions
Pour oil into a deep skillet or Dutch oven to a depth of about 3 inches.
Heat to 375 degrees.
Sift flour, sugar, salt, and Apple Pie Spice into a large mixing bowl.
Place eggs in a separate bowl and beat them lightly.
Stir in milk and vanilla.
Make a well in the center of the dry ingredients and pour in the milk mixture. Add butter and beat with a mixer on low speed to moisten, about 1/2 minute. Scrape down sides of bowl and increase speed to medium for 2 minutes longer. Fold in apples. Using a 1/4 cup size measuring cup, drop into hot oil. Be careful not to splash the oil on yourself. If your pot is not very large at the top, you may be able to cook only one at a time.As the fritters cook, they will rise to the top.
When browned on the first side, carefully turn them over with a spatula to brown the second side.
Drain on paper towels and sprinkle immediately, and generously, with confectioner sugar or glaze I prefer glaze.
To make glaze confectioners sugar and milk or water whisk together and glaze while warm.
FAQs:
Q: What are Amish Apple Fritters?
A: Amish Apple Fritters are a type of doughnut made from a batter that's mixed with diced apples. Once the fritters are fried until golden brown, they are typically glazed with a sweet icing. These treats are a staple in Amish baking, known for their simplicity and satisfying flavor.
Q: How are Amish Apple Fritters made?
A: The fritter batter is made by combining flour, sugar, baking powder, salt, and a blend of warming spices. Eggs and milk are then mixed in to form a thick batter. Diced apples are folded in before the batter is dropped in spoonfuls into hot oil. Once the fritters are fried and golden, they are drained and cooled slightly before being dipped into a simple icing glaze.
Q: Can Amish Apple Fritters be made in advance?
A: While Amish Apple Fritters are best enjoyed fresh, you can make them a day ahead and store them in an airtight container. If you want to serve them warm, you can reheat them briefly in the oven.