CARAMEL APPLE PIE BREAD PUDDING! Can you believe it? Combining the goodness of apple pie and the comfort of bread pudding – this is an absolute must-try! The sight and the thought of it are simply amazing. Whether you're looking for a delightful dessert or a special breakfast treat, this creation has got you covered.
It's quite intriguing that, over the course of four years with our blog, we've never shared a bread pudding recipe. It's been penciled into the schedule so many times (just wait… truffles… pumpkin… chicken… I'm not entirely sure why it hasn't materialized yet), but somehow it keeps getting pushed aside. Whether it's due to the weather, lack of motivation, or some other feeble excuse, those days are behind us now. I just had to share this recipe while your appetite for apples is still going strong. (And let's be honest, who isn't still craving apples, apple-infused creations, bread, pudding, and that rich caramel essence? I know I am… and I'm guessing you are too.)
The foundation of this delight is made from those lovely bread cubes (if you can let them air out for a few hours to get delightfully dry, that's perfect. If not, just lay them out on a baking sheet and pop them into a 350-degree oven for 10-15 minutes until they're dry but not toasted.), along with eggs, apples, and a delightful blend of vanilla yogurt, milk, and spices.
Let me give you a heads up – your kitchen is going to be infused with the most enchanting aroma while this masterpiece bakes. It's a fragrant journey you won't want to miss.
As for the caramel sauce, it's an easy variation of similar recipes, often dubbed "caramel sauce," "brown-sugar sauce," "butterscotch sauce," or some imaginative mix of those terms. Personally, I think this rendition leans more toward that true caramel flavor, so that's what we're going with here, alright? Alright.
For the final touch, pair it with a scoop of vanilla ice cream. A bit indulgent, perhaps? Absolutely. But sometimes, a little bit of "evil" is exactly what we need, right? You know it.
Print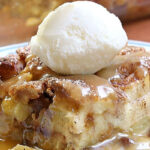 Apple Pie Bread Pudding
---
8 cups

bread, cubed

3

medium apples, peeled, cored and chopped

4

eggs

1 cup

vanilla yogurt

1 cup

milk

2 tsp

cinnamon, divided

½ tsp

nutmeg

½

c sugar +

2 Tbsp

½ cup raisins
Sauce

1 cup

Unsalted Butter

1 cup

Heavy Cream

1 cup

Brown Sugar
---
Instructions
Preheat oven to 350°.
Spray a 9×13 baking dish with cooking spray.
In a large bowl, whisk together the yogurt, milk, eggs, 1 tsp cinnamon, nutmeg, and ½ cup sugar.
Stir in the apples, raisins, then gently fold in the bread cubes. Pour into the prepared pan.
In a small bowl, stir together 2 Tbsp sugar and 1 tsp cinnamon.
Sprinkle on top the bread pudding. Bake 30-40 minutes until puffed and golden brown.
While the bread pudding is baking, make the caramel sauce.
In a heavy saucepan over medium-low heat, stir together the butter, heavy cream, and brown sugar; bring to a boil.
Reduce heat to low, simmer until the sauce thickens, for about 5 minutes. Pour over bread pudding to serve. Top with vanilla ice cream.
* If you can leave bread cubes out for a few hours so they get nice and dry. If not, just place them on a baking sheet and bake them at 350 for 10-15 minutes or until they're dry but not toasted.
* You can make this the night before and pop it in the oven for breakfast – it actually gets better if it sits overnight!