This Apple Pie Filling Coffee Cake is a delightful twist on the classic coffee cake, elevating it to a whole new level of indulgence. The moist and tender white cake, infused with a touch of cinnamon and the richness of sour cream, provides the perfect canvas for the star of the show: luscious apple pie filling. Topped with a simple yet heavenly glaze, this coffee cake embodies the essence of a comforting autumn day.
Why You'll Love This Recipe:
This coffee cake strikes a harmonious balance between sweet, tart, and spiced flavors. The convenience of using store-bought cake mix and apple pie filling makes it a hassle-free treat, perfect for both novice and experienced bakers. Whether served as a delightful dessert or a special breakfast, this coffee cake captivates with its layers of texture and taste.
Recipe Tips and Variations:
Apple Pie Filling: If you prefer a homemade touch, you can prepare your apple pie filling using a blend of apples, sugar, cinnamon, and a hint of lemon juice.
Nuts and Spices: Enhance the texture by adding chopped nuts like walnuts or pecans to the cake batter. A pinch of nutmeg in the glaze can add a warm, comforting aroma.
Glaze Consistency: Adjust the milk quantity in the glaze to achieve your preferred consistency. For a thicker glaze, use less milk; for a thinner drizzle, add more milk.
Why This Coffee Cake Stands Out:
Apple Pie Filling Layer: The apple pie filling creates a delightful layer within the cake, infusing each bite with the taste of freshly baked apples, sugar, and cinnamon.
Moisture from Sour Cream: The addition of sour cream to the cake batter ensures a moist, tender crumb that perfectly complements the apple filling.
Easy and Quick: Utilizing a cake mix streamlines the preparation process, making this coffee cake a quick and convenient option for impromptu gatherings or last-minute sweet cravings.
What to Serve With This Coffee Cake:
This Apple Pie Filling Coffee Cake is a delightful standalone treat. However, it pairs wonderfully with a dollop of freshly whipped cream or a scoop of vanilla ice cream for a decadent dessert experience. For a morning indulgence, enjoy it alongside a steaming cup of coffee or a refreshing mug of hot apple cider.
Remember it later
Like this recipe! Pin it to your favorite board NOW!
Print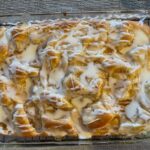 APPLE PIE FILLING COFFEE CAKE
---
Author:

Total Time:

55 minutes
For the Cake:
1 package white cake mix (2 layers)
1 teaspoon ground cinnamon
1 cup sour cream
3 eggs
1/4 cup water
1 (21 oz) can apple pie filling
For the Glaze:
1 cup confectioners' sugar
1–1 1/2 tablespoons milk
---
Instructions
Preparing the Cake:
Preheat the oven to 350°F (175°C). Grease a 9 * 13 inch baking dish.
In a large bowl, combine the white cake mix, ground cinnamon, sour cream, eggs, and water. Mix with a hand mixer or stand mixer until smooth and well incorporated.
Baking the Cake:
Pour the cake batter into the prepared baking dish, spreading it out evenly.
Spoon the apple pie filling over the cake batter, covering the entire surface in an even layer.
Baking and Cooling:
Bake the cake in the preheated oven for 40 minutes or until a toothpick inserted into the center comes out clean.
Remove the cake from the oven and allow it to cool completely in the baking dish on a wire rack.
Preparing the Glaze:
In a small bowl, whisk together the confectioners' sugar and 1 to 1 1/2 tablespoons of milk until smooth and pourable.
Glazing the Cake:
Once the cake is completely cooled, drizzle the prepared glaze over the top, allowing it to cascade down the sides.
Serving and Enjoying:
Slice the Apple Pie Filling Coffee Cake into squares or rectangles.
Serve and savor each delectable bite, reveling in the layers of moist cake and the delightful apple filling, all enhanced by the sweet glaze.
Notes
This Apple Pie Filling Coffee Cake brings the warmth and comfort of a classic apple pie into a convenient, shareable form. Its enticing aroma and irresistible taste make it a delightful addition to any gathering or a special treat for the family. As you indulge in each forkful, you'll experience the nostalgia of a homemade apple dessert, inviting you to savor the essence of fall with every bite.
Prep Time:

15 minutes

Cook Time:

40 minutes

Category:

DESSERT
Remember it later
Like this recipe! Pin it to your favorite board NOW!