these Avocado Tacos, where the creamy richness of ripe avocados meets the zesty flavors of seasoned ground beef. This recipe transforms ordinary tacos into a gourmet delight, combining the natural creaminess of avocados with the savory goodness of taco-seasoned beef. Topped with a blend of cheese, sour cream, salsa, and a sprinkle of green onions, these Avocado Tacos offer a delightful contrast of textures and tastes, making them a perfect choice for a quick and satisfying meal. Prepare your taste buds for a tantalizing journey through the vibrant world of Mexican-inspired flavors.
Why You'll Love This Recipe:
These Avocado Tacos offer a unique and mouthwatering twist on traditional tacos. The creamy avocados provide a cooling contrast to the spiced beef, while the combination of cheese, sour cream, and salsa adds layers of flavor. This recipe is perfect for busy weeknights when you want a delicious meal without spending hours in the kitchen. With minimal prep and maximum flavor, these tacos are sure to become a family favorite.
Recipe Tips and Variations:
Avocado Selection: Choose ripe but firm avocados for the best texture. They should yield slightly to gentle pressure without being overly soft.
Taco Seasoning: You can use store-bought taco seasoning or make your own by combining chili powder, cumin, paprika, garlic powder, onion powder, and a pinch of salt. Adjust the seasoning to your taste preferences.
Toppings: Customize your Avocado Tacos with your favorite toppings. Consider adding sliced jalapeños, chopped cilantro, or a squeeze of fresh lime juice for an extra burst of flavor.
Tortilla Options: Use your favorite type of tortillas, such as soft flour tortillas or corn tortillas, based on your preference.
Serving Suggestion: Serve these Avocado Tacos with a side of Mexican rice, refried beans, or a simple green salad for a well-rounded and satisfying meal.
Why These Avocado Tacos Stand Out:
Creamy and Savory Balance: The creamy texture of ripe avocados balances the bold and spiced flavors of the taco-seasoned ground beef, creating a harmonious and satisfying bite.
Quick and Easy: With minimal ingredients and simple preparation steps, these Avocado Tacos are perfect for busy days when you want a delicious meal without the fuss.
Versatile Toppings: The combination of shredded cheese, sour cream, salsa, and green onions offers a variety of flavors and textures in every bite, making each taco a delightful culinary experience.
What to Pair With These Tacos:
Pair these Avocado Tacos with a refreshing pitcher of homemade Agua Fresca, a traditional Mexican beverage made with fresh fruit, water, and a touch of sweetness. Try flavors like watermelon, cucumber-lime, or pineapple, and serve over ice for a cool and hydrating accompaniment to your tacos. For a non-alcoholic twist, consider Virgin Margaritas or Horchata, a creamy cinnamon-flavored rice drink, to complete your Mexican-inspired feast.
Remember it later
Like this recipe! Pin it to your favorite board NOW!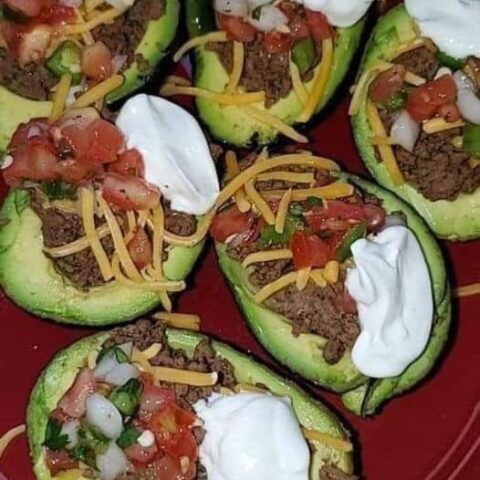 AVOCADO TACOS
Ingredients
1 lb. Ground beef
1 Packet of taco seasoning
½ Onion, chopped
1 cup Shredded taco blend cheese
4 tablespoons Sour cream
4 tablespoons Salsa
¼ cup Green onions, chopped
2 Ripe avocados
Instructions
Heat a skillet over medium-high heat and add the ground beef and chopped onion. Cook until the meat is completely browned and the onions have softened.
Drain any excess fat from the skillet.
Sprinkle the taco seasoning over the meat and onions. Stir to combine, ensuring the seasoning coats the meat evenly.
Preparing the Avocado Shells:
Cut the avocados in half lengthwise and remove the pits.
Scoop out the flesh from the inside of the avocados, leaving a well in the center for the taco meat.
Assembling the Tacos:
Fill the avocado shells with the seasoned taco meat, dividing it evenly among the avocado halves.
Top each stuffed avocado half with shredded cheese, a dollop of sour cream, and a spoonful of salsa.
Garnish the Avocado Tacos with chopped green onions for a fresh and vibrant finish.
Serving and Enjoyment:
Serve the Avocado Tacos immediately, allowing everyone to enjoy the creamy avocado, spiced beef, and flavorful toppings in every bite.
Optionally, offer additional toppings such as sliced jalapeños, chopped cilantro, or lime wedges for a personalized taco experience.
Notes
These Avocado Tacos offer a delectable fusion of textures and flavors, making them a delightful addition to your menu. Whether shared with friends at a casual gathering or enjoyed as a quick weeknight dinner, these tacos provide a satisfying and flavorful experience. With the rich creaminess of avocados and the bold spices of taco-seasoned beef, these tacos are a culinary adventure that celebrates the vibrant and diverse flavors of Mexican cuisine. Prepare to indulge in a taco experience like no other, where every bite is a celebration of creamy, spicy, and savory goodness. Enjoy your culinary journey through these Avocado Tacos, where simplicity meets extraordinary taste.
Nutrition Information:
Amount Per Serving:
Calories:

0
Total Fat:

0g
Saturated Fat:

0g
Trans Fat:

0g
Unsaturated Fat:

0g
Cholesterol:

0mg
Sodium:

0mg
Carbohydrates:

0g
Fiber:

0g
Sugar:

0g
Protein:

0g
Remember it later
Like this recipe! Pin it to your favorite board NOW!