Get ready to elevate your snack game with our irresistible Bacon Cheeseburger Egg Rolls!
"Welcome to the fusion of flavors, where the classic cheeseburger meets the crispy delight of egg rolls!"
In the world of creative culinary mash-ups, there's a delightful invention that combines the beloved flavors of a cheeseburger with the crispy appeal of an egg roll: Bacon Cheeseburger Egg Rolls. Picture succulent ground beef, crisped bacon, onions, garlic, pickles, and gooey cheese, all nestled inside a golden, crunchy egg roll wrapper. Each bite is a perfect balance of savory, salty, and cheesy goodness, making it an ideal snack, appetizer, or party treat. Join us as we explore the art of crafting these delectable Bacon Cheeseburger Egg Rolls, where the essence of a classic cheeseburger meets the satisfying crunch of an egg roll.
Our Bacon Cheeseburger Egg Rolls are a testament to the art of flavor fusion. Ground beef, sizzling bacon, aromatic garlic, and onions unite to create a savory symphony of taste. The addition of diced pickles and shredded cheese elevates the flavor profile, making each bite a delightful experience. The mixture is carefully encased in egg roll wrappers, creating a tantalizing contrast between the crispy exterior and the juicy, flavorful interior. These egg rolls are not just a snack; they are a celebration of inventive cuisine, showcasing the marriage of comfort food classics in a new and exciting form. Whether served as an appetizer or enjoyed as a meal, these Bacon Cheeseburger Egg Rolls are sure to leave a lasting impression.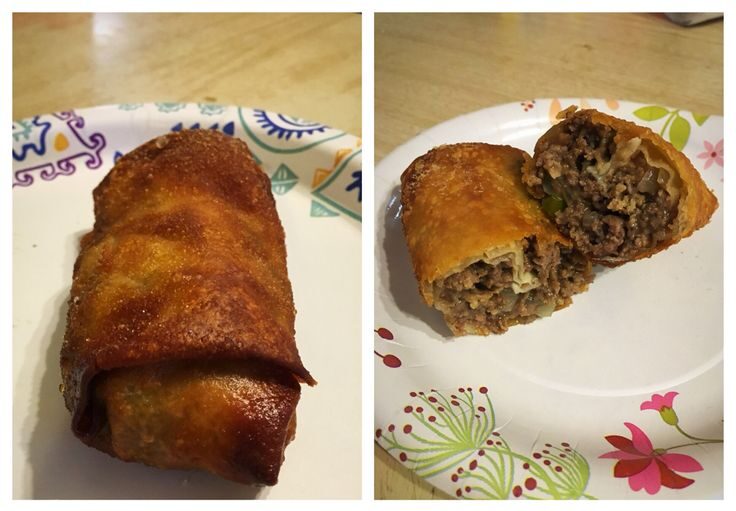 Frequently Asked Questions:
Can I freeze the Bacon Cheeseburger Egg Rolls before frying?
Yes, you can assemble the egg rolls and freeze them on a baking sheet. Once frozen, transfer them to an airtight container or freezer bag. Fry them directly from frozen when you're ready to enjoy; just adjust the frying time slightly for frozen rolls.
 Can I bake these egg rolls instead of frying them?
Certainly! Preheat your oven to 375°F (190°C). Place the assembled egg rolls on a baking sheet lined with parchment paper. Lightly brush them with oil or spray with cooking spray. Bake for 20-25 minutes or until they are golden brown and crispy, turning them halfway through the baking time for even browning.
Substitutions and Variations:
Experiment with different types of cheese, such as cheddar, pepper jack, or even a melty cheese blend, to customize the flavor to your preference.
Closing:
As you bite into these Bacon Cheeseburger Egg Rolls, experience the delightful crunch giving way to the savory, cheesy, and smoky goodness inside. Share these delicious creations with your friends and family, and relish in the joy of innovative comfort food. Here's to the perfect blend of classic flavors and creative cooking. Happy munching!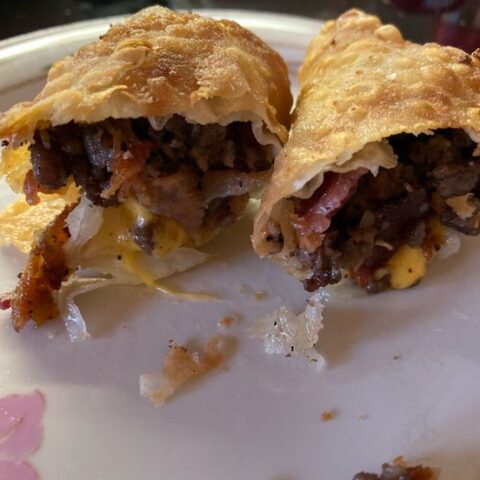 Bacon Cheeseburger Eggrolls
Bacon Cheeseburger Egg Rolls are a testament to the art of flavor fusion. Ground beef, sizzling bacon, aromatic garlic, and onions unite to create a savory symphony of taste.
Ingredients
2 pounds ground beef
4 slices bacon
1/2 white onion, diced
5 cloves garlic, minced
1/2 cup diced pickles or pickle relish
1/2 teaspoon salt
1/2 teaspoon pepper
1/4 cup cold water
2 teaspoons cornstarch
1 cup shredded cheese
15 to 20 egg roll or wonton wrappers
Oil for frying
Instructions
Fry the bacon in a large skillet until crisp. Set aside on paper towels to drain excess grease.
In the same pan, add garlic and onion; sauté until the onions are translucent.
Add ground beef to the pan, crumbling it as you add. Season with salt and pepper. Cook until the ground beef is no longer pink. Remove from heat and drain excess fat.
Chop the bacon into pieces and add it to the beef mixture. Also, add diced pickles and shredded cheese. Stir well to combine.
In a small bowl, mix cornstarch and water together to create a slurry. Using a pastry brush, brush the outer edges of the egg roll wrappers with the slurry.
Place roughly 3 tablespoons of the hamburger mixture at one edge of the wrapper, leaving about 1/2 inch from the sides. Fold in the sides of the wrapper and roll it up lengthwise, sealing the edges with the slurry.
Heat oil in a skillet, about 1/2 inch deep. When the oil is hot, carefully place a few egg rolls into the skillet and fry, turning routinely to get all sides golden brown.
Remove the egg rolls with a slotted spoon and place them on paper towels or a cooling rack to drain excess oil. Continue frying until all rolls are cooked.
Serve hot with your favorite dipping sauce. For a Big Mac style dipping sauce, mix ketchup with mayonnaise and add pickle relish.
Enjoy your crispy, cheesy, and savory Bacon Cheeseburger Egg Rolls!
Notes
For a spicy kick, add a pinch of red pepper flakes or a dash of hot sauce to the beef mixture.
Nutrition Information:
Amount Per Serving:
Calories:

0
Total Fat:

0g
Saturated Fat:

0g
Trans Fat:

0g
Unsaturated Fat:

0g
Cholesterol:

0mg
Sodium:

0mg
Carbohydrates:

0g
Fiber:

0g
Sugar:

0g
Protein:

0g