Prepare your taste buds for a party because our Bacon-Wrapped Smokies are about to take your appetizer game to a whole new level. Imagine the savory allure of crispy bacon embracing each miniature smoked sausage, creating a delectable bite-sized treat. This recipe is not just a snack; it's a flavor experience that will leave you and your guests coming back for more.
Resume of the Recipe:
Bacon-Wrapped Smokies are the ultimate crowd-pleaser, perfect for any gathering or game day spread. The simplicity of this recipe belies its incredible taste. With just three ingredients – bacon, miniature smoked sausage links, and brown sugar – you'll create a dish that's both sweet and savory, with a satisfying crunch in every bite.
Closing:
Bacon-Wrapped Smokies are the epitome of irresistible snacking. Whether you're hosting a party or simply craving a delicious treat, these little bites of perfection are sure to satisfy. The combination of smoky sausage, crispy bacon, and a hint of sweetness from the brown sugar creates a harmonious flavor that will have everyone reaching for more.
Frequently Asked Questions:
Can I prepare Bacon-Wrapped Smokies ahead of time and reheat them?
Absolutely! You can assemble the smokies ahead of time and refrigerate until ready to bake. Just add a few extra minutes to the baking time if they are cold.
Can I use maple-flavored bacon for a sweeter twist?
Yes, maple-flavored bacon can add a delightful sweetness to the smokies. Feel free to experiment with different bacon varieties for unique flavor profiles.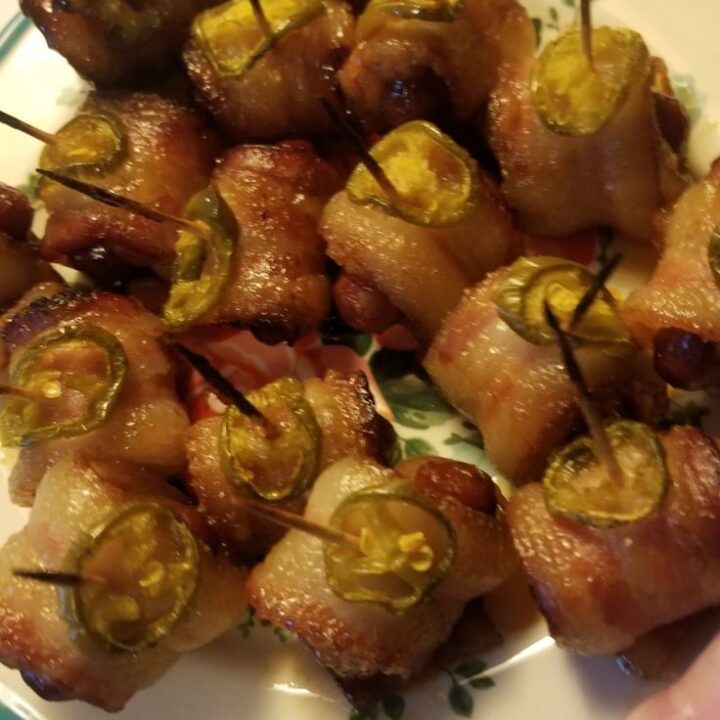 Bacon Wrapped Smokies
Ingredients
1 pound sliced bacon
1 package (16 ounces) miniature smoked sausage links
1/3 cup packed brown sugar
Instructions
Preheat your oven to 400°F. Line a 15x10x1-inch baking pan with foil for easy cleanup.
Cut each bacon strip in half widthwise. Wrap one piece of bacon around each miniature smoked sausage.
Place the wrapped smokies in the prepared baking pan, ensuring they are evenly spaced.
Sprinkle the wrapped smokies with packed brown sugar, adding a touch of sweetness to complement the savory bacon.
Bake the smokies, uncovered, in the preheated oven until the bacon is crisp, and the sausages are heated through. This typically takes around 30-40 minutes.
Notes
For an extra kick, consider adding a pinch of cayenne pepper or a dash of your favorite hot sauce to the brown sugar before sprinkling it over the smokies.
Nutrition Information:
Amount Per Serving:
Calories:

0
Total Fat:

0g
Saturated Fat:

0g
Trans Fat:

0g
Unsaturated Fat:

0g
Cholesterol:

0mg
Sodium:

0mg
Carbohydrates:

0g
Fiber:

0g
Sugar:

0g
Protein:

0g