Garlic and Parmesan are a beautiful combination if you ask me – that is why this Garlic Parmesan Chicken is one of my favorites. It is also easy to make, does not take long, and is fantastic.
The chicken is juicy, the cream cheese adds a wonderful creamy texture, the parmesan is toasted and crispy, and the garlic makes it shine – yes, I use a lot of garlic because it adds so much flavor to most dishes. When I have served this to dinner guests, everyone raved that the chicken is incredible. So, not only does my family love it, but guests also love it too.
When deciding what to serve with the chicken, pick your favorite sides – there are so many options that go perfectly! This is one recipe that stays in stack of recipes to make often!
Enjoy!
Notes:
• Cuts of Chicken: I use chicken cutlets because the thinner cut works really well in this dish. For thick chicken breasts, cut them in half lengthwise so they are half the thickness. Chicken thighs and chicken strips (tenderloins) also work great. You may need to adjust the cooking time but follow the rule that the internal temperature needs to be 165°F.
• Leftovers: To store leftovers, transfer the chicken to an airtight container and either refrigerate for up to 3-4 days or freeze up to one month.
• Side Dish Ideas:
Broccoli– Pairs beautifully with the chicken. Asparagus and green beans also complement the flavors of the Garlic Parmesan Chicken.
Pasta– A simple pasta tossed in a small amount of olive oil or melted butter.
Mashed Potatoes– Mashed potatoes are great with some pan juices poured over the top!
Garlic Bread– If you are a garlic aficionado like me, more garlic is better! A crusty baguette with garlic butter is delicious with this chicken and dunking it in the pan juices is incredible.
Rice or Risotto– Regular plain grain rice or for a more elegant presentation, risotto complement this chicken well.
Salad – Any salad will work terrific. A simple salad or something more elaborate like a Spinach Strawberry Salad will be a perfect side.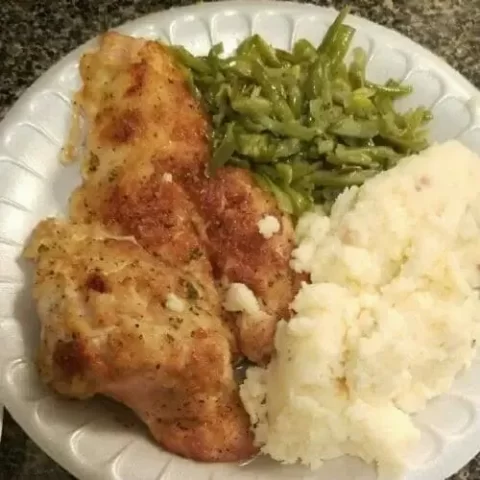 Baked Garlic Parmesan Chicken
Ingredients
2 lbs. boneless skinless chicken breast cutlets (see note)
8 oz. cream cheese – softened
1/2 cup sour cream or Greek yogurt
4 cloves garlic crushed through a garlic press
1/4 tsp. salt
1/4 tsp. ground black pepper
1/2 cup mozzarella cheese
1 cup freshly grated parmesan cheese – divided into 2 half cups
Fresh chopped parsley – optional garnish
Instructions
Preheat oven to 375˚F. Butter a 9×13 baking dish. Set aside.
In a medium bowl, combine the softened cream cheese, sour cream, garlic, salt, pepper, and 1/2 cup of the parmesan cheese and mix well.
Lay the chicken breasts flat in the prepared baking dish.
Spread the cheese mixture over the chicken, then sprinkle the mozzarella cheese, and remaining 1/2 cup of the parmesan cheese over the top.
Bake at 375˚F for 25-35 minutes or until the chicken reaches an internal temperature of 165˚F.
Garnish with fresh parsley and serve warm with your favorite sides.
Nutrition Information:
Amount Per Serving:
Calories:

0
Total Fat:

0g
Saturated Fat:

0g
Trans Fat:

0g
Unsaturated Fat:

0g
Cholesterol:

0mg
Sodium:

0mg
Carbohydrates:

0g
Fiber:

0g
Sugar:

0g
Protein:

0g