Baked Garlic Parmesan Chicken. This is one of those gems that simply belongs in every culinary repertoire. It's uncomplicated, and it effortlessly comes together in a snap. In fact, it's a challenge to go wrong with this one!
Now, picture this scenario: you're back home after a demanding day, and the thought of preparing a nutritious meal amidst a sea of pending tasks feels like a puzzle to solve. We've all been there – that moment when you'd rather curl up on the couch than stand in the kitchen.
Please don't misunderstand, I'm not complaining. But here's the essence of it: having a collection of quick, go-to recipes is a lifesaver. These are the dishes that materialize effortlessly with minimal effort and planning. And guess what? This Baked Garlic Parmesan Chicken is my culinary confidant in such situations. You see, I have a soft spot for recipes that transform plain chicken into a delectable masterpiece without a fuss. Recently, many of you have reached out for simpler, family-friendly dinner ideas – and folks, take note, this recipe is exactly that!
With a mere 5 minutes dedicated to preparation and a baking time of around 40 minutes, believe me when I say it's a genuine time-saver and an absolute delight. Crafting this dinner might actually require less effort than opting for takeout or dining out. And let's not forget the irresistible lineup here: succulent chicken breasts, the warm embrace of garlic, the richness of Parmesan, and the delightful crunch of bread crumbs, all harmoniously baked to perfection in the oven, with a delicate drizzle of creamy mayonnaise! I mean, what's not to adore, right? It's a culinary symphony of flavors and simplicity, and it's bound to make weeknight dinners a whole lot more enjoyable.
Print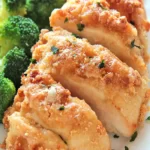 Baked Garlic Parmesan Chicken
---
Author:

Total Time:

45 minutes

Yield:

4

Servings

1

x
½ cup Mayonnaise
½ cup shredded Parmesan cheese
4 boneless skinless chicken breast cutlets.
4–5 teaspoons Italian seasoned dry bread crumbs
½ teaspoon garlic powder
pinch of salt

½ teaspoon lemon pepper
---
Instructions
Preheat oven to 400 degrees F.
In a small bowl combine mayo, garlic powder, and parmesan cheese.
Moisten chicken breasts with water and lay on baking sheet (I line my baking sheet with parchment paper to make clean up easy)
Divide the mayonnaise mixture evenly among the chicken, just spreading it across the top of each piece, and sprinkle with salt and pepper to taste.
Bake for 15-20 minutes, remove from oven and sprinkle bread crumbs on each piece of chicken.
Return to oven and bake for additional 20 minutes or until chicken is cooked thoroughly and juices run clear.
Tops will be browned and chicken will be incredibly juicy.
You can also finish them off under the broiler for a minute or two to get them extra browned on top.
Serve with a veggie like these delicious fresh broccoli that I steamed.
Season with a dash of fresh parsley, if desired.
Prep Time:

5 minutes

Cook Time:

40 minutes