Banana splits – a dessert that needs no introduction. Bananas, cherries, and nuts, combined with an array of toppings, all harmoniously fused into one tempting treat. While we're not reinventing the wheel here, if you're a fan of both the classic banana split and the playful spirit of ambrosia or fluff salads, then this recipe is tailor-made for you – presenting the Banana Split Fluff Salad.
This dish pays homage to the vintage charm of yesteryear's "salads," nodding to the jiggly, jello-encased marvels of the 1950s. It's the perfect party companion, effortlessly crafted and sure to bring a smile to every face. Imagine savoring all the beloved banana split flavors, artfully reimagined with a touch of creativity and a handful of marshmallows tossed in for good measure.
With a delightful base of banana pudding and frozen whipped topping, we've added sliced bananas, pineapple, chocolate chips, walnuts, and cherries into the mix. The result? A decadent dessert that retains its charm without the worry of melting away. So, the next time you ponder your dessert options, consider this: skip the usual ice cream and opt for this delightful twist instead!
Why You Should Try It:
If you're a fan of the iconic banana split, this dessert is a dream come true. It takes all the beloved elements of a banana split and transforms them into a cloud-like, refreshing salad. Each spoonful offers a symphony of flavors and textures, from the sweetness of bananas to the tartness of strawberries and the crunch of nuts. It's a dessert that appeals to all ages, perfect for picnics, potlucks, or simply indulging in a moment of pure bliss.
Exciting Story:
Picture a summer evening, a backyard adorned with fairy lights, and a table laden with desserts. Among the treats, the Banana Split Fluff Salad steals the show. As guests take their first bites, their eyes light up in surprise and delight. Children and adults alike are captivated by the playful combination of flavors. It becomes the topic of conversation, a dessert that sparks laughter and camaraderie. It's more than just a salad; it's a memory in the making, a dessert that becomes a legend in family gatherings.
Why This Banana Split Fluff Salad Is a Must-Have:
Joyful Fusion of Favorites.
This dessert isn't just a salad; it's a banana split reimagined. The velvety whipped cream embraces the sweetness of bananas, the tartness of strawberries, the richness of chocolate, and the crunch of nuts. It's a dessert that captures the essence of childhood delights, bringing the magic of a banana split into a light, airy, and utterly delectable form.
What Makes It Unique:
Whipped to Perfection.
What sets this Banana Split Fluff Salad apart is its airy, fluffy texture. The whipped cream envelops the fruits and nuts, creating a dessert that's as delightful to the palate as it is to the eyes. It's a unique twist on the traditional banana split, offering a refreshing and delightful experience with every spoonful.
Remember it later
Like this recipe! Pin it to your favorite board NOW!
Print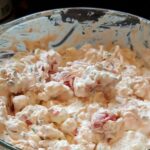 BANANA SPLIT FLUFF SALAD
---
Author:

Total Time:

15 minutes

Yield:

4

-

6

Servings

1

x
1 – 20 ounce can crushed pineapple (do not drain)
1 – 8 ounce container Cool Whip
1 cup mini marshmallows
1/2 cup finely chopped walnuts + 2 Tablespoons for garnish
1/2 cup mini chocolate chips
2 ripe bananas, sliced
1 – 10 ounce jar maraschino cherries, halved
1 – 3.4 ounce box instant banana pudding
---
Instructions
Step1: Stir together the pudding mix and pineapple until dissolved and thickened. Fold in the Cool Whip.
Step2: Gently stir in the marshmallows, nuts, chocolate chips, bananas, and cherries.
Step3: Refrigerate at least 1 hour to chill. Makes about 8 cups
Remember it later
Like this recipe! Pin it to your favorite board NOW!