Savor the Flavor with Barbecue Shrimp
Enjoy the taste of summer all year round with our tantalizing Barbecue Shrimp recipe! Smoky, tangy, and a little bit spicy, these grilled crustaceans are the perfect centerpiece for any backyard cookout or cozy family dinner.
These Sausage and Shrimp Kabobs are very easy to prepare! All you need are these simple ingredients and easy steps, and you are good to go! In just about 20 minutes, these delicious treats are ready for serving! I highly recommend this recipe! You will not be disappointed at all! If you are having a BBQ party, then don't skip this recipe.
Questions & Answers:
Q: Can I use any type of shrimp for this recipe?
A: Yes, you can use any size or variety of shrimp, but we recommend using larger ones as they're easier to grill and have a meatier texture.
Q: Can I use a store-bought barbecue sauce?
A: Absolutely! Using a store-bought sauce can save time, just choose one that suits your taste preference.
Q: What should I serve with Barbecue Shrimp?
A: Barbecue Shrimp pairs well with a variety of sides. Some suggestions include grilled vegetables, coleslaw, cornbread, or a simple green salad.
This Barbecue Shrimp recipe is perfect for anyone looking to spice up their grilling game. The smoky, tangy, and slightly spicy flavors are sure to be a hit with family and friends. Try it out and let us know your thoughts in the comments below!
Print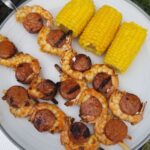 BARBECUE SHRIMP
---
2 teaspoons olive oil
2 tablespoons Barbecue Seasoning
12 ounces smoked sausage rope
12 ounces shrimp jumbo, tail-on, peeled and deveined
---
Instructions
Prepare the grill and preheat to about 175 degrees C or 350 degrees F. (Make sure to clean the grates before preheating.)
Slice the sauce into the same thickness as the shrimp about 1-inch thick.
Use paper towels to pat dry the shrimp, then place them into a large mixing bowl.
In the bowl with the shrimp, add BBQ seasoning, sausage, and olive oil. Toss everything until well incorporated.
Thread the ingredients with skewers. Make sure to shape the shrimp into a letter "C". Repeat the process with the rest of the ingredients.
Place them over the preheated grill, then cook for 3 minutes on each side or until done.
Transfer onto a clean serving plate.
Serve and enjoy!
Notes
Make sure to soak the wooden skewers in water for half an hour before grilling to prevent them from burning.
You can use metal skewers instead.
Make sure to double the recipe if you are serving more than 6 people.
Do not overcook the shrimp. 3 minutes on each side is just enough to cook them.
Make sure to devein the shrimp. Peel them and remove the vein on the back of each shrimp.
FAQs:
Q: What is Barbecue Shrimp?
A: Barbecue Shrimp refers to shrimp that has been marinated or basted in a barbecue-style sauce and then grilled or broiled. The sauce often includes ingredients like ketchup, vinegar, sugar, and various spices.
Q: How do you prepare Barbecue Shrimp?
A: First, the shrimp are cleaned and deveined. Then, they're tossed in a barbecue-style marinade and allowed to sit for a while so they can absorb the flavors. Finally, the shrimp are quickly grilled or broiled, often while being basted with more sauce.
Q: Can I make Barbecue Shrimp in advance?
A: You can certainly prepare and marinate the shrimp in advance, but we recommend grilling them just before you plan to serve for the best flavor and texture. Grilled shrimp can get rubbery if reheated.