I love how easy and simple this recipe is. With these 3 ingredients, you will surely have the best lunch or dinner ever! My Grandma taught me this recipe when I was about 10 years old. Since then, I've been cooking it all the time! I have listed all the ingredients and directions so all you have to do is to follow them step by step and you are good to go! As perfect as this recipe already is, feel free to add more ingredients if you prefer. I am sure that you can do a lot to make this recipe even better! I prefer a sweet version of this. Just simply mix the bbq sauce with ¼ cup of sugar. I highly recommend it! Serve this with your preferred side dish, and you have yourself a meal to remember! Have a beautiful day, friends, and I hope you are all well today. Enjoy!
Note:
If you want a sweet version, try adding ¼ cup of brown sugar into the barbecue sauce.
Prep Time: 5 mins | Cook Time: 4 hrs | Total Time: 4 hrs 5 mins | Yield: 8 Servings
Print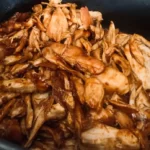 BBQ PULLED CHICKEN
---
2 lbs boneless, skinless chicken breasts
1 c BBQ sauce
3 tbsp Italian dressing
---
Instructions
Add the chicken breasts into the slow cooker, then season them with salt and pepper.
Pour the Italian dressing and barbecue sauce on top.
Cover the slow cooker and cook for 3 hours on a low setting or 6 hours on a high setting.
Use two forks to shred the chicken into small pieces.
Serve with your preferred side dish. Enjoy!
Notes
Nutrition Facts:
CALORIES: 203KCAL | CARBOHYDRATES: 15G | PROTEIN: 24G | FAT: 4G | SATURATED FAT: 1G | CHOLESTEROL: 73MG | SODIUM: 551MG | POTASSIUM: 507MG | FIBER: 1G | SUGAR: 12G | VITAMIN A: 114IU | VITAMIN C: 2MG | CALCIUM: 17MG | IRON: 1MG