BBQ Wings
Let's spice up your next barbecue with our finger-licking good BBQ Wings! Perfectly grilled until crispy on the outside and juicy on the inside, these wings are doused in a tangy and slightly sweet BBQ sauce that will have you reaching for seconds… and thirds.
Questions & Answers:
Q: Can I use store-bought BBQ sauce?
A: Absolutely! Using a store-bought BBQ sauce can save time and there are a variety of flavors available to suit your tastes.
Q: Can I bake the wings instead of grilling them?
A: Yes, you can bake the wings in the oven if you prefer. This method can be easier and less messy than grilling.
Q: What sides go well with BBQ Wings?
A: Traditional sides for BBQ Wings include celery and carrot sticks, coleslaw, corn on the cob, potato salad, or fries. But feel free to pair them with any of your favorite sides!
BBQ Wings are a classic favorite for a reason – they're deliciously messy, fun to eat, and packed with flavor. Try our recipe for your next cookout and let us know how you like it in the comments below!
Print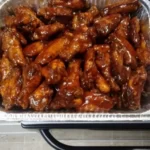 BBQ Wings Homemade Sauce
---
+for 20 wings
° 1 cup of flour (125 g)
° 1 teaspoon chilli powder
° 1 teaspoon kosher salt
° 1 teaspoon black pepper, freshly ground
° 1 teaspoon of paprika
° 1 teaspoon garlic powder
° 20 chicken wings or drumsticks
° 1 cup BBQ sauce (290g)
° ½ cup of honey (170 g)
---
Instructions
* Preheat the oven to 425°F (220°C).
* In a bowl, combine flour, chili powder, salt, pepper, paprika and garlic powder. Evenly coat wings in flour, shaking off excess.
* Place the floured wings on a baking sheet lined with parchment paper and spread them out in a single layer.
* Baking for 45 min, flip halfway through, to skin is crispy & golden brown.
* Preheat the oven to 500°F (250°C).
* In another bowl, combine the BBQ sauce and honey. Stir cooked wings into sauce and coat evenly.
* Return the coated wings to the baking sheet and spread them out in a single layer.
* Bake for 8 to 10 minutes, until the sauce is bubbly and caramelized. Cool, then serve.
FAQs:
Q: What are BBQ Wings?
A: BBQ Wings are chicken wings that are seasoned, grilled, and then coated in BBQ sauce. They can be served as a main dish or appetizer and are a popular choice for parties and barbecues.
Q: How do you make BBQ Wings?
A: To make BBQ Wings, you start by seasoning your chicken wings. Then, you grill the wings until they're crispy and fully cooked. Finally, you toss the grilled wings in your favorite BBQ sauce and serve them up with a side of blue cheese or ranch dressing.
Q: Can I make BBQ Wings in advance?
A: Yes, you can grill the wings and prepare the BBQ sauce in advance. However, we recommend tossing the wings in the sauce and reheating them in the oven just before serving to ensure they're hot and the sauce is at its best.