Prepare your taste buds for a Mexican fiesta with our Savory Beef and Cheese Mexican Sanchiladas! This dish embodies the rich flavors of seasoned ground beef, zesty enchilada sauce, and the gooey goodness of melted cheese, all wrapped in warm flour tortillas. Topped with a tantalizing sour cream drizzle and garnished with fresh cilantro and scallions, these sanchiladas are a culinary celebration that will transport you straight to the heart of Mexico.
Why You Should Try It:
Craving a hearty, flavorful meal that's quick to prepare? Look no further! These Sanchiladas are the answer. Whether you're hosting a dinner party or just want to treat your family to something special, this dish combines the convenience of a weeknight dinner with the indulgence of a weekend feast. It's a delicious, satisfying experience that brings the essence of Mexican cuisine to your table.
Exciting Story:
Picture a vibrant Mexican kitchen, filled with the aroma of sizzling beef and spicy seasonings. As the savory beef mixture simmers in the skillet, the anticipation in the air is palpable. The moment arrives to assemble the sanchiladas – warm tortillas cradle the beef, cheese, and lettuce, creating a delectable filling. With artistic precision, the sour cream drizzle is applied, adding a creamy contrast. The final touch: a shower of fresh cilantro and scallions. As the dish comes together, the kitchen is transformed into a culinary haven, where every bite tells a story of flavor, tradition, and the joy of sharing a delicious meal.
Why These Sanchiladas Are a Must-Try:
These Sanchiladas effortlessly blend the robust taste of seasoned ground beef with the creamy richness of cheese and the tangy notes of enchilada sauce. Every bite is a harmonious dance of flavors, a testament to the artistry of Mexican cuisine.
What Makes Them Unique:
What sets these Sanchiladas apart is their customizable nature. Tailor each one to your preference – extra cheese, a generous drizzle of sour cream, or a sprinkle of fresh cilantro – creating a personalized culinary experience. It's the joy of indulging in a dish that reflects your unique taste.
Remember it later
Like this recipe! Pin it to your favorite board NOW!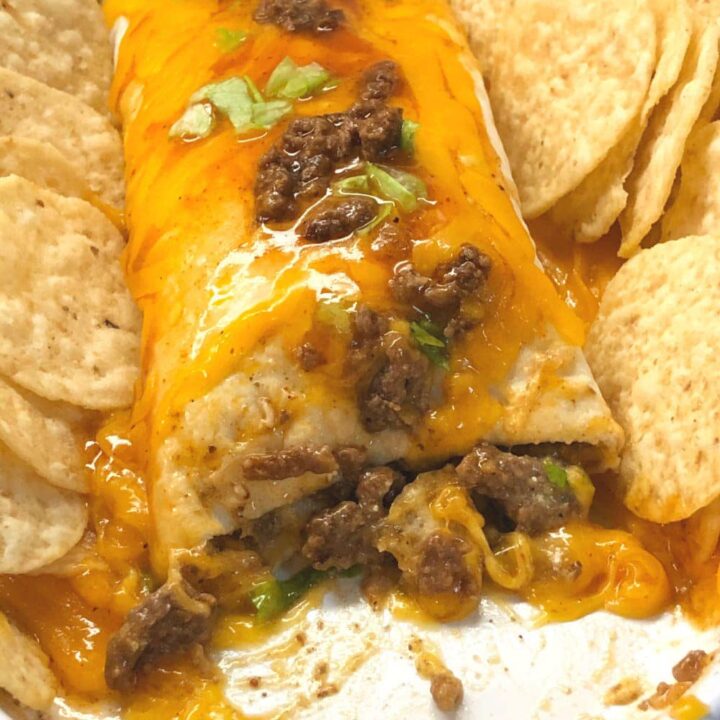 BEEF AND CHEESE MEXICAN SANCHILADAS
Ingredients
1 lb. lean ground beef
1/2 tsp. granulated onion
1/2 tsp. granulated garlic
2 – 10 oz. cans mild red enchilada sauce
Shredded cheddar cheese
Chopped lettuce
1 cup sour cream
4 8-inch flour tortillas, warmed
Tortilla chips, for serving alongside the sanchiladas
Chopped cilantro and scallions, for garnishing, if desired
Instructions
In a skillet over medium-high heat, brown the ground beef with granulated onion and granulated garlic until cooked throughout; drain any fats.
Stir in one can of enchilada sauce, cooking until hot; remove from heat.
Place a warm tortilla on a work surface. Spread one-fourth of the beef mixture in a 2-inch strip across the center; top with cheese and lettuce.
In a small bowl, mix sour cream with 1/4 cup of enchilada sauce. Place in a sandwich bag, snip the corner, and pipe two sour cream strips over the filling.
Roll the tortilla around the filling and place in a greased glass baking dish. Repeat for remaining sanchiladas.
Pour enchilada sauce over the sanchiladas and top with shredded cheese. Garnish with scallions or cilantro.
Microwave sanchiladas until heated throughout. Serve with tortilla chips. Enjoy your Mexican flavor fiesta!
Notes
Tips for Making the Best Beef and Cheese Mexican Sanchiladas
Warming the tortillas in the microwave before you roll them around the filling makes them much easier to work with.
We prefer beef for sanchiladas, but you could actually use any ground meat, such as ground turkey, ground pork, or even ground venison.
If you prefer, you can substitute green enchilada sauce for the red enchilada sauce for a new twist on your sanchiladas.
We use mild red enchilada sauce but if you prefer a more spicy sauce and experience, opt for the hot red enchilada sauce, or stir a bit of red pepper flakes into the mild enchilada sauce.
Nutrition Information:
Amount Per Serving:
Calories:

0
Total Fat:

0g
Saturated Fat:

0g
Trans Fat:

0g
Unsaturated Fat:

0g
Cholesterol:

0mg
Sodium:

0mg
Carbohydrates:

0g
Fiber:

0g
Sugar:

0g
Protein:

0g
Remember it later
Like this recipe! Pin it to your favorite board NOW!