The Ultimate Comfort Food: Beef Stroganoff Casserole
When the chill of winter sets in, or when you're just in need of a big, comforting hug from your dinner, our Beef Stroganoff Casserole is there for you. A twist on the classic dish, this hearty casserole has all the creamy, savory goodness of traditional stroganoff, baked to perfection in one convenient dish.
Questions & Answers:
Q: Can I use a different type of meat in Beef Stroganoff Casserole?
A: Yes, you can certainly substitute the beef with other types of meat. Chicken or turkey would work well, or for a vegetarian version, you could use a hearty vegetable like eggplant or a meat substitute.
Q: Can I add vegetables to my Beef Stroganoff Casserole?
A: Absolutely. While not traditional, adding vegetables like peas, carrots, or spinach could add extra flavor, color, and nutrition to your casserole.
Q: How should I store leftovers?
A: Leftover Beef Stroganoff Casserole should be cooled, covered, and refrigerated. It will keep for about 3-4 days. To reheat, cover with foil and bake in the oven until heated through.
This Beef Stroganoff Casserole is a fantastic dish for pleasing a crowd, or for having delicious leftovers throughout the week. Its comfort food appeal, combined with the convenience of a casserole, makes it a winning recipe. Give it a try and let us know how you love it in the comments below.
Print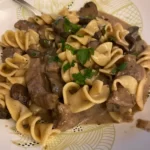 Beef Stroganoff Casserole
---
1½

Lbs.Of stewing beef.

1½ Cups

.Of halved mushrooms.

1

large chopped onion.

4

sprigs of fresh thyme.

⅓ Cup

.Of all-purpose flour.

½ Tsp

.Of garlic powder.

½ Tsp

.Of table salt.

½ Tsp

.Of ground black pepper.

½ Tsp

.Of paprika.

2 Tbsp

.Of sunflower oil.

2 Tbsp

.Of soft butter.

⅔ Cup

.Of low sodium beef broth.
Dry egg noodles; I used an 8-ounces Pkg.

1 Tbsp

.Of fresh parsley.
---
Instructions
Start by preheating your oven to 300°F before you begin cooking. Then after, add the flour and spices in a large mixing bowl. Set the container aside.
After that, slice away any excess fat from the meat and gently toss it with the flour mixture to coat it well.
In a skillet, heat the vegetable oil and butter over medium high heat until the butter has melted. Add the dredged beef pieces and cook until a crust formed on each side, about 3 minutes each side.
Put all of the ingredients in a 9×13-inch pan and mix well. Add the beef broth and mix well. Bake for 2 hours, or until the meat is fork tender, if using aluminum foil.
In the meanwhile, whisk together the sour cream, Gravy cube, and cornstarch in a small mixing bowl until smooth. Cook the egg noodles for 2 minutes shorter than the box directions suggest for. Drain thoroughly.
Remove the steak from the oven and raise the temperature to 350 degrees Fahrenheit. Remove the thyme sprigs from the pan and whisk in the egg noodles and the gravy mixture until everything is well combined. Bake for a further 15 minutes, just until the mixture is hot and bubbling.
FAQs:
Q: What is Beef Stroganoff Casserole?
A: Beef Stroganoff Casserole is a variation of the traditional Beef Stroganoff. It involves tender pieces of beef and mushrooms in a creamy sauce, typically made with sour cream, served over egg noodles. In the casserole version, these components are combined and baked together, often with a topping of cheese for extra indulgence.
Q: What are the key ingredients in Beef Stroganoff Casserole?
A: The key ingredients in Beef Stroganoff Casserole are beef, mushrooms, onions, garlic, egg noodles, sour cream, beef broth, flour, and often cheese for topping. Some variations might include a splash of white wine in the sauce or different herbs and spices for added flavor.
Q: Can I make Beef Stroganoff Casserole ahead of time?
A: Yes, Beef Stroganoff Casserole is a great dish to prepare in advance. You can assemble the casserole and refrigerate it until you're ready to bake. Alternatively, you can fully bake it, let it cool, and then reheat it in the oven when ready to serve.
[inline_related_posts title="CHECK OUT THESE AWESOME, EASY RECIPES:" title_align="left" style="list" number="4″ align="none" ids="" by="categories" orderby="rand" order="DESC" hide_thumb="no" thumb_right="no" views="no" date="yes" grid_columns="2″ post_type="" tax=""]