classic comfort food, there's a dish that stands as a symbol of hearty, satisfying indulgence – the Ultimate Homemade Lasagna. Imagine perfectly cooked noodles cradling layers of a rich and savory blend of Italian sausage, ground beef, and a tantalizing tomato-based sauce. Each bite is a harmony of flavors, with the creaminess of ricotta, the gooey stretch of melted mozzarella, and the sharp bite of Parmesan. Join us on a culinary adventure as we unravel the secrets behind crafting the perfect pan of lasagna, a dish that embodies the essence of home-cooked warmth and timeless satisfaction.
Resume of the Recipe:
Our Ultimate Homemade Lasagna is a labor of love that begins with the careful preparation of each component. From the savory meat sauce, simmered to perfection with a medley of herbs and spices, to the creamy ricotta mixture that adds layers of richness, every detail contributes to the symphony of flavors that make this lasagna truly exceptional. The assembly involves strategically layering noodles, cheese, and sauce, creating a masterpiece that bakes to perfection in the oven. The result is a bubbling, golden-brown dish that exudes a tempting aroma, inviting you to indulge in a slice of lasagna perfection.
Substitutions and Variations:
Experiment with a blend of Italian cheeses or add a layer of sautéed spinach for an extra burst of flavor and nutrients.
Closing:
As you bring the aroma of our Ultimate Homemade Lasagna into your home, savor the anticipation of each layer, each bite, and each moment of shared joy around the table. This lasagna is more than a meal; it's a celebration of tradition, a testament to the art of homemade comfort, and a dish that brings people together. Share it with loved ones, make it for special occasions, and let the warmth of this classic Italian masterpiece fill your heart and your kitchen. Happy baking and, most importantly, happy indulging!
Frequently Asked Questions:
Can I assemble the lasagna ahead of time and refrigerate before baking?
Absolutely! Assemble the lasagna, cover it tightly with foil, and refrigerate for up to 24 hours before baking. This allows the flavors to meld even further.
Can I freeze leftovers?
Yes, lasagna freezes exceptionally well. Cut it into individual portions, wrap tightly in plastic wrap and foil, and freeze for up to 3 months. Reheat in the oven for a comforting meal anytime.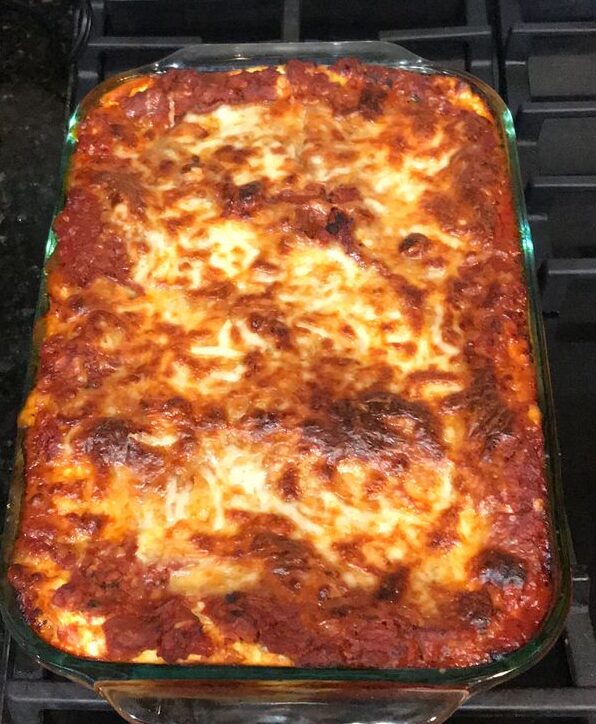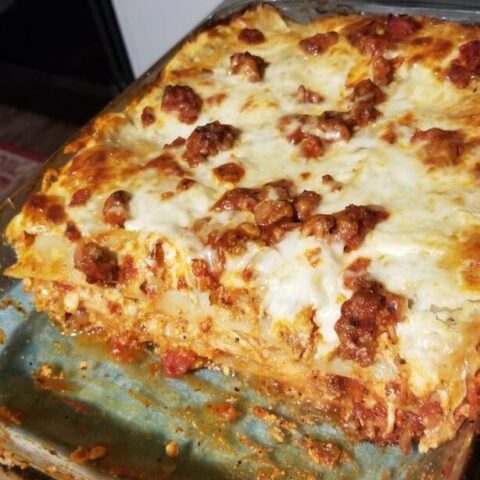 Best Lasagna
Yield:
Approximately 12 servings
Cook Time:
1 hour
20 minutes
Total Time:
2 hours
5 minutes
Ingredients
9 lasagna noodles
1-1/4 pounds bulk Italian sausage
3/4 pound ground beef
1 medium onion, diced
3 garlic cloves, minced
2 cans (one 28 ounces, one 15 ounces) crushed tomatoes
2 cans (6 ounces each) tomato paste
2/3 cup water
2 to 3 tablespoons sugar
3 tablespoons plus 1/4 cup minced fresh parsley, divided
2 teaspoons dried basil
3/4 teaspoon fennel seed
3/4 teaspoon salt, divided
1/4 teaspoon coarsely ground pepper
1 large egg, lightly beaten
1 carton (15 ounces) ricotta cheese
4 cups shredded part-skim mozzarella cheese
3/4 cup grated Parmesan cheese
Instructions
Cook the lasagna noodles according to package directions. Drain and set aside.
In a Dutch oven, cook the Italian sausage, ground beef, and diced onion over medium heat until the meat is no longer pink, breaking it into crumbles. Add minced garlic and cook for an additional minute. Drain.
Stir in crushed tomatoes, tomato paste, water, sugar, 3 tablespoons parsley, basil, fennel seed, 1/2 teaspoon salt, and pepper. Bring to a boil, then reduce heat and simmer, uncovered, for 30 minutes, stirring occasionally.
In a small bowl, mix the egg, ricotta cheese, remaining 1/4 cup parsley, and 1/4 teaspoon salt.
Preheat the oven to 375°F (190°C). Spread 2 cups of the meat sauce into an ungreased 13x9-in. baking dish.
Layer with 3 noodles and a third of the ricotta mixture. Sprinkle with 1 cup mozzarella cheese and 2 tablespoons Parmesan cheese. Repeat layers twice.
Top with the remaining meat sauce and cheeses. The dish will be full, and that's a good thing!
Bake, covered, for 25 minutes. Then, uncover and bake for an additional 25 minutes or until bubbly.
Let the lasagna stand for 15 minutes before serving. This allows the layers to set and flavors to meld.
Notes
For a time-saving option, consider using no-boil lasagna noodles. Simply layer them directly into the dish without pre-cooking.
Nutrition Information:
Amount Per Serving:
Calories:

0
Total Fat:

0g
Saturated Fat:

0g
Trans Fat:

0g
Unsaturated Fat:

0g
Cholesterol:

0mg
Sodium:

0mg
Carbohydrates:

0g
Fiber:

0g
Sugar:

0g
Protein:

0g