Do you like scalloped potatoes?
Finding the perfect recipe for it is a challenge, and there's always something that you may not be sure to do with this. Luckily, we've found the perfect scalloped potatoes, and this recipe is so simple that it works like a charm. When you use this recipe, it will not let you down.
This is the perfect side dish, and it's one that's great because it offers consistency that you may not get with any other potato dish, so certainly worth it if you decide you want to create scalloped potatoes for a dinner side.
Tips:
Should I skimp out on the milk?
Absolutely not! The milk is a major part of this, and it's something that helps to create the texture and the taste that works for this.
Without the milk, it usually makes the sauce a little bit too thick, and not as smooth and creamy as it would with the other kinds of sauces over the top of it.
If you want to make it even smoother, add more milk, but make sure that all of the milk put in is cold, since it mixes better, and is smooth.
What makes this recipe different?
This one uses some pretty simple ingredients, but that's what a lot of these recipes do wrong. It doesn't require you to have to get a bunch of ingredients and to throw it in there, but instead, creating ingredients that work for this, and those that offer a lot of flavor and taste help to make this different from the rest of the recipes.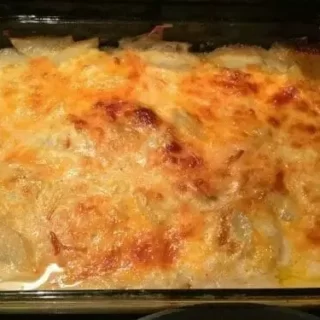 Best Scalloped Potatoes
Ingredients
4cups thinly sliced potatoes
3tablespoons butter
3tablespoons flour
1 1⁄2cups milk
1teaspoon salt
1dash cayenne pepper
1cup grated sharp cheddar cheese
1⁄2cup grated cheese, to sprinkle on top
Instructions
Grab a small pan used for sauce, and then melt your butter and put the flour in there, blending it together until it fully combines. Let this sit for a bit to thicken up.
Put the cold milk the recipe calls for into there, stirring this completely with your whisk.
Put the cayenne and the salt on top of it, seasoning the mixture.
Take the saucepan and cook this on low heat until it's boiling and the consistency is smooth. You may need to stir this every so often with your whisk used in the previous step.
Lower your heat, and then add more cheese in to stir it.
Add about half of the potatoes that you've sliced into a dish that's greased. Make sure it's a casserole kind of dish.
Put half of the sauce on top of the potatoes there, and then, do another layer with the potatoes, followed by the sauce you made.
When finished, put another layer of cheese along the top of this as needed.
Place it in your oven at 350, and make sure it's not covered.
From there, you can cook this until it's a nice golden brown color. You can from there add a topping of paprika to the top of this if you'd like to add a little more color.
Nutrition Information:
Amount Per Serving:
Calories:

0
Total Fat:

0g
Saturated Fat:

0g
Trans Fat:

0g
Unsaturated Fat:

0g
Cholesterol:

0mg
Sodium:

0mg
Carbohydrates:

0g
Fiber:

0g
Sugar:

0g
Protein:

0g