BEST STEAK MARINADE IN EXISTENCE ! It's a combination of soy sauce, olive oil, lemon juice, Worcestershire sauce, garlic, basil, pepper, cayenne, and parsley. Believe me, this is hands-down the best marinade for steak that I've ever tasted. The flavors are so bold and it's made with simple ingredients that you probably already have in your kitchen. For the best taste, I recommend marinating your steak all day long. Then, either grill or pan sear it to perfection. Trust me, this dish will rival any fancy steakhouse you've ever been to.
Ingredients:
Let's take a closer look at the ingredients that make up this amazing steak marinade recipe:
Soy sauce: This savory, umami-rich ingredient is the backbone of the marinade. It adds depth and complexity to the flavor profile and helps tenderize the meat.
Olive oil: Not only does olive oil provide a rich, luxurious mouthfeel, but it also helps the other marinade ingredients penetrate the meat more easily.
Lemon juice: The bright, zesty flavor of lemon juice adds a refreshing note to the marinade, balancing out the richness of the other ingredients.
Worcestershire sauce: This classic condiment is a must-have for any steak marinade. It adds a complex, savory flavor that is hard to replicate with other ingredients.
Garlic: Garlic provides a pungent, aromatic kick that pairs perfectly with the other ingredients in the marinade.
Basil and parsley: These fresh herbs add a bright, fragrant dimension to the marinade, enhancing its overall flavor and aroma.
Cayenne pepper: For those who like a little heat, cayenne pepper adds a spicy kick to the marinade that complements the other flavors perfectly.
Together, these ingredients create a marinade that is both complex and well-balanced, with a rich, savory flavor that is hard to beat.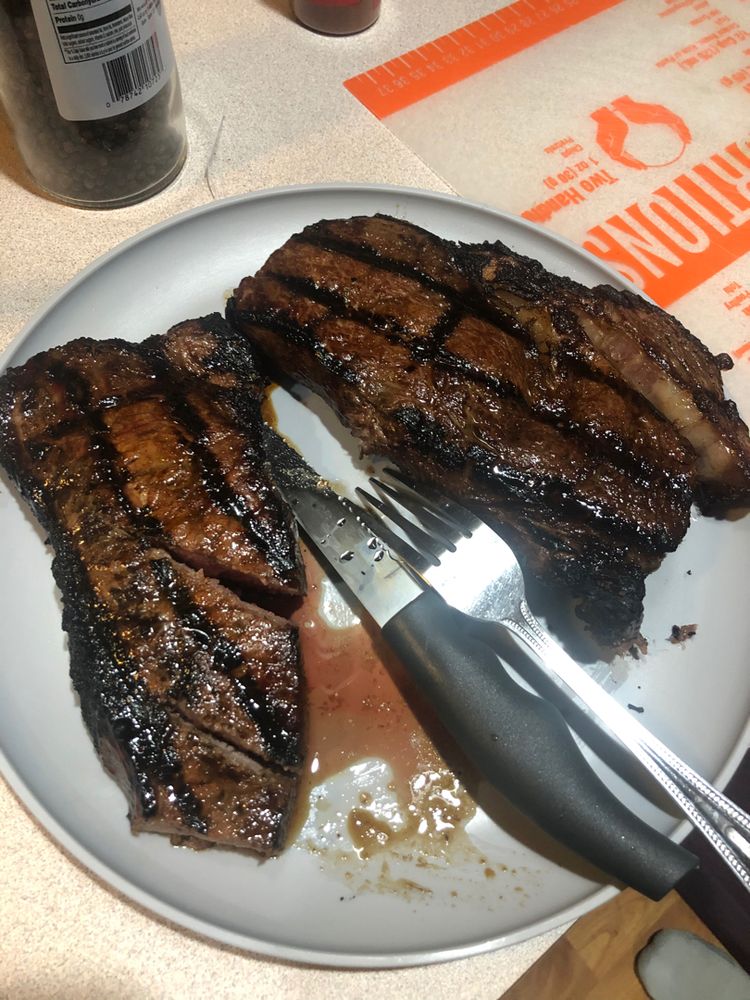 Marinating Tips:
Now that you have all of your ingredients ready, it's time to start marinating your steak! Here are a few tips to ensure that your steak turns out perfectly every time:
Marinate for at least 4 hours: For best results, marinate your steak for at least 4 hours, or up to 24 hours. This will give the flavors time to fully penetrate the meat.
Use a resealable plastic bag: A resealable plastic bag is the best container to use for marinating steak, as it allows the marinade to fully coat the meat and eliminates any air pockets that could prevent it from absorbing the flavors.
Massage the marinade into the meat: Once you've added the marinade to the bag, make sure to massage it into the meat to ensure that it fully coats the steak.
Let the steak come to room temperature before cooking: Before cooking your steak, let it come to room temperature by taking it out of the refrigerator at least 30 minutes beforehand. This will help it cook more evenly.
By following these simple tips, you'll be well on your way to grilling the perfect steak every time.
Cooking Instructions:
After your steak has finished marinating, it's time to cook it to perfection! Here are some tips for getting  that perfect sear:
Preheat your grill or pan: Whether you're grilling or pan-searing your steak, it's important to preheat your cooking surface before adding the meat. This will help ensure a nice sear on the outside while keeping the inside juicy and tender.
Use high heat: For the best sear, use high heat on your grill or stovetop. This will help caramelize the marinade on the outside of the steak and create a delicious crust.
Don't overcook your steak: For best results, cook your steak to medium-rare or medium, depending on your preference. Use a meat thermometer to check the internal temperature and remove the steak from the heat when it reaches the desired doneness.
Let it rest: Once your steak is cooked to perfection, let it rest for a few minutes before slicing into it. This will allow the juices to redistribute and ensure a juicy, flavorful steak.
With these cooking tips, you'll be able to create a perfectly cooked steak that is bursting with flavor and texture.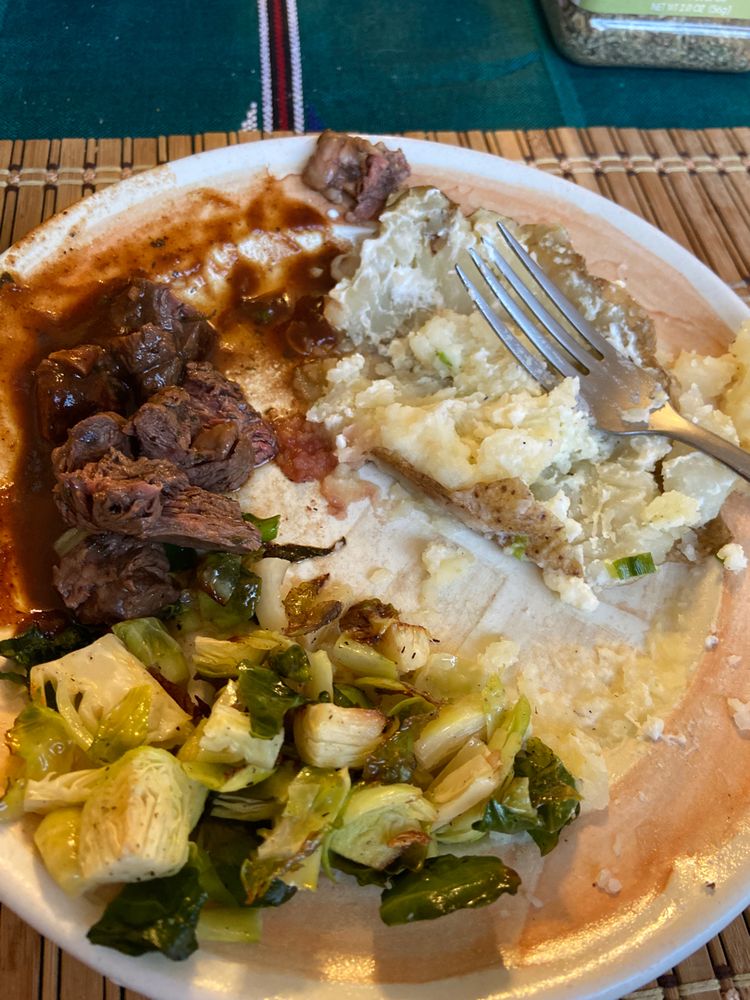 Serving Suggestions:
Now that your perfectly marinated and cooked steak is ready, it's time to think about how to serve it up. Here are a few ideas for sides and accompaniments that will make your steak dinner even more delicious:
Roasted vegetables: Roasting vegetables is an easy and flavorful way to create a healthy and satisfying side dish that pairs perfectly with steak. Try roasting some broccoli, asparagus, or carrots with a little olive oil and salt for a simple and tasty accompaniment.
Baked potato: A classic baked potato is a simple but satisfying side dish for any steak dinner. Top it with butter, sour cream, and chives for a classic flavor combination, or get creative with toppings like bacon, cheese, or even chili.
Salad: A crisp, fresh salad is a great way to balance out the richness of a steak dinner. Try a simple green salad with a vinaigrette dressing, or get creative with ingredients like sliced strawberries, crumbled feta cheese, or toasted nuts.
Wine: No steak dinner is complete without a delicious glass of wine. Pair your meal with a full-bodied red wine like Cabernet Sauvignon or Malbec for the ultimate flavor combination.
With these serving suggestions, you'll be able to create a well-rounded and satisfying meal that will impress your family and friends.
Get the Full (Printable) How to Make BEST STEAK MARINADE IN EXISTENCE Below!
Print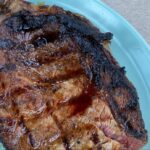 BEST STEAK MARINADE IN EXISTENCE
---
Author:

Total Time:

30 minutes

Yield:

4

Servings

1

x
Description
I'm excited to share with you my all-time favorite steak marinade recipe. Trust me, this is the best steak marinade you will ever have and the best part? It's made with simple, everyday ingredients that you probably already have in your pantry.
---
1/3 cup

soy sauce

1/2 cup

olive oil

1/3 cup

fresh lemon juice

1/4 cup

Worcestershire sauce

1 1/2 tablespoons

garlic powder

3 tablespoons

dried basil

1 1/2 tablespoons

dried parsley flakes

1 teaspoon

ground white pepper

1/4 teaspoon

hot pepper sauce

1 teaspoon

dried minced garlic
---
Instructions
To make the marinade, simply add all of the ingredients to a blender and blend on high speed for about 30 seconds or until everything is fully mixed. If you want more garlic or heat, feel free to adjust the amount of garlic powder or hot pepper sauce to your liking.
Once you've made the marinade, it's time to add it to your meat of choice. I recommend using a resealable plastic bag to marinate your steak, as this will allow the marinade to fully coat the meat and eliminate any air pockets. Place your steak in the bag with the marinade, seal it up, and then refrigerate it for at least two hours or up to 24 hours for maximum flavor.
Notes
When you're ready to cook your steak, simply remove it from the marinade and grill or pan-sear it to your liking. You'll notice the difference in taste immediately, thanks to the delicious blend of soy sauce, olive oil, lemon juice, Worcestershire sauce, garlic, basil, parsley, and peppers. Trust me, this is the best steak marinade recipe you'll ever try!
Prep Time:

15 mins

Cook Time:

15 mins

Cuisine:

AMERICAN
Nutrition
Serving Size:

6

Calories:

Calories548kcal (27%)

Fat:

46g (71%)

Fiber:

1g (4%)

Protein:

Protein30g (60%)
Keywords: BEST STEAK MARINADE IN EXISTENCE
[inline_related_posts title="CHECK OUT THESE AWESOME, EASY RECIPES:" title_align="left" style="list" number="4″ align="none" ids="" by="categories" orderby="rand" order="DESC" hide_thumb="no" thumb_right="no" views="no" date="yes" grid_columns="2″ post_type="" tax=""]