My grandmother always called this dessert "Better Than Anything Cake" but it has taken on various other names over the years. Regardless, this cake is unbelievably fantastic!
I had only made this once before this recipe and I remember how much fun we had. There is the element of the labor requirement to put each layer together without losing the shape, but I see it more as a labor of love!
Each layer has a different texture, and the bottom has a delightful nutty flavor along with a buttery flakiness. It just does not get better. I made this when my kids had friends over for a sleepover and they polished it all off. This shows not only that it is divine, but that it is versatile and perfect for parties, family get togethers, and even Valentine's Day.
Notes:
• This dessert does require time to chill in the fridge so make sure to plan ahead and be as prepared as possible.
• This dessert can be prepared up to 2 days in advance. Wrap with plastic wrap and store in the fridge.
• If you have leftovers, wrap tightly with plastic wrap and store in the fridge for up to four days.
• Cool Whip typically is available in 8 oz. or 12 oz. containers. You will need the amount in the 12 oz. container so get enough in the other sizes to accommodate this need.
• Layering the dessert: It is very important to chill each layer before adding the next. It gets a bit messy if you don't!
Print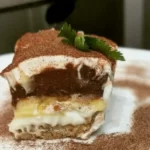 Better Than Anything Cake
---
For the crust
1 1/2 cups all-purpose flour
3/4 cup butter melted
1 cup pecans finely chopped
For the first layer
1 (8 oz.) package cream cheese – room temperature
1 cup confectioners' sugar
1 (8-12 oz.) container Cool Whip (divided) – 1 cup for this layer and the rest for the topping.
For the second layer
1 (3.4 oz.) package vanilla instant pudding
1 (3.4 oz.) package chocolate instant pudding
3 cups whole milk (using whole milk creates a sturdier pudding which is needed)
For the top
Remaining Cool Whip
Grated/Shaved chocolate sprinkled over the top
---
Instructions
Crust layer
Preheat oven to 325° F
In a medium bowl, mix flour, butter, and pecans and press into the bottom of a 9×13 baking dish.
Bake for 25 minutes. Remove from oven and cool completely.
First Layer
In a large bowl, mix the cream cheese, confectioners' sugar and 1 cup Cool Whip with a mixer.
Spread the cream cheese mixture over the crust.
Before moving to the next step, the crust and first layer must be well chilled and firmed. Place the baking dish in the freezer for about 20 minutes.
Second Layer
For the second layer, whisk the two puddings and milk in a large bowl. Mix according to package directions.
Remove pan from the freezer and spread the pudding layer over cream cheese layer.
Return to the freezer for another 20 minutes for the layers to firm up again.
Top Layer
Spread the remaining Cool Whip over the top and sprinkle with the grated/shaved chocolate.
If you have the time, let the dessert chill in the refrigerator for at least 2 hours.