A super delicious dessert treat made with sweet milk chocolates, crunchy pecans and rich, buttery toffees. This toffee recipe is simply the best and will have you craving for a bite always.
What do you get when you mix milk chocolates, pecans and toffees together? You get the best, most delicious, most creamy and chocolatey toffee ever!
This recipe has become my go-to treat for the holidays and beyond. There's nothing to not love about this toffee recipe. It is by far the best toffee I have ever had and it's always a hit whenever I prepare it for my colleagues. Oh! Don't even get me started on my kids. They could finish an entire batch of this in 5 minutes and still ask you for more!
There's something special about this recipe. And I'm not just talking about its luscious look or mouth-watering taste. I'm talking about the uniformity of its ingredients – 1 cup of pecans, 1 cup of unsalted butter, 1 cup of everything, and a pinch of kosher salt to taste. And what do you get? 1 batch of the best ever toffees.
I love everything about this recipe. Its amazing flavor, its amazing taste, its amazing look, the amazing reactions I get whenever I gift my colleagues this amazing treat, and the way my kids' faces light up whenever I'm prepping this in the kitchen. These toffees are divine and I bet even if you couldn't taste anything, you would taste these.
Give yourself a feel of the holidays this weekend and whip up a batch of these!
Tips:
Ensure that you store the toffee away from heat and moisture to prevent it from getting sticky.
Instead of milk chocolate chips, you can use Hershey's bars for the top layer of this candy. You'll get as much deliciousness as you get with the chocolate chips.
You can store these toffees in an airtight jar for up to two weeks.
Prep time: 5 minutes
Cook time: 20 minutes
Total: 25 minutes
Yield: 24 toffees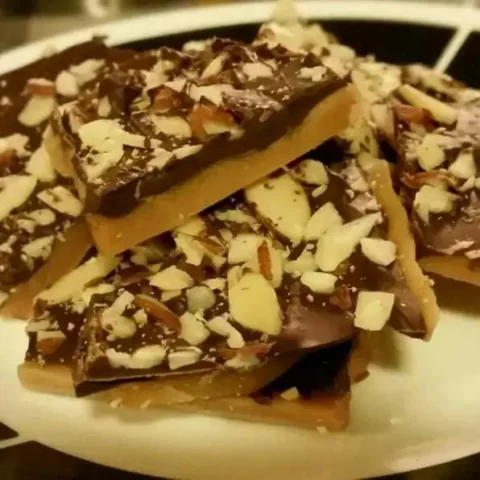 Better than Anything Toffee Recipe
Ingredients
1 cup coarsely chopped pecans
1 cup unsalted butter
1 cup granulated sugar
½ tsp. Kosher salt
1 tsp. Vanilla extract
1 cup milk chocolate chips
Instructions
Step 1:
Grease a 9-inch baking dish with cooking spray and then line it with parchment paper. Spread the pecans over the parchment paper and then set aside.
Step 2:
Transfer the butter, sugar and salt to a quart pot. Mix well, and then bring to boil over medium heat. Stir constantly until the sugar dissolves completely. Continue stirring till the mix reaches 290 degrees.
Step 3:
Once the mix boils, gently stir in the vanilla extract and then pour the mix over the pecans in the baking dish and allow to sit for a few minutes.
Step 4:
Sprinkle the chocolate chips over the butter mix on pecans and then cover with foil. Allow to sit for about 5 minutes until the chocolates become soft.
Step 5:
Remove the foul and then use a spatula to spread the chocolate evenly over the pecans gently.
Step 6:
Place the candy in the refrigerator and let it cool for about 2 hours. Afterward, place the toffee on a solid surface and then slice with a knife. Store the smaller pieces in an airtight container until you're ready to serve.
Nutrition Information:
Amount Per Serving:
Calories:

0
Total Fat:

0g
Saturated Fat:

0g
Trans Fat:

0g
Unsaturated Fat:

0g
Cholesterol:

0mg
Sodium:

0mg
Carbohydrates:

0g
Fiber:

0g
Sugar:

0g
Protein:

0g