Get ready to take a flavorful trip down memory lane with our Big Mac Tater Tot Casserole recipe! This mouthwatering dish pays homage to the iconic Big Mac with its layers of seasoned ground beef, special sauce, cheese, and crispy tater tots. It's comfort food at its finest, perfect for a cozy family dinner or a nostalgic indulgence. Brace yourself for a taste explosion that combines the best of two beloved classics.
Exciting Story: Let me share a story of culinary innovation and the magic of reimagining a fast-food favorite – the story of our Big Mac Tater Tot Casserole. It all began one evening when I was reminiscing about the flavors of my childhood, including the unmistakable taste of a Big Mac. Inspired by those memories, I set out to create a homemade dish that captured that same magic. After some experimentation, this casserole emerged, becoming a family favorite and a regular on our dinner table.
Why This Big Mac Tater Tot Casserole: Unveiling Why This Recipe Is a Must-Try Comfort Fusion!
Selling Points:
Big Mac Bliss: Experience the flavors of a classic Big Mac in a hearty casserole form.
Family-Friendly: Delight in a dish that's sure to please both kids and adults.
Easy Preparation: Enjoy the convenience of a one-pan casserole that's simple to make.
Nostalgic Indulgence: Relive the memories of fast-food favorites while savoring a homemade treat.
Homemade Love: Share the love of homemade comfort food with your loved ones.
Notes:
Customize your casserole by adding toppings like shredded lettuce, diced tomatoes, or chopped onions for an authentic Big Mac experience.
To make it even more like a Big Mac, you can use Thousand Island dressing instead of the homemade special sauce.
Frequently Asked Questions
Can I make this casserole in advance?
Yes, you can assemble the casserole in advance and refrigerate it until you're ready to bake. Add a few extra minutes to the baking time if starting from cold.
Can I use a different type of cheese?
While cheddar cheese is the classic choice, feel free to experiment with other cheese varieties, such as American or Swiss.
Can I use fresh tater tots instead of frozen?
Frozen tater tots are recommended for this recipe as they become crispy during baking. Fresh tater tots may not yield the same results.
Indulge in the fusion of flavors with the Big Mac Tater Tot Casserole – a comforting dish that combines the magic of a Big Mac with the convenience of a casserole. Share this nostalgic indulgence with your family or enjoy it as a special treat that transports your taste buds to a familiar and beloved taste.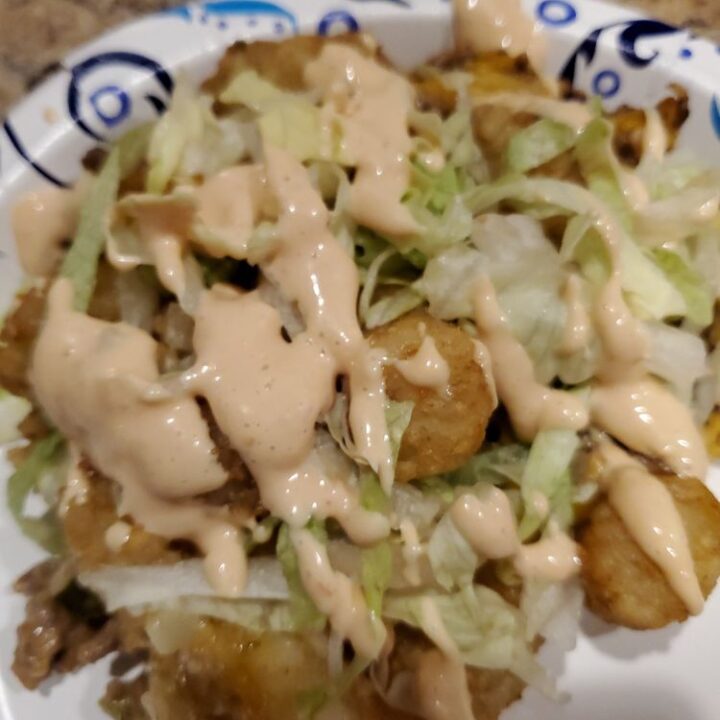 BIG MAC TATER TOT CASSEROLE
Total Time:
1 hour
10 minutes
Ingredients
1 pound ground beef
1 small onion, finely chopped
1 teaspoon garlic powder
1 teaspoon onion powder
1 teaspoon paprika
Salt and pepper to taste
1/2 cup mayonnaise
2 tablespoons ketchup
1 tablespoon yellow mustard
2 cups shredded cheddar cheese
1 bag (32 ounces) frozen tater tots
Dill pickles and sesame seeds for garnish (optional)
Instructions
Preheat your oven to 375°F (190°C). Grease a 9x13-inch baking dish.
In a skillet over medium heat, cook the ground beef and chopped onion until the beef is browned and the onion is translucent. Drain any excess grease.
Season the cooked beef with garlic powder, onion powder, paprika, salt, and pepper. Mix well.
In a small bowl, combine the mayonnaise, ketchup, and yellow mustard to create the special sauce.
Spread the seasoned ground beef evenly in the bottom of the prepared baking dish.
Sprinkle half of the shredded cheddar cheese over the beef.
Drizzle the special sauce evenly over the cheese layer.
Arrange the frozen tater tots in a single layer on top.
Bake in the preheated oven for 25-30 minutes or until the tater tots are golden brown and crispy.
Remove from the oven and sprinkle the remaining cheddar cheese over the casserole. Return it to the oven and bake for an additional 5 minutes, or until the cheese is melted and bubbly.
If desired, garnish with dill pickle slices and a sprinkle of sesame seeds before serving.
Nutrition Information:
Amount Per Serving:
Calories:

0
Total Fat:

0g
Saturated Fat:

0g
Trans Fat:

0g
Unsaturated Fat:

0g
Cholesterol:

0mg
Sodium:

0mg
Carbohydrates:

0g
Fiber:

0g
Sugar:

0g
Protein:

0g