the Fresh Blueberry Cake with a delightful Sour Cream Glaze – this cake is a true gem, adorned with freshly harvested blueberries. It's like capturing the essence of summer in a Bundt form. This cherished recipe calls for a 10-inch Bundt pan.
Oh, the pleasure of savoring this delicious cake! Its sweetness is just right, and it carries an airy lightness, making it the quintessential summer Bundt delight. The glaze, oh, it's the ultimate flourish, truly splendid. Prepare to make this your cherished Blueberry Bundt Cake for many years ahead.
What Makes This Blueberry Bundt Cake Recipe So Irresistible?
Its divine moistness. This Bundt cake is a sensory marvel, striking the perfect balance between richness and lightness – fluffy, moist, and utterly delectable!
Abundant blueberry goodness. Laden with a generous one and a half cups of blueberries, each bite bursts with a harmonious blend of sweet and tangy.
The epitome of simplicity. A straightforward Bundt cake recipe that takes mere minutes (about 5, to be exact) to prepare, calling for just the essentials found in your kitchen.
A Few Tips and Notes for Crafting This Culinary Delight:
Start by preheating your oven.
Before incorporating them into the batter, give your blueberries a gentle toss in a cup of flour. This prevents them from sinking to the bottom of the pan during baking.
Ensure all your ingredients are at room temperature for a silky-smooth batter.
Coat your pan with non-stick baking spray and gently pour in the batter.
Place the Bundt cake pan on a baking sheet before sliding it into the oven. This safeguards against uneven baking that might result from placing the pan directly on the oven racks.
Resist the urge to overmix the batter; simply fold in the wet and dry ingredients, alternating in stages.
Before removing the cake from the oven, insert a toothpick or wooden skewer to confirm it's fully baked – no moist batter clinging to it. If needed, bake a few extra minutes.
Once out of the oven, allow the cake to cool for 5-10 minutes before turning the pan over onto a serving plate.
For easy removal, run a plastic knife along the edges of the cake, gently detaching it from the pan.
Can You Use Frozen Blueberries?
Absolutely! If opting for frozen blueberries, add them directly to the batter without thawing. Keep in mind that frozen berries could slightly alter the batter's color. Nonetheless, your cake will maintain its delightful taste.
Can Other Berries Be Substituted?
Certainly! Raspberries, cranberries, blackberries, and strawberries have all taken the stage in this Bundt cake creation. If fresh berries are within reach, the resulting flavors are truly splendid.
Sour Cream Lemon Glaze:
 the sour cream lemon glaze elevates this cake to sublime heights, infusing a burst of irresistible lemon essence. To achieve a thick, luxurious glaze:
Work with slightly softened butter, not completely melted. The butter should still retain its shape, offering a firm yet whisk-able texture.
Utilize an electric mixer to blend powdered sugar, lemon juice, and butter into a lush, thick, and snowy concoction.
For optimal thickness, place the glaze bowl in the freezer for approximately 15 minutes to allow it to firm up.
And remember, let your cake fully cool before generously applying the glaze. A warm cake might cause the glaze to melt away, which we wouldn't want for such a masterpiece.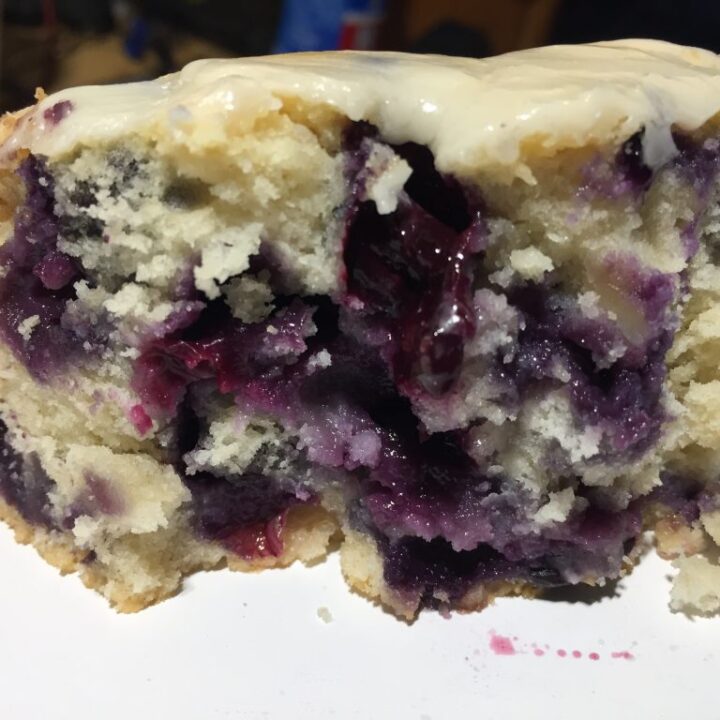 BLUEBERRY CAKE
Total Time:
1 hour
30 minutes
Ingredients
½ c butter
½ c white sugar
¼ tsp salt
1 tsp vanilla extract
2 Egg yolks
1 ½ c all-purpose flour
1 tsp baking powder
⅓ c milk
2 Egg whites
¼ c white sugar
1 ½ c fresh blueberries
1 tbsp all-purpose flour
1 tbsp white sugar
Instructions
Prepare the oven and preheat to 175 degrees C or 350 degrees F.
Apply cooking spray and sprinkle flour in an 8-inch square pan.
In a mixing bowl, add ½ cup of sugar and butter. Beat until creamy.
Add vanilla and salt, then stir until well blended.
Separate the egg yolks from egg whites.
Add the egg yolks into the bowl with the sugar mixture, then beat until well mixed.
In another mixing bowl, add baking powder and 1 ½ cups of flour. Whisk until well mixed.
Add the egg yolk mixture and milk gradually and beat every addition until well blended.
Coat each strawberry with flour, then place them into the batter. Stir until just mixed.
In another mixing bowl, add the egg whites and beat until they form soft peaks.
Add the ¼ cup of sugar gradually and beat every addition until the mixture forms stiff peaks.
Add the eggs whites into the batter and stir until just mixed.
Transfer the batter into the prepared pan and spread it evenly.
Sprinkle 1 tbsp of sugar on top.
Place it inside the preheated oven and bake for about 50 minutes or until a toothpick comes out clean after inserting it in the middle.
Remove from the oven and allow it to cool at room temperature.
Serve and enjoy!
Notes
Nutrition Facts:
Calories: 205.9 | Protein: 3.2g 6% | Carbohydrates: 29.2g 9% | Dietary Fiber: 0.9g 4% | Sugars: 15.8g | Fat: 8.8g 14% | Saturated Fat: 5.2g 26% | Cholesterol: 55mg 18% | Vitamin A Iu: 298.9IU 6% | Niacin Equivalents: 1.7mg 13% | Vitamin C: 1.8mg 3% | Folate: 35.8mcg 9% | Calcium: 40.4mg 4% | Iron: 0.9mg 5% | Magnesium: 6.5mg 2% | Potassium: 56.8mg 2% | Sodium: 157.4mg 6% | Thiamin: 0.1mg 15% | Calories From Fat: 78.8
Nutrition Information:
Amount Per Serving:
Calories:

0
Total Fat:

0g
Saturated Fat:

0g
Trans Fat:

0g
Unsaturated Fat:

0g
Cholesterol:

0mg
Sodium:

0mg
Carbohydrates:

0g
Fiber:

0g
Sugar:

0g
Protein:

0g