Prepare for a hearty, flavorful adventure with Bonnie's Cabbage and Sausages!
"Welcome to a kitchen filled with the aroma of sizzling sausages and savory cabbage – it's a mealtime delight!"
In the heart of comfort food lies Bonnie's Cabbage and Sausages, a dish that embodies warmth, flavor, and simplicity. Imagine tender cabbage, sautéed to perfection with onions, garlic, and a medley of spices, paired harmoniously with browned, savory sausages. The addition of crispy bacon crumbles elevates the dish to a level of irresistible delight. This recipe, born from tradition and perfected with love, brings together the wholesome goodness of cabbage and the smoky richness of sausages in a symphony of taste and texture. Join us as we delve into the art of crafting Bonnie's Cabbage and Sausages, a dish that warms the soul and satisfies the senses.
Bonnie's Cabbage and Sausages is a celebration of simple yet profound flavors. It all begins with the careful selection of a firm head of cabbage, ensuring the foundation of the dish is fresh and crisp. Bacon, fried to a delightful crispness, imparts its smoky essence, infusing the entire dish with its savory charm. Sausages, browned to perfection in the remnants of bacon grease, bring a hearty, meaty element to the table. The cabbage, onions, and garlic, expertly knife-cut and sautéed with a blend of spices, create a medley of flavors that dance on the taste buds. The final touch, crumbled bacon, adds a layer of crunch and richness that completes the dish. Whether served alongside your favorite grains or enjoyed on its own, Bonnie's Cabbage and Sausages is a testament to the art of home-cooked comfort, inviting everyone to the table with its enticing aroma and irresistible taste.
Frequently Asked Questions:
Can I use other types of cabbage for this recipe?
Absolutely! While green cabbage is commonly used, you can experiment with red cabbage or savoy cabbage to add a burst of color and slightly different flavors to the dish.
 Is it possible to make this dish vegetarian?
Certainly! You can omit the sausages and enjoy the seasoned cabbage as a delicious vegetarian side dish. Additionally, you can consider adding plant-based sausages for a meat-free alternative that still offers a similar savory experience.
Substitutions and Variations:
Experiment with different varieties of sausages, such as chorizo or Italian sausage, to introduce unique flavors to the dish.
Closing:
As you savor the robust flavors of Bonnie's Cabbage and Sausages, let the warmth of the dish envelop you. Each bite tells a story of tradition, flavor, and the joy of home-cooked meals. Share this dish with loved ones, creating moments that are as memorable as the taste itself. Here's to the heartwarming essence of comfort food and the pleasure of a meal that feels like a warm embrace. Happy cooking!
Remember it later
Like this recipe! Pin it to your favorite board NOW!
Print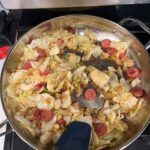 BONNIE'S CABBAGE AND SAUSAGES
---
Author:

Total Time:

55 minutes

Yield:

4

Servings

1

x
6 slices bacon, cooked and crumbled
1/4 cup water
2 tablespoons sugar
1 onion, chopped
2 teaspoons minced garlic
1/4 teaspoon red pepper flakes
1/4 teaspoon Lawry's seasoning salt
3 teaspoons caraway seeds
1 large head of cabbage, knife-cut shredded and cored
1 pound smoked beef or turkey sausage, cut on a diagonal
Time to Get Cooking! Follow these Simple Steps!
---
Instructions
Pick a nice firm head of cabbage and prepare it by removing the outer leaves and coring it. Knife-cut the cabbage into shreds.
Fry the bacon in a large skillet until crispy. Let it cool, then crumble it and set it aside. Reserve one tablespoon of bacon grease in the pan.
In the same pan, fry the sausages in the bacon grease until they are nicely browned. Remove the sausages, drain them on paper towels, and set them aside.
Add the chopped onion and minced garlic to the bacon grease in the pan. Sauté until the onions are translucent and aromatic.
Add the sugar, red pepper flakes, seasoning salt, and caraway seeds to the pan. Stir to combine, then pour in the water. Mix well, and then add the knife-cut cabbage to the pan. Stir to coat the cabbage with the seasoned mixture.
Saute the cabbage with the lid on for about 20 minutes, stirring occasionally. Adjust the cooking time based on your preference for the cabbage's tenderness. For al dente, 20 minutes is usually sufficient.
During the last 15 minutes of cooking, add the browned sausages to the pan. Mix them with the cabbage, allowing the flavors to blend together.
Sprinkle the crumbled bacon over the dish, adding a layer of smoky goodness.
Serve immediately and enjoy the delightful flavors of Bonnie's Cabbage and Sausages!
Notes
For a touch of sweetness, you can use maple-flavored sausages instead of traditional smoked sausages.
Prep Time:

15 minutes

Cook Time:

40 minutes

Category:

Main Dishes, Comfort Meals, Family Recipes, Traditional Cooking
Remember it later
Like this recipe! Pin it to your favorite board NOW!