Brigadieros are these scrumptious little fudge balls made of sweetened condensed milk, cocoa powder and a touch of butter.
They're like softer, gooey-er truffles dressed to the nines in sprinkles.
The mixture is cooked stove-top whilst being stirred the entire time thickened – it takes about 15 – 20 minutes.
The fudge is then chilled, rolled by hand into balls, coated in crazy sprinkles and chilled again.
They're super fun to make and terribly addictive.
Like an evil temptress they'll call to you from the fridge at all hours of the day and night and disappear faster than you can imagine.
Had I known I might have doubled or even tripled the batch.
Do it.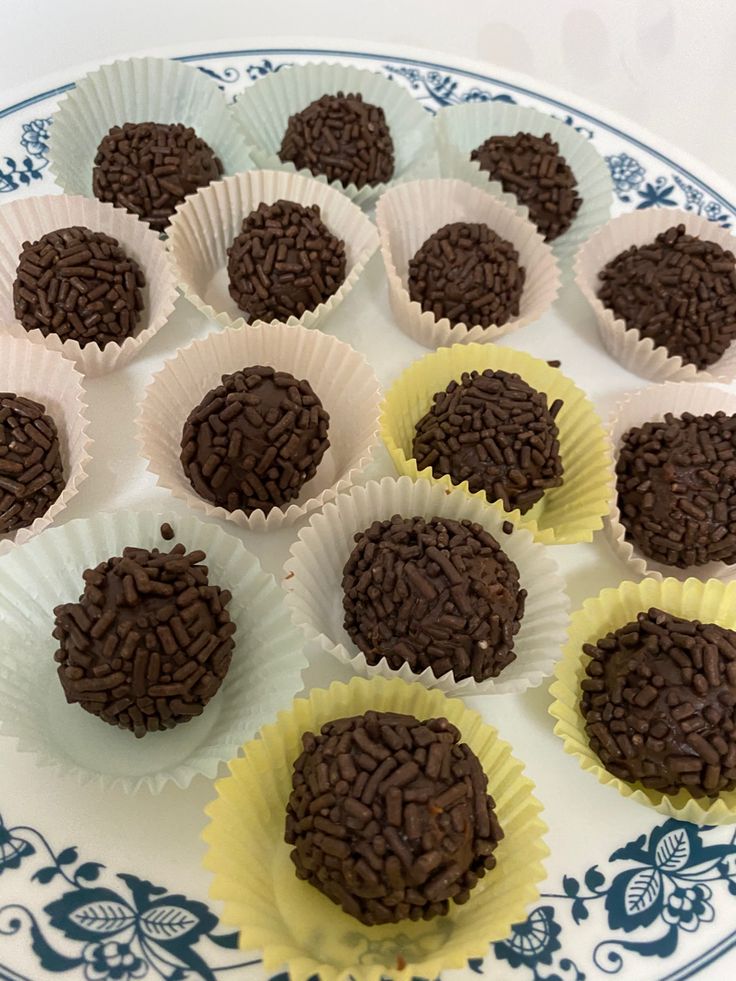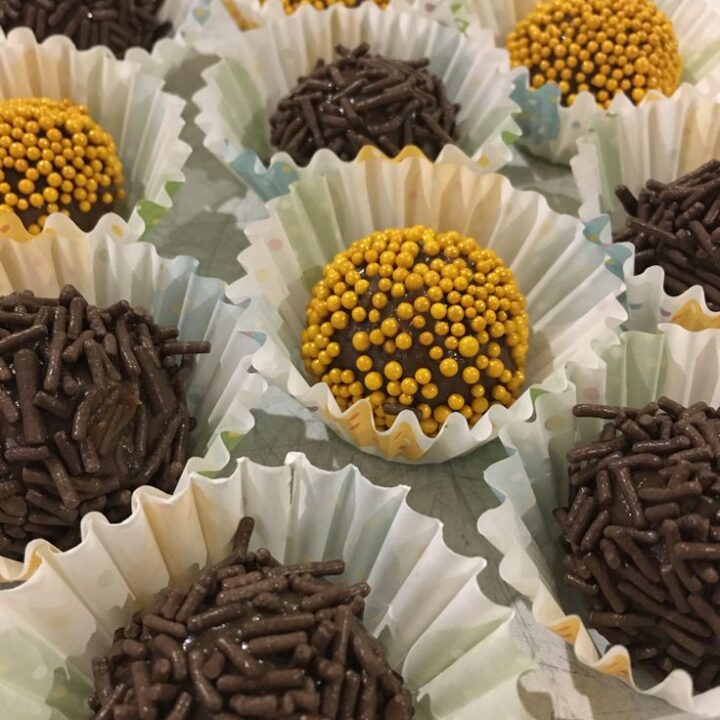 Brazilian Fudge Balls
Yield:
about 16 depending on size
Ingredients
2 tablespoons salted butter
1 can (14 ounces) sweet condensed milk
¼ cup unsweetened cocoa powder
chocolate jimmies
rainbow jimmies
Instructions
Melt the butter in a medium saucepan over medium-low heat.
Whisk in the condensed milk.
Add the cocoa powder to a small bowl and whisk in a little bit of hot water until the cocoa is dissolved. Whisk it into the condensed mik mixture.
Using a wooden spoon stir the mixture 15 - 20 minutes until it thickens making sure to scrap the corners and sides of the pan well so it doesn't burn.
You'll know it's done when you turn the spoon upside down and the mixture sticks to it for a few seconds before falling off.
Scoop it into a buttered bowl, cover and refrigerate until well chilled about 1 hour.
Place the sprinkles in two separate shallow, wide dishes. Line a baking sheet with parchment paper.
To form the balls coat your hands with a little butter or water and scoop up scant tablespoonfuls of the fudge.
Roll into a ball and then roll in the sprinkles. Place on the parchment.
Repeat until all the fudge is used up.
Store in the refrigerator up to a week.
Nutrition Information:
Amount Per Serving:
Calories:

0
Total Fat:

0g
Saturated Fat:

0g
Trans Fat:

0g
Unsaturated Fat:

0g
Cholesterol:

0mg
Sodium:

0mg
Carbohydrates:

0g
Fiber:

0g
Sugar:

0g
Protein:

0g