This is not only a great dish that offers you some of the best, healthiest breakfast foods out there, it's also super easy to prepare, and it looks super cute too!
It's a unique little cupcake recipe that's perfect for if you want to have breakfast on the go. You can pick this up, throw it on a plate, and then there you go, there's breakfast!
But not just that, if you're serving guests at brunch or at a buffet table, this is probably one of the best, as it's something that's perfect, since it's a self-contained item that really does make it shine in its own unique way!
Tips:
Can I add more bacon and meat to the inside of this?
You can! You can use just egg alone if you're a fan of only eggs, but if you want, make a little more bacon, and then, once you've put the egg in there, garnish the top of it with some bacon to make it look like it's got sprinkles, and to add more a crunch to your cup.
Not just that though, you can also add ham, and other meats too, which makes it even better for those who love something that's the ideal topping for you, and something that really makes all of this shine.
You can also make these and prepare them ahead of time. just put them inside an airtight container, and when you're ready to have them, pull them out, and eat them as desired!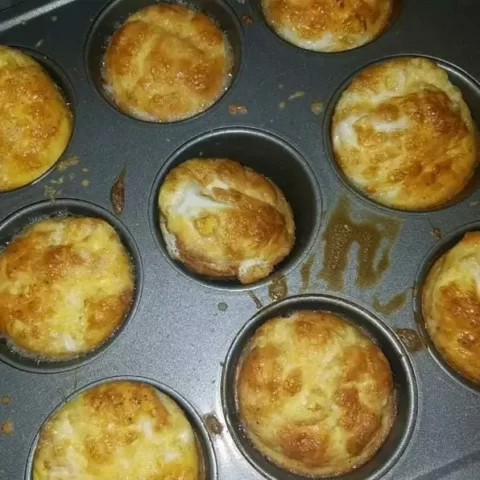 Breakfast Cupcakes
Ingredients
1 20 ounce package pre-shredded hash brown-style potatoes
2 large eggs, lightly beaten
4 tablespoons flour
1 small, sweet onion, coarsely grated
2 thick slices deli ham, chopped into small bits (about 1 cup)
1 cup shredded mozzarella cheese
1/2 cup grated Parmesan cheese
Salt and freshly ground black pepper to taste
1 dozen eggs, scrambled*
chives for garnish
Instructions
Preheat your oven to 400, and from there, lightly spray a muffin tin that has about 12 cups with a cooking spray so that it doesn't stick to the bottom.
Take the first eight ingredients, and from there put them all into a large bowl, and then mix them all together, and from there, you want to make sure that it's all neatly cooked.
Take the potato mixture, and from there put it into a muffin cup that's there, and then, make sure it's about a third high in terms of the amount of the mixture.
Take the mixture of the potatoes, and then press it down the middle and the sides to create the outline of the cup in this.
Bake all of this until it becomes a golden-brown color, about 25-30 minutes. If the nests are pumping up in the center, and it looks like it's bubbling, just take a little bit out of each of these using a spoon.
Spoon a couple tablespoons of the scrambled eggs into every single one of the nests, and then, you can top this with the chives.
Nutrition Information:
Amount Per Serving:
Calories:

0
Total Fat:

0g
Saturated Fat:

0g
Trans Fat:

0g
Unsaturated Fat:

0g
Cholesterol:

0mg
Sodium:

0mg
Carbohydrates:

0g
Fiber:

0g
Sugar:

0g
Protein:

0g