Pecan Snowball Cookies wafting through your kitchen. These delectable treats are the epitome of melt-in-your-mouth goodness. Made with love and the finest ingredients, each bite delivers a heavenly combination of buttery richness, crunchy pecans, and a dusting of powdered sugar. Get ready to embark on a journey of irresistible flavors and unparalleled delight!
Why You Should Try It:
Craving a cookie experience that's both elegant and satisfying? Look no further! Our Buttery Pecan Snowball Cookies are the epitome of sophistication, capturing the essence of festive indulgence in every bite. Whether you're celebrating a special occasion or simply want to elevate your everyday moments, these cookies are a testament to the joy of homemade sweetness.
Exciting Story:
Imagine a cozy kitchen where the scent of butter and pecans fills the air. As the dough is lovingly shaped into perfect spheres and baked to golden perfection, anticipation builds. The first bite is a revelation – the delicate crunch of pecans, the buttery softness of the cookie, and the whisper of powdered sugar create a symphony of flavors. Each cookie tells a tale of time-honored traditions and the joy of sharing simple pleasures with loved ones.
Why These Snowball Cookies Are a Must-Try:
These Buttery Pecan Snowball Cookies exude an air of sophistication. Their round, snowball-like appearance and the glistening powdered sugar exterior make them a visual delight. Their elegant charm is matched only by their exquisite taste.
What Makes Them Unique:
What sets these cookies apart is their simplicity done to perfection. With just a handful of high-quality ingredients, they prove that sometimes, less is more. The marriage of butter, pecans, and powdered sugar results in a cookie that's truly extraordinary in its pure, unadulterated goodness.
Remember it later
Like this recipe! Pin it to your favorite board NOW!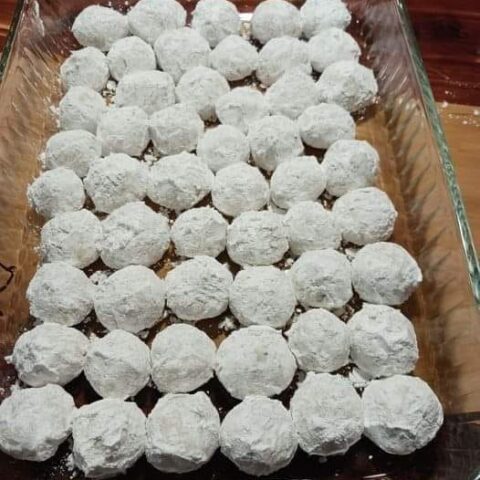 BUTTERY PECAN SNOWBALL COOKIES
Ingredients
2 ¼ cups All-purpose flour
½ cup Powdered sugar
Pinch of salt
2 Sticks of butter, at room temperature
2 tsp. Vanilla extract
1 cup Pecans, finely chopped
1 cup Powdered sugar (for rolling)
Instructions
Preheat your oven to 350 degrees.
In a mixing bowl, combine the butter and ½ cup powdered sugar, blending until smooth.
Add the flour, salt, vanilla extract, and pecans to the bowl. Mix until the ingredients are well blended, forming a cohesive dough.
Shape the dough into 36 equal-sized balls and place them on a parchment-lined or well-greased baking sheet.
Bake for 12 minutes, or until the cookies are lightly golden. Let them cool to room temperature.
Place the remaining 1 cup of powdered sugar in a bowl. Roll each cookie in the powdered sugar until generously coated before serving.
Admire your perfectly crafted cookies and indulge in their delightful taste. Enjoy every heavenly bite!
Nutrition Information:
Amount Per Serving:
Calories:

0
Total Fat:

0g
Saturated Fat:

0g
Trans Fat:

0g
Unsaturated Fat:

0g
Cholesterol:

0mg
Sodium:

0mg
Carbohydrates:

0g
Fiber:

0g
Sugar:

0g
Protein:

0g
Remember it later
Like this recipe! Pin it to your favorite board NOW!