Looking for a comforting and delicious soup that captures the flavors of traditional cabbage rolls? Look no further than Cabbage Roll Soup! This hearty and satisfying soup brings together all the elements of a classic cabbage roll in a convenient and flavorful bowl. With tender cabbage, ground meat, rice, and a rich tomato broth, this soup is sure to warm you up on a chilly day. Let's dive into the recipe and get ready to enjoy a comforting bowl of Cabbage Roll Soup!
FAQ – Frequently Asked Questions:
Q: Can I make this soup vegetarian or vegan?
A: Absolutely! For a vegetarian version, simply omit the ground meat and use vegetable broth instead of beef broth. To make it vegan, ensure that the canned tomatoes and tomato sauce do not contain any animal products, and use a plant-based protein substitute, such as textured vegetable protein (TVP), in place of the ground meat.
Q: Can I use a different type of meat in this soup?
A: Yes! While ground beef or turkey is commonly used in Cabbage Roll Soup, you can experiment with other meats such as ground pork or chicken if you prefer. Each will bring its own unique flavor to the soup.
Q: Can I add other vegetables to the soup?
A: Absolutely! Feel free to customize the soup by adding other vegetables like diced carrots, bell peppers, or celery. These additions can enhance the flavor and add extra nutrients to the dish.
Q: Can I make this soup in a slow cooker or Instant Pot?
A: Certainly! For a slow cooker version, brown the ground meat and onions in a separate pan, then transfer them to the slow cooker along with the remaining ingredients. Cook on low for 6-8 hours or on high for 3-4 hours until the rice and cabbage are tender. For an Instant Pot version, follow the same steps but use the pressure cooking function. Cook on high pressure for 10 minutes, then do a quick release.
Print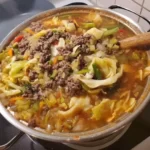 CABBAGE ROLL SOUP
---
4 cups beef broth
8-ounce cans tomato sauce
1/2 cup uncooked long-grain rice
1 bay leaf
3 tsp brown sugar
2 tsp parsley
2 small spoon olive oil
A pinch of salt & pepper

1 pound ground beef
1 onion diced
2 tsp small garlic
4 cups chopped green cabbage
2 carrots sliced
---
Instructions
Step 1:
In a large pot, heat the olive oil and add the ground beef, and season with pepper and salt. Cooked, divided the meat with a spatula until beef is browned, about 6 min. Add the garlic and onion cook about 4 min
Step 2:
Add in the pot the carrots/cabbage/beef broth/rice/tomato sauce/bay leaf /and sugar, and add salt/pepper. Bring and cook about 26 min until rice.
Enjoy !