This is great because it combines two amazing things: caramel apples and cheesecake.
Love the sweet, sticky taste of caramel apples, but you don't feel like having caramel apples? Then this is for you! This is also the perfect dish for those who also love cheesecake, because it has the soft, fluffy cheesecake texture that really makes it stand out as the perfect desert bite that will really make your taste buds sing!
Try this with your family for your next dinner and see for yourself how they like it. They also work well as a good, sweet treat, which is perfect if you want something that's good, without the guilt that other sugary foods might have!
Print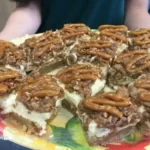 CARAMEL APPLE CHEESECAKE BARS
---
Crust:
2 cups all-purpose flour
1/2 cup light brown sugar
3/4 cup (12 tablespoons) cold butter, cubed
Cheesecake:
2 packages (8 oz each) cream cheese, softened
1/2 cup granulated sugar
1 teaspoon vanilla extract
2 large eggs
Apples:
3 granny smith apples, peeled and chopped small
2 tablespoons granulated sugar
1/2 teaspoon cinnamon
STREUSEL TOPPING:
1 cup firmly packed brown sugar
1 cup all-purpose flour
1/2 cup quick cooking oats
1/2 cup butter, softened
---
Instructions
First preheat the oven to 350 and take some cooking spray, then spray a baking sheet that's 9×13 with the spray. You can also utilize parchment paper and then spray that if you want to before you put it in there. From there, take it and put to the side.
Next, you want to make the crust. To do this, get a small bowl, combine the brown sugar, the flour, and the cold butter that's cubed. Used a cutter for pastries or your hands, mixing all of this until it becomes crumbled.
Take all of this and then press it into your greased baking pan, and then, bake the whole crust for about 15-18 minutes, or until it becomes lightly browned.
While the crust takes some time to prepare, you want to start making the cheesecake.
To do this, you want to make all of the ingredients for the cheesecake, which are the sugar, the cream cheese, the vanilla, and of course the eggs, putting them into a bowl area, or a stand mixer, beating all of this until everything's combined and smooth.
In another tiny bowl, combine the chopped and peeled apples with your cinnamon, sugar, and the nutmeg, mixing all of this until it's properly coated.
Take the cheesecake, pour it over your crust that's cooked, and then spread everything in an even manner, and then, sprinkle the apple that you have over the mixture of the cheesecake.
You can then work on the streusel topping by combining everything but the caramel sauce together, using either a pastry cutter or your hands to combine it so that it has the texture of wet sand, and then, place it evenly in a way over your apples.
Bake this for about 25-30 minutes once you've done this. You should have edges which are slightly pulled, and the middle should be soft, but a little bit jiggly.
Pull them out, and then let them sit to cool for about an hour, and then, put in the fridge for 3 hours before you serve it.