Our Carrot Cake Banana Bread is a harmonious blend of moist banana goodness and the sweet, spicy allure of carrot cake. Each slice is a heavenly fusion of two beloved desserts, making it the ultimate treat for your taste buds.
Why You Should Try It:
If you've ever wondered what would happen if banana bread and carrot cake had a delicious lovechild, wonder no more! This recipe is a revelation for dessert lovers. Imagine the natural sweetness of ripe bananas mingling with the earthy notes of grated carrots, all wrapped up in a tender, cake-like loaf. It's a celebration of flavors that will elevate your dessert game to a whole new level.
RECIPE TIPS AND VARIATIONS:
Nuts and Spices: Add a handful of chopped walnuts or pecans for a delightful crunch. A pinch of cinnamon and nutmeg in the batter will enhance the warm, comforting aroma.
Cream Cheese Frosting: For an indulgent twist, spread a layer of cream cheese frosting on top. It transforms the bread into an irresistible dessert.
Glaze it Up: Drizzle a simple powdered sugar glaze for a touch of sweetness and a beautiful finish.
WHY YOU'LL LOVE THIS:
A Sweet Symphony of Flavors.
Carrot Cake Banana Bread isn't just a dessert; it's a symphony of textures and tastes. The moistness from bananas, the crunch from carrots and nuts, and the perfect balance of spices create a dessert experience that's nothing short of magical. It's the kind of dessert that will make you the star of any gathering.
WHAT TO SERVE WITH THIS RECIPE:
Enjoy your Carrot Cake Banana Bread as a decadent dessert after a family dinner. Pair it with a scoop of vanilla ice cream or a dollop of whipped cream for an extra indulgent treat. It's also a delightful addition to brunch, served alongside a cup of hot coffee or tea.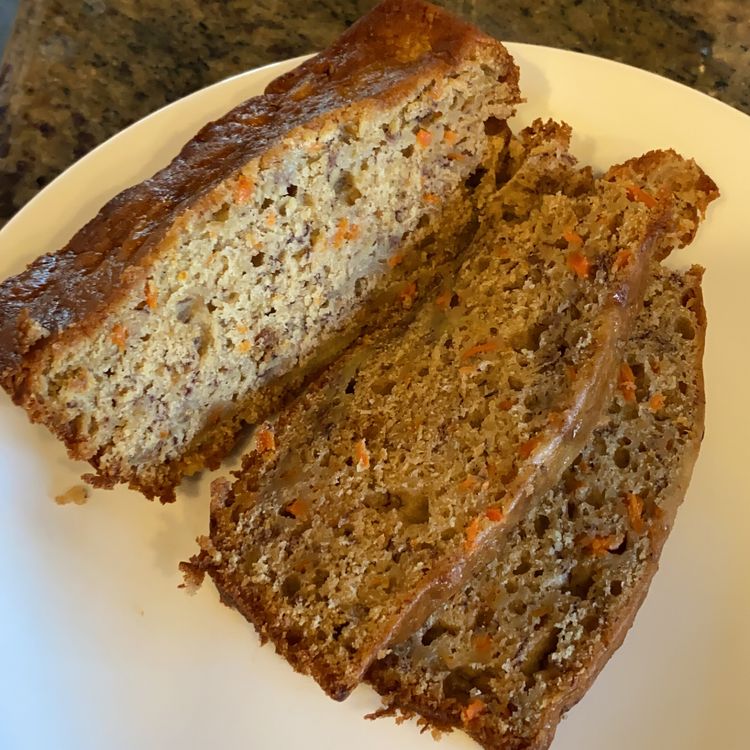 Notes:
Storage: Store any leftover Carrot Cake Banana Bread in an airtight container at room temperature for up to 3 days, or refrigerate for longer freshness.
Enhance the Spice: Feel free to adjust the spices to your taste. If you love cinnamon, add an extra pinch for a bolder flavor.
Creamy Glaze: For an elegant touch, drizzle a simple powdered sugar and milk glaze on top of the cooled bread.
Print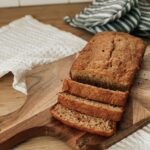 Carrot Cake Banana Bread
---
2 cups all purpose flour
1 teaspoon baking soda
1/2 teaspoon salt
1 and 1/2 teaspoons cinnamon
1/4 teaspoon nutmeg
1/4 teaspoon ground ginger
1/8 teaspoon ground cloves
1 scant cup mashed, ripe bananas
2 Tablespoons orange marmalade OR apricot preserves
1 cup brown sugar
2 large eggs, lightly beaten
3/4 cup vegetable oil OR melted butter
1 cup finely grated carrots
1/2 cup chopped pecans (optional)
---
Instructions
~ preheat oven to 350 degrees F. ~
Generously butter a 9×5 loaf pan.
Sift together flour, baking soda, salt, cinnamon, nutmeg, ginger, and cloves. Set aside. In another bowl, combine bananas, marmalade, brown sugar, eggs, and oil. Mix wet and dry ingredients together and stir just until everything is evenly moistened. Fold in carrots and optional nuts. Spread batter evenly into prepared loaf pan. Bake in preheated oven for 55 to 60 minutes or until a wooden skewer inserted into the center of the loaf comes out with only a few moist crumbs on it.
Cool loaf for 15 minutes in the pan. Loosen edges with a sharp knife and gently unmold onto a cooling rack. Cool completely before sprinkling with powdered sugar and slicing.
Remember it later
Like this recipe! Pin it to your favorite board NOW!