We have tried many carrot cakes and we think we have found our favorite. This cake is great for parties as it can serve a lot. Many versions include pineapple and coconut. We have a simpler version, which is equally delicious and can be modified to your liking. This spiced carrot cake has carrots, raisins, and pecans. Cream cheese frosting is a must!
This carrot cake recipe is easy to make and tastes amazing. The sweet, moist cake is made with lots of grated carrots, coconut milk, and fresh ginger. The whole wheat flour adds a nice nutty flavor and the whole thing comes together to create the perfect festive dessert.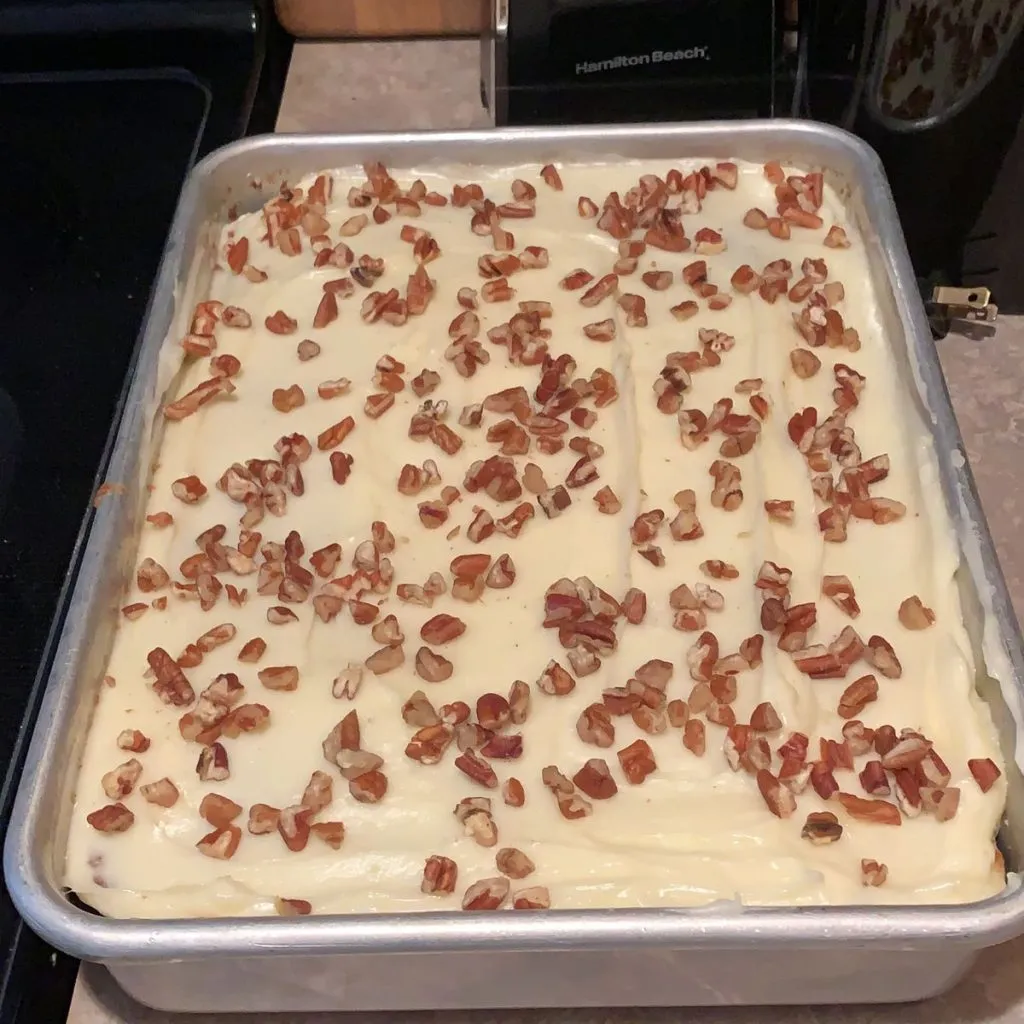 CARROT CAKE SHEET CAKE: SMOOTH, MOIST & RIDICULOUSLY DELICIOUS
Ingredients
Cake:
½ cup vegetable oil
¼ cup (1 ½ sticks), unsalted butter, melted and cooled
1 cup sugar
¾ cup brown sugar
4 eggs
2 teaspoons vanilla extract
2 cups all-purpose flour
2 teaspoons baking soda
¼ teaspoon baking powder
2 teaspoons cinnamon
½ teaspoon nutmeg
½ teaspoon salt
4 cups grated carrot
¼ cup raisins
Pecans finely chopped to ¼ cup
Frosting:
1 (8 oz.) package of cream cheese, room temperature
½ cup (1 stick), unsalted butter, room temp
1 teaspoon vanilla extract
4 cups powdered sugar
¼ teaspoon salt
Instructions
Preheat oven to 350o F. Lightly grease a baking sheet using butter or nonstick spray.
Mix flour, baking soda, and baking powder in a large bowl. Add cinnamon, nutmeg, and salt.
Mix vegetable oil, butter, brown sugar, and sugar in a large bowl. Continue to beat the mixture for about 3-4 minutes or until it becomes smooth and fluffy.
Mix in the eggs and vanilla extract. Next, add the dry ingredients. Mix until well combined.
Add raisins, carrots, and pecans.
Place the batter on a 13×18-inch baking sheet and bake. Bake for 24 to 26 minutes or until a toothpick inserted into the center comes out clean.
Let cool in the oven.
Mix butter and cream cheese together for 3 minutes while you bake the cake.
Mix in vanilla extract, and salt, and then slowly add powdered sugar to reach desired consistency.
After the cake has cooled, frost it and cut it into squares.
Nutrition Information:
Amount Per Serving:
Calories:

0
Total Fat:

0g
Saturated Fat:

0g
Trans Fat:

0g
Unsaturated Fat:

0g
Cholesterol:

0mg
Sodium:

0mg
Carbohydrates:

0g
Fiber:

0g
Sugar:

0g
Protein:

0g