Prep Time: 15 mins | Cook Time: 30 mins | Total Time: 45 mins | Yield: 4 Servings
This heartwarming Cauliflower Soup is ready in less than an hour! Total comfort food, you can never go wrong with this soup recipe!
Cauliflower Soup Tips:
Wondering about ways to enhance your cauliflower soup? Let's dive into some insider tricks.
Need a Fuller Consistency?
To achieve that sumptuously thick texture, we employ a classic culinary duo: flour and butter. Mix them into a roux, and let its magic unfold. Craving an even richer consistency? Try this: set aside 2 cups of the soup, blend it into a smooth puree using your trusty blender, and then seamlessly reintroduce it to the pot. And if you're on the gluten-free journey, fret not. Swap out the flour and butter for cornstarch – whisk 2 tablespoons into the milk before melding it into the pot.
Seeking to Amp Up the Flavor?
Elevate your cauliflower soup's taste profile with a dash of hot sauce or a sprinkle of crushed red pepper flakes. Upping the ante on black pepper by a quarter teaspoon and opting for aged, sharp cheddar will also whisk your taste buds away. For an added layer of pizzazz, crown your creation with Homemade Croutons – a surefire way to tantalize your palate with a symphony of flavors and textures.
To Freeze or Not to Freeze?
While this creamy, dairy-rich cauliflower soup is a true culinary delight, it's best savored fresh. Freezing might compromise its velvety essence, potentially leading to a grainy texture upon thawing. For the ultimate experience, indulge in the richness and depth of this cauliflower soup immediately. Got leftovers? Embrace creativity – enhance it with diced, cooked chicken or ham, and let it shine as a delectable one-dish meal, perhaps over a baked potato.
Unveiling the secrets of cauliflower soup – because every spoonful should be a culinary revelation. Insights provided by Catherine Ward, Taste of Home Prep Kitchen Manager.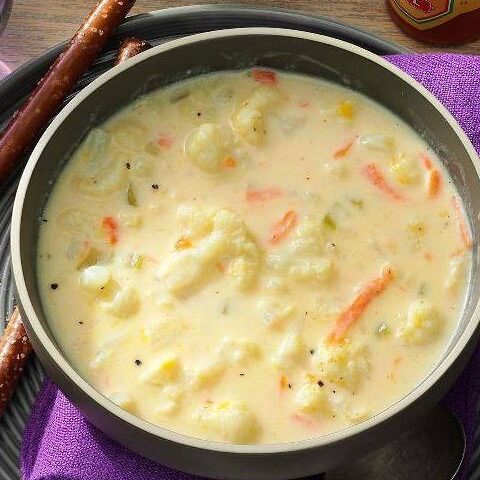 CAULIFLOWER SOUP
Ingredients
1 medium head cauliflower, broken into florets
1 medium carrot, shredded
1/4 cup chopped celery
2-1/2 cups water
2 teaspoons chicken or 1 vegetable bouillon cube
3 tablespoons butter
3 tablespoons all-purpose flour
3/4 teaspoon salt
1/8 teaspoon pepper
2 cups 2% milk
1 cup (4 ounces) shredded cheddar cheese
1/2 to 1 teaspoon of hot pepper sauce, optional
Instructions
1. In a large bowl, combine the cauliflower, carrot, celery, water and bouillon. Bring to a boil. Reduce heat; cover and simmer for 12-15 minutes or until vegetables are tender (do not drain).
2. In another large saucepan, melt butter. Stir in the flour, salt and pepper until smooth. Gradually add milk. Bring to a boil over medium heat; cook and stir for 2 minutes or until thickened. Reduce heat. Stir in the cheese until melted. Add hot pepper sauce if desired. Stir into the cauliflower mixture.
Yield: 8 servings (about 2 quarts).
Nutrition Information:
Amount Per Serving:
Calories:

0
Total Fat:

0g
Saturated Fat:

0g
Trans Fat:

0g
Unsaturated Fat:

0g
Cholesterol:

0mg
Sodium:

0mg
Carbohydrates:

0g
Fiber:

0g
Sugar:

0g
Protein:

0g