A nearby restaurant makes a cheeseburger soup that I'd like to try, but they wouldn't give me the recipe. I came up with my own, based on a potato soup recipe I already had. I was quite delighted with the outcome of this dish.
It's flavorful enough to be served alone as an appetizer or small-plate dish for dinner parties or barbecues, and that's how I chose to serve it. Cooled in the refrigerator overnight and served cold with crackers the next day. However, you serve it, this soup is sure to please the taste buds of your family and friends. While I consider this recipe a delicious and healthy meal in itself, I also enjoy serving it with a freshly grilled hamburger on the side for extra protein.
Cheeseburger Soup Tip's:
1. What can I substitute with the Velveeta and ground beef?
Any cheese, such as Swiss or cheddar, can be used in place of Velveeta. For a kick, use pepper jack cheese. Instead of ground beef, use ground sirloin, round, or turkey to make this soup thinner.
2. Which way can you keep cheeseburger soup fresh for as long as possible? Is it feasible to put it in the freezer?
Allow the soup to cool completely before refrigerating it for up to 4 days in an airtight jar. Soups containing carbohydrates and dairy (like cheeseburger soup) do not freeze well. These soups, on the other hand, are excellent!
3. Is it okay if I throw in some bacon?
Bacon is acceptable in a cheeseburger soup. Bacon enhances the flavor of this soup, and it's also a typical addition to burgers. I've never met someone who doesn't like bacon, and anyone who thinks adding bacon to a cheeseburger soup will make it taste any different is insane. The sweetness of the tomato combines beautifully with the saltiness of the bacon in this recipe, which is lovely in its simplicity.
Prep time: 45 min. Cook time: 10 min. Makes: 8 servings (2 quarts)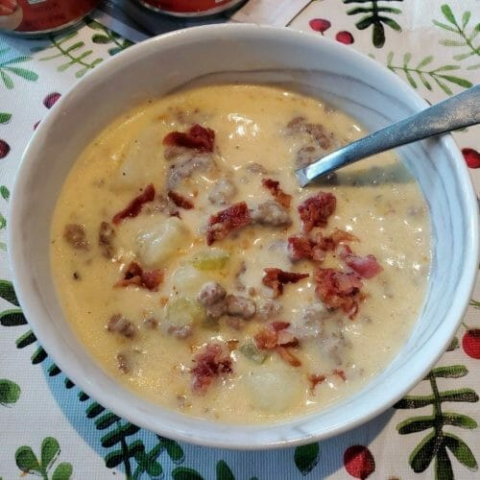 Cheeseburger Soup
Ingredients
3/4 cup shredded carrots
1/4 to 1/2 teaspoon pepper
1-1/2 cups whole milk
4 tablespoons butter, divided
1/4 cup sour cream
3/4 teaspoon salt
2 to 4 cups shredded Velveeta
3 cups chicken broth
1/4 cup all-purpose flour
1-3/4 pounds (about 4 cups) cubed peeled potatoes
3/4 cup diced celery
3/4 cup chopped onion
1/2 pound ground beef
1 teaspoon dried basil
1 teaspoon dried parsley flakes
Instructions
Cook the beef in a saucepan over medium heat for 6-8 minutes, or until it is no longer pink. Drain the water and set it aside. In the same pot, melt 1 tablespoon of butter over medium heat.
Leave it to cook for 10 minutes or until the onion, carrots, celery, basil, and parsley are tender. Toss the potatoes, ground pork, and broth together in a pot and bring to a boil and cook for 12 minutes.
In a skillet, heat the remaining butter. Cook, constantly stirring, for about 3-5 minutes, or until the flour is bubbling. Bring to a boil before pouring into the soup.
Cook for 2 minutes, stirring once in a while. Reduce the temperature to a low level. Continue to cook, stirring in the cheese, milk, salt, and pepper until the cheese has melted. Take the skillet away from the heat and add the sour cream.
Notes
Nutrition Facts
1 Cup: 450 calories, 27g fat (15g saturated fat), 100mg cholesterol, 1421mg sodium, 33g carbohydrate (8g sugars, 3g fiber), 19g protein.
Nutrition Information:
Amount Per Serving:
Calories:

0
Total Fat:

0g
Saturated Fat:

0g
Trans Fat:

0g
Unsaturated Fat:

0g
Cholesterol:

0mg
Sodium:

0mg
Carbohydrates:

0g
Fiber:

0g
Sugar:

0g
Protein:

0g