Want a hot dog that doesn't require you to have your grill on, and you don't want to have to use a bunch of dishes just to cook this?
Well you're in luck.
This is a recipe that requires a variety of other pans, pots, and whatnot to give you the best tasting dogs out there.
It's perfect, and you can serve this with grilled onions, jalapenos, and the like, and you can even make these with different seasonings.
The best part, is that you can make this all neatly put together with other ingredients, making it a truly delicious food.
If you're someone who likes cheese dogs but wants a variety of different ways to make them, you're not alone, and this is a great way for you to do it as well.
Tips:
Can I use homemade chili with this?
You sure can. Homemade chili does give it a nice, unique flavor that really adds to this, and it's something that a lot of people like with this. You can also use Hormel chili if you don't' want to make it, but you should make sure that it's hot, or else it will definitely impact the taste of this.
Can I use leftover chili to make this?
Yes you can! This is something that's great if you're already making a lot of chili.
You can then add in some mustard, and the chopped onions before you add in the dogs that are in the buns. This definitely adds a unique taste to this and is something that a lot of people love from this. It's worth trying out if you want a unique taste for your hot dogs, that's for sure.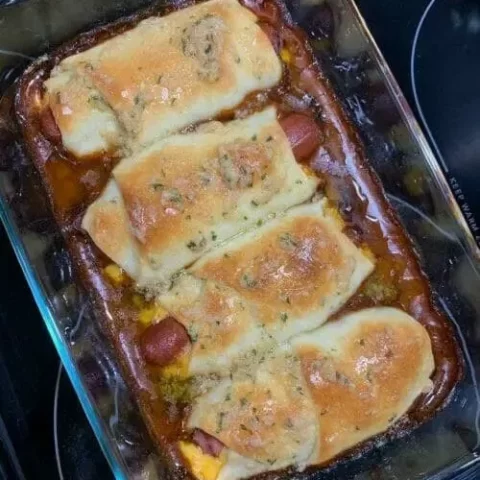 Chili Cheese Dog Bake
Ingredients
1 can (14 to 15 oz) chili, heated
1 can Pillsbury™ refrigerated classic pizza crust
4 Cheddar cheese sticks
4 all-beef hot dogs
1 tablespoon butter
1/4 teaspoon garlic powder
1/4 teaspoon parsley flakes
Instructions
You first want to preheat the oven to 375. While that's heating up, you want to spray a cooking dish with some spray.
Next, you want to take the chili and put it in the dish, spreading this evenly
Unroll your dough that you're using, and then cut this into four small strips.
Cut one of the cheese sticks in half on the length side, and then put a half of this into each of the hot dogs.
Put the strip around the cheese and then over the hot dog. Make sure that this overlaps within the center area.
Repeat this as needed with the rest of the cheese sticks, the dough strips, and the hot dogs. Put the hot dogs then on top of the chili (be careful, the chili will be hot)
Bake this for about 15-20 minutes until the dough becomes a golden brown that's quite light
While this is cooking, get a small, microwavable cup and then put the butter on a high setting until this melts, and then, adding the parsley and the garlic.
Take the baking dish out of the oven. Brush the very top of each of these dogs with the mixture of the butter and the herbs, and then, serve it immediately!
Nutrition Information:
Amount Per Serving:
Calories:

0
Total Fat:

0g
Saturated Fat:

0g
Trans Fat:

0g
Unsaturated Fat:

0g
Cholesterol:

0mg
Sodium:

0mg
Carbohydrates:

0g
Fiber:

0g
Sugar:

0g
Protein:

0g