Experience the essence of autumn with our Chunky Apple Cake, a delightful fusion of sweet and spiced apples embraced by a perfectly moist cake. This comforting dessert is crowned with a luscious butterscotch sauce, elevating every bite to a symphony of flavors. Join us as we embark on a culinary journey to create a cake that not only captures the essence of fall but also becomes a cherished addition to your dessert repertoire.
Resume of the Recipe:
Our Chunky Apple Cake is a celebration of seasonal flavors, beginning with a batter that intertwines the richness of butter, the sweetness of sugar, and the warmth of vanilla. Eggs are added one at a time, creating a velvety texture. A blend of all-purpose flour, cinnamon, nutmeg, salt, and baking soda transforms the batter into a canvas for the star ingredient – chopped, peeled tart apples. The marriage of these elements results in a cake that is not only moist and flavorful but also visually appealing with chunks of apples dotting each slice.
Closing:
As you slice into our Chunky Apple Cake, the warmth of cinnamon-spiced apples and the velvety embrace of butterscotch sauce will transport you to a cozy autumn day. This dessert is not just a cake; it's a comforting celebration of fall flavors, perfect for sharing with loved ones or enjoying a quiet moment of indulgence. Elevate your dessert experience with the quintessential taste of the season.
Frequently Asked Questions:
Can I use a different variety of apples in this recipe?
Absolutely! Experiment with a mix of tart and sweet apples for a dynamic flavor profile.
Can I make the butterscotch sauce ahead of time?
Certainly! Prepare the sauce in advance and gently reheat it before serving for the perfect drizzling consistency.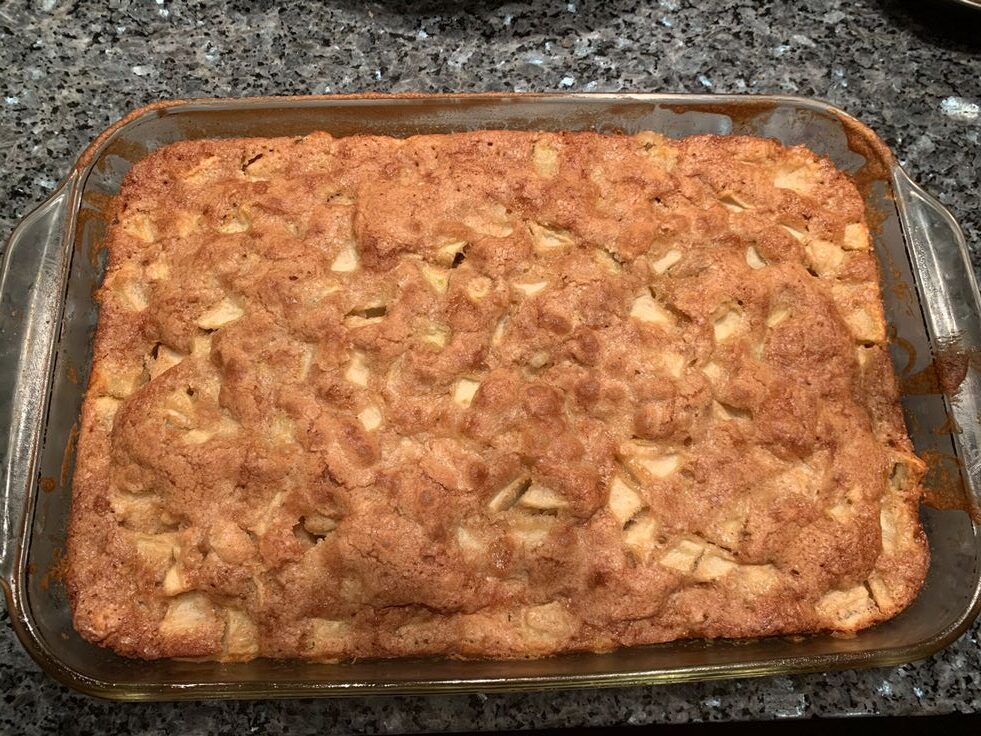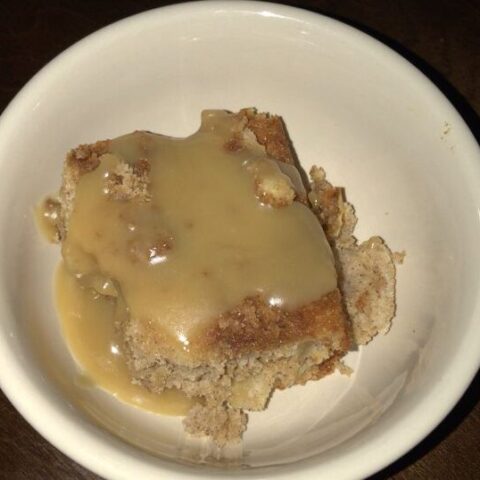 Chunky Apple Cake
Total Time:
1 hour
5 minutes
Ingredients
1/2 cup butter, softened
2 cups sugar
1/2 teaspoon vanilla extract
2 large eggs, room temperature
2 cups all-purpose flour
1-1/2 teaspoons ground cinnamon
1 teaspoon ground nutmeg
1/2 teaspoon salt
1/2 teaspoon baking soda
6 cups chopped peeled tart apples
Butterscotch Sauce:
1/2 cup packed brown sugar
1/4 cup butter, cubed
1/2 cup heavy whipping cream
Instructions
In a large bowl, cream together the softened butter, sugar, and vanilla. Add the eggs one at a time, beating well after each addition.
In a separate bowl, combine the flour, cinnamon, nutmeg, salt, and baking soda. Gradually add this dry mixture to the creamed mixture, stirring until well combined. The batter will be stiff.
Gently stir in the chopped peeled tart apples until well combined.
Spread the batter into a greased 13x9-in. baking dish. Bake at 350° for 40-45 minutes or until the top is lightly browned and springs back when lightly touched.
Cool the cake for 30 minutes before serving.
Butterscotch Sauce:
In a small saucepan, combine brown sugar and cubed butter. Cook over medium heat until the butter is melted.
Gradually add heavy whipping cream, bringing the mixture to a slow boil over medium heat. Stir constantly.
Remove the sauce from the heat. Serve the warm butterscotch sauce alongside the cake.
Notes
For added texture, consider folding in a handful of chopped nuts, such as walnuts or pecans, into the batter before baking.
Nutrition Information:
Amount Per Serving:
Calories:

0
Total Fat:

0g
Saturated Fat:

0g
Trans Fat:

0g
Unsaturated Fat:

0g
Cholesterol:

0mg
Sodium:

0mg
Carbohydrates:

0g
Fiber:

0g
Sugar:

0g
Protein:

0g