Clodhopper Candy is a delightful combination of graham crackers, cashews, and white chocolate chips, creating a crunchy, nutty, and sweet treat. These homemade clodhoppers are perfect for satisfying your sweet cravings or for sharing with friends and family during gatherings. With a touch of cinnamon to enhance the flavors, this easy-to-make candy is a delightful addition to your homemade confectionery repertoire.
Why You'll Love This Recipe:
Cashew Graham Clodhoppers are incredibly easy to prepare and offer a satisfying mix of textures. The combination of crunchy graham crackers, creamy white chocolate, and salty cashews creates a taste sensation that is hard to resist. Whether you're a fan of sweet and salty treats or simply enjoy the delightful crunch of nuts, these clodhoppers are sure to become a favorite snack.
Recipe Tips and Variations:
Dark Chocolate Twist: For a richer flavor, replace the white chocolate chips with dark chocolate chips.
Nut Variations: Feel free to experiment with different nuts like almonds, pecans, or peanuts to create your unique clodhopper blend.
Seasonal Flavors: Add a pinch of nutmeg or pumpkin spice during the fall season for a festive touch.
Why These Clodhoppers Stand Out:
Quick and Easy: This recipe requires minimal preparation and cooking time, making it a go-to option for last-minute sweet cravings.
Versatile Snack: Clodhoppers are suitable for various occasions, from movie nights to holiday parties, and can be beautifully packaged as homemade gifts.
Customizable: Adjust the sweetness by choosing between sweetened or unsweetened graham crackers, depending on your preference.
What to Serve With This Recipe:
Serve Cashew Graham Clodhoppers alongside a cup of hot coffee, tea, or hot chocolate for a delightful afternoon treat. Alternatively, use them as a topping for ice cream or yogurt to add a satisfying crunch to your dessert.
Remember it later
Like this recipe! Pin it to your favorite board NOW!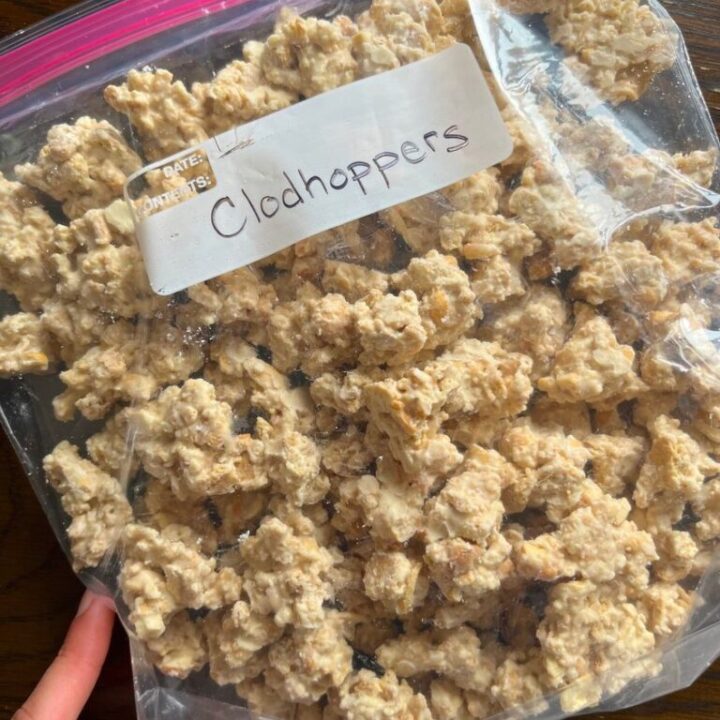 Clodhopper Candy
Ingredients
2 sleeves graham crackers, crushed (about 2 ½ cups)
1 ¼ cup lightly salted cashews, roughly chopped
12 oz white chocolate chips
Instructions
Preparing the Baking Sheet:
Line a baking sheet with parchment paper, ensuring it covers the entire sheet. Set aside.
Melting the White Chocolate:
In a large microwave-safe bowl, place the white chocolate chips. Microwave the chips in 30-second increments, stirring well after each interval, until the chocolate is fully melted and smooth.
Combining the Ingredients:
Add the crushed graham crackers and roughly chopped cashews to the melted white chocolate. If using cinnamon, add it at this stage. Mix the ingredients thoroughly until well combined.
Shaping the Clodhopper Candy:
Spread the mixture evenly onto the prepared parchment paper, creating a thin layer. Use a spatula or the back of a spoon to smooth the top.
Cooling and Setting:
Allow the candy to cool at room temperature until it sets completely. This might take a couple of hours. To speed up the process, you can place the baking sheet in the refrigerator for faster cooling.
Breaking Into Pieces:
Once the clodhopper candy has fully cooled and solidified, break it into small, irregular pieces using your hands or a knife.
Storing the Clodhoppers:
Store the Cashew Graham Clodhoppers in an airtight container at room temperature. They can also be refrigerated for a longer shelf life, especially in warmer climates.
Notes
Cashew Graham Clodhoppers offer a delightful blend of textures and flavors, making them a popular choice for sweet enthusiasts. Whether shared at gatherings or savored privately, these homemade clodhoppers are a testament to the simple joy of creating delicious treats in your own kitchen. Enjoy the sweet crunch of these delightful candies with every bite!
Nutrition Information:
Amount Per Serving:
Calories:

0
Total Fat:

0g
Saturated Fat:

0g
Trans Fat:

0g
Unsaturated Fat:

0g
Cholesterol:

0mg
Sodium:

0mg
Carbohydrates:

0g
Fiber:

0g
Sugar:

0g
Protein:

0g
Remember it later
Like this recipe! Pin it to your favorite board NOW!