Cornish Beef Pasties. These delectable handheld pies boast a flaky, buttery crust enveloping a hearty filling of seasoned ground beef, tender potatoes, carrots, and aromatic spices. Perfect for picnics, family gatherings, or a cozy dinner, these pasties are a warm embrace of comfort and tradition.
Why You Should Try It:
If you crave the satisfaction of old-world flavors wrapped in a golden crust, these Cornish Beef Pasties are your answer. Each bite combines the richness of well-seasoned beef with the earthiness of potatoes and the sweetness of carrots, all encased in a pastry that's both crisp and tender. Experience the authentic taste of Cornwall, right in your own home.
Exciting Story:
Imagine the quaint kitchens of Cornwall, where generations have perfected the art of making pasties. In a bustling kitchen, the aroma of freshly baked pastries mingles with the enticing scent of simmering beef and spices. Families gather around, eagerly anticipating the moment when these golden delights emerge from the oven. Each pasty tells a tale of tradition, warmth, and the joy of sharing a meal made with love.
Why Cornish Beef Pasties Are a Must-Try:
These pasties aren't just a dish; they're a connection to Cornwall's culinary legacy. Every element, from the flaky crust to the savory filling, is a testament to the region's rich heritage and culinary expertise.
What Makes It Unique:
The blend of seasoned ground beef, potatoes, carrots, and aromatic spices creates a harmony of flavors that's truly unmatched. Each ingredient shines, creating a symphony of taste that's comforting, satisfying, and utterly delicious.
Remember it later
Like this recipe! Pin it to your favorite board NOW!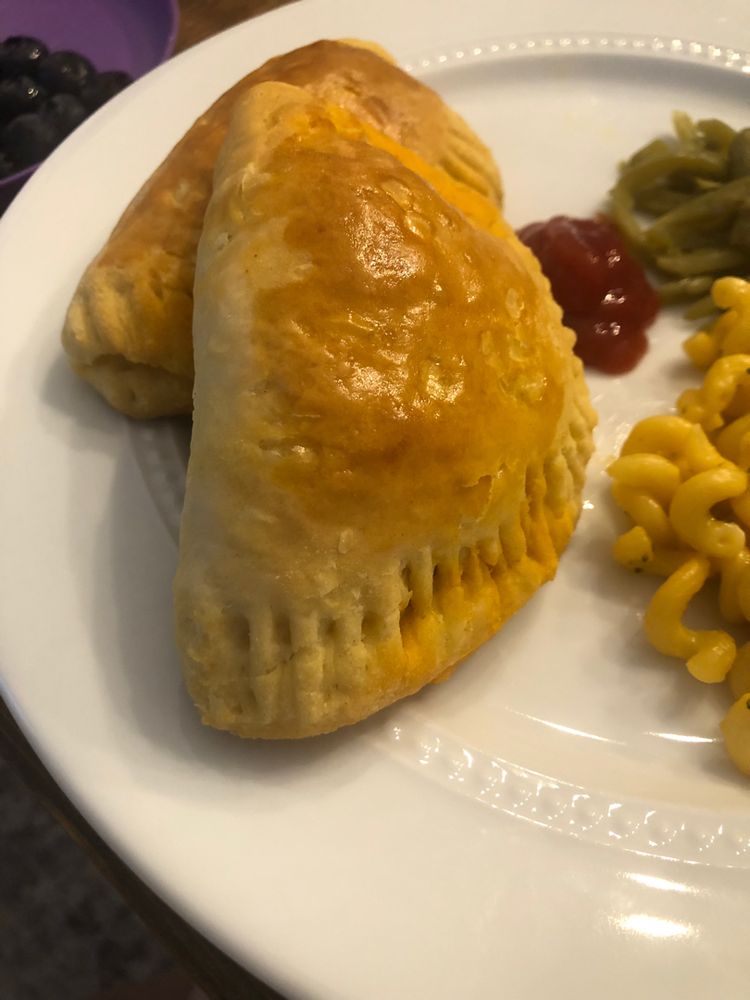 Cornish Beef Pasties
Ingredients
For the Dough:
3 cups all-purpose flour
1 teaspoon salt
1/2 cup (1 stick) unsalted butter, chilled
1/2 cup cold water
2 egg yolks, divided
For the Filling:
1 lb ground beef (or leftover roast, chopped)
1 lb waxy potatoes (red or Yukon gold), diced
2 carrots, peeled and diced
1 small onion, diced
2 tablespoons Worcestershire sauce
2 cloves garlic, minced
1/2 teaspoon dried rosemary
1/2 teaspoon dried thyme
Kosher salt and freshly ground black pepper, to taste
Instructions
Prepare the Dough:
In a large mixing bowl, whisk together flour and salt.
Cut chilled butter into small pieces and work it into the flour until crumbly.
Mix water with one egg yolk; add to the flour mixture. Knead until the dough comes together. Chill for at least 30 minutes.
Prepare the Filling:
Brown the ground beef in a skillet. Remove and set aside.
In the same skillet, cook potatoes, onion, and carrots until soft. Add garlic, rosemary, thyme, and Worcestershire sauce. Combine with the beef. Season with salt and pepper. Let the filling cool to room temperature.
Assemble the Pasties:
Preheat oven to 400°F and line a baking sheet with parchment paper.
Divide the dough into 6 portions. Roll each into a 3/8-inch thick circle.
Wet the edges with water. Spoon cooled beef mixture on one side of the dough, leaving a 1/2-inch border. Fold over and seal the edges by crimping.
Cut three small slits on top for venting.
Whisk the remaining egg yolk with water. Brush over each pasty.
Bake for 30-40 minutes or until golden brown.
Nutrition Information:
Amount Per Serving:
Calories:

0
Total Fat:

0g
Saturated Fat:

0g
Trans Fat:

0g
Unsaturated Fat:

0g
Cholesterol:

0mg
Sodium:

0mg
Carbohydrates:

0g
Fiber:

0g
Sugar:

0g
Protein:

0g
Remember it later
Like this recipe! Pin it to your favorite board NOW!