I'm not a big fan of chicken breast because it's kind of dry sometimes, but this recipe made me change my mind about it! It turns out that soaking the chicken breasts in buttermilk for a few hours made them very juicy and tender! You have got to try this recipe, I'm telling you!
Note:
Place any leftovers in an airtight container, then place them in the fridge. They can last up to 3 days or 3 months in the freezer. Reheat for a few minutes before serving again.
I highly suggest soaking the chicken in buttermilk. It will make the chicken tender and enhance its flavor!
Prep Time: 25 mins | Cook Time: 40 mins | Total Time: 1 hr 5 mins | Yield: 4 Servings
Print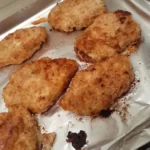 COUNTRY FRIED CHICKEN
---
1 ½ c vegetable oil
4 boneless, skinless chicken breasts
Buttermilk Marinade:
2 large eggs, whisked
3 tsp salt
2 c buttermilk
Breading:
2 ½ tsp seasoned salt
1 ½ tsp black pepper
½ c bread crumbs, plain or Italian
½ tsp cayenne pepper
¾ tsp paprika
1 ½ c all-purpose flour
---
Instructions
Use paper towels to pat dry the chicken. Wrap each with plastic, then gently pound with a meat mallet.
In a mixing bowl, add salt, buttermilk, and eggs. Whisk until well combined.
Put the chicken into the bowl with the buttermilk. Toss until well coated.
Place the bowl in the fridge to marinate the chicken for 1 to 2 hours.
For the Chicken:
Remove the chicken from the bowl with the marinade, then place them into the breading mix. Coat well and remove any excess.
Place a skillet on the stove and turn the heat to about 350 degrees F. Add oil and allow it to become hot.
Add the chicken into the hot skillet, then cook each side for about 5 minutes or until they turn golden brown.
Transfer the chicken onto a clean plate lined with paper towels to drain excess oil.
Serve with gravy and mashed potatoes. Enjoy!
Notes
Nutrition Facts:
Calories: 348 kcal | Carbohydrates: 14g | Protein: 27g | Fat: 20g | Saturated Fat: 14g | Cholesterol: 82mg | Sodium: 555mg | Potassium: 460mg | Fiber: 1g | Sugar: 1g | Vitamin A: 190IU | Vitamin C: 1mg | Calcium: 34mg | Iron: 1mg