These were my favorite cookies when I was a child (ask my mom!). She made them often and I loved all the "stuff" in them. When I moved out on my own, I made sure I had this recipe. My daughter loves these too and when she was in elementary school, one morning she wanted a cookie for breakfast.
Her argument was that the cookie had so many healthy ingredients, it was better than a pop-tart or a bowl of cereal. I let her have that win – but with milk of course!
I sometimes make these a little smaller than what the recipe states and they work out perfectly. They also freeze beautifully, and I usually have some stashed in my freezer for emergencies!
Notes:
• Pecans are wonderful but if you prefer another type of nut, feel free to substitute. I think walnuts are great in these cookies!
• Toasting the coconut and the nuts is a great way to increase the depth of flavor. To do this, place coconut and pecans on a 15x10x1-in. baking pan. Bake at 350° F for 6 to 8 minutes or until toasted, stirring every 2 minutes. Set aside to cool.
Print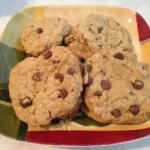 Cowboy Cookies
---
3 cups all-purpose flour
1 Tbsp. baking powder
1 Tbsp. baking soda
1 Tbsp. ground cinnamon
1 tsp. salt
1 ½ cups (3 sticks) butter, at room temperature
1 ½ cups granulated sugar
1 ½ cups packed light-brown sugar
3 eggs
1 Tbsp. vanilla extract
3 cups semisweet chocolate chips
3 cups old-fashioned rolled oats (not quick oats)
2 cups unsweetened flake coconut
2 cups chopped pecans (8 ounces)
---
Instructions
Heat oven to 350° F
Mix flour, baking powder, baking soda, cinnamon, and salt in bowl.
In a very large bowl, beat butter with an electric mixer at medium speed until smooth and creamy. Gradually beat in sugars and combine thoroughly.
Add eggs one at a time, beating well after each one. Add the vanilla and mix.
Pour half of flour mixture into butter mixture and mix, then pour the rest in and mix until just combined.
If using a stand mixer, add chocolate chips, oats, coconut, and pecans – mix until combined. If you were using a hand mixer, switch to using a wooden spoon to mix in the chocolate chips, oats, coconut, and pecans. The stiffness of the dough may be too much for a hand mixture.
For each cookie, drop 1/4 cup dough onto ungreased baking sheets, spacing 3 inches apart.
Bake for 15 to 17 minutes, until edges are lightly browned; rotate sheets halfway through. Don't overbake the cookies – they should be crunchy on the outside and chewy on the inside.
Let cookies sit on baking tray for a few minutes, then move cookies to a cooling rack.