Embark on a journey of flavor without the carbs with our Crack Keto Biscuits – a savory delight that proves you can enjoy the richness of biscuits without compromising your low-carb lifestyle. Imagine warm, cheesy bites with a hint of bacon, perfectly seasoned with ranch dressing mix. These biscuits are not only a testament to keto creativity but also a satisfying addition to your repertoire of guilt-free indulgences. Join us as we explore the simple steps to creating these keto wonders that will have you saying goodbye to carb-heavy alternatives.
Resume of the Recipe:
Our Crack Keto Biscuits are a fusion of cheesy goodness and keto-friendly ingredients. Cream cheese and mozzarella come together in a microwave dance to create a smooth and creamy base. The addition of baking powder, eggs, ranch mix, and almond flour results in a dough that's not only easy to work with but also packed with flavor. Cheddar cheese and chopped bacon add an extra layer of indulgence, making each bite a savory celebration. Baked in a skillet for that perfect golden exterior, these biscuits are keto magic that satisfies both your cravings and your commitment to a low-carb lifestyle.
Substitutions and Variations:
Experiment with different cheeses or add a pinch of garlic powder for a personalized twist.
Closing:
As you brush these Crack Keto Biscuits with melted butter and savor the aroma of savory goodness, revel in the fact that indulgence can be both delicious and keto-friendly. Whether you're following a low-carb lifestyle or simply seeking a flavorful alternative, these biscuits are a game-changer. Enjoy them warm, straight from the oven, or pair them with your favorite keto-friendly soup. Say goodbye to carb cravings and hello to the joy of guilt-free biscuits!
Frequently Asked Questions:
Can I freeze these biscuits for later?
Absolutely! Once baked and cooled, these biscuits can be frozen in an airtight container. Simply thaw and reheat in the oven for a quick keto treat.
Can I make these biscuits without a skillet?
Certainly! While the skillet adds a rustic touch, you can use a baking sheet lined with parchment paper for equally delicious results.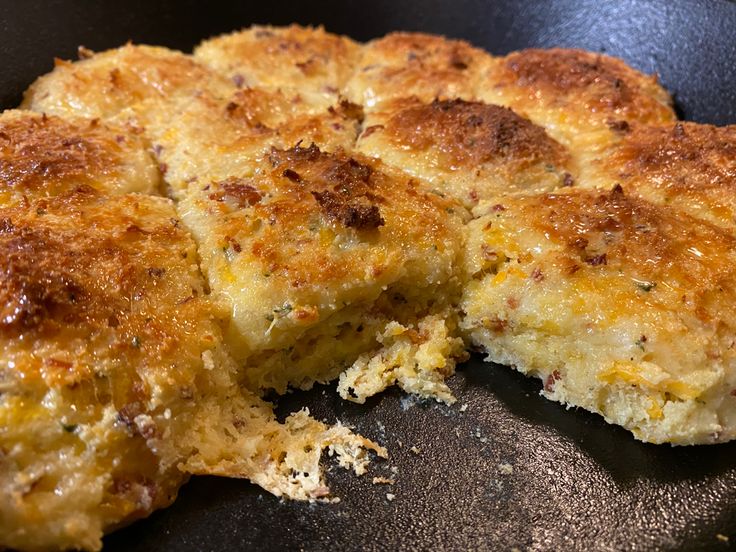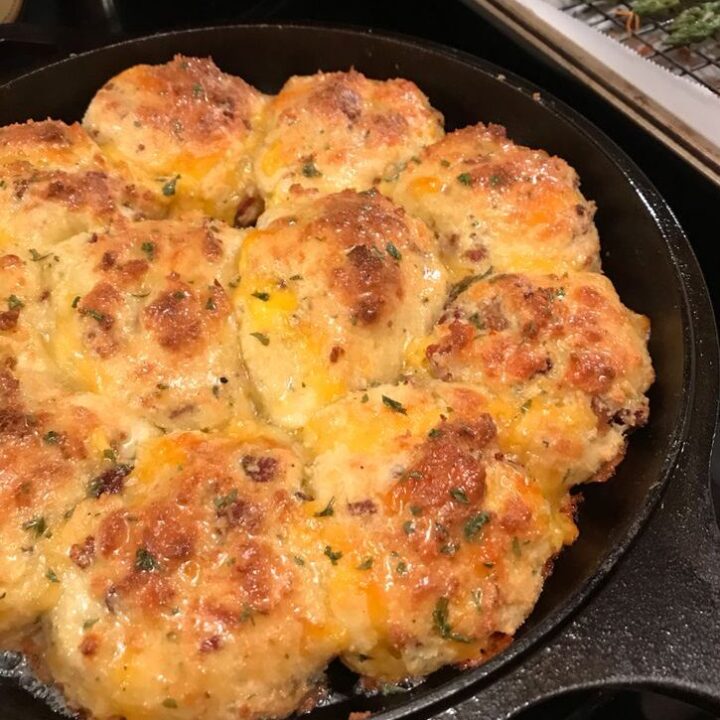 CRACK KETO BISCUITS
Ingredients
4 oz cream cheese
2 cups shredded mozzarella cheese
2 tsp baking powder
3 large eggs
1 (1-oz) package ranch dressing mix
1½ cups superfine almond flour
1 cup shredded cheddar cheese
½ cup chopped cooked bacon
Instructions
Preheat your oven to 400ºF.
In a microwave-safe bowl, microwave cream cheese and mozzarella cheese on HIGH for 1 minute. Stir until smooth.
Add baking powder, eggs, ranch mix, and almond flour to the cream cheese mixture. Stir well to combine.
Stir in cheddar cheese and bacon, ensuring the mixture is well combined.
Spray a 10-inch iron skillet with cooking spray. Divide the dough into 11 or 12 balls and place them in the skillet.
Place the skillet in the refrigerator for 10 minutes.
Remove the skillet from the refrigerator and bake for 20 to 25 minutes, or until the biscuits are golden brown.
Brush the cooked biscuits with melted butter and sprinkle with dried parsley, if desired.
Notes
For added flavor, consider mixing chopped fresh herbs into the dough before baking.
Nutrition Information:
Amount Per Serving:
Calories:

0
Total Fat:

0g
Saturated Fat:

0g
Trans Fat:

0g
Unsaturated Fat:

0g
Cholesterol:

0mg
Sodium:

0mg
Carbohydrates:

0g
Fiber:

0g
Sugar:

0g
Protein:

0g