Elevate your breakfast game with our Cracked Out Tater Tot Breakfast Casserole – a dish that takes the classic tater tot casserole to a whole new level of flavor. Imagine a symphony of crispy bacon, savory tater tots, and a blend of cheeses, all bathed in a luscious mix of eggs and ranch dressing. This breakfast masterpiece is not only a crowd-pleaser but also a game-changer for your morning routine. Join us as we dive into the delicious details of this irresistible breakfast casserole that will have you excited to wake up early.
Resume of the Recipe:
Our Cracked Out Tater Tot Breakfast Casserole is a celebration of bold flavors and hearty ingredients. It all starts with sizzling bacon, cooked to perfection and chopped into savory pieces. Tater tots join the party, creating a crispy and comforting base, complemented by a generous helping of shredded cheddar cheese. The magic happens when a mixture of eggs, ranch dressing, and milk is poured over the tater tot ensemble, creating a creamy and flavorful binding that ties everything together. Whether you bake it immediately or refrigerate it overnight for a hassle-free morning, this casserole is a delicious solution to your breakfast cravings.
Substitutions and Variations:
Experiment with different types of cheese, such as pepper jack or mozzarella, to add a unique twist to the flavor profile.
Closing:
As you pull our Cracked Out Tater Tot Breakfast Casserole from the oven, be prepared for the applause from your taste buds. The crispy bacon, creamy eggs, and cheesy tater tots create a harmonious breakfast experience that will make every morning feel like a special occasion. Share it with loved ones or savor it as a well-deserved solo breakfast treat. No matter how you enjoy it, this casserole is guaranteed to become a breakfast favorite. Get ready for a delicious wake-up call!
Frequently Asked Questions:
Can I use a different type of cheese in this casserole?
Absolutely! Feel free to experiment with your favorite cheese or a combination of cheeses for a personalized touch.
Can I assemble the casserole the night before and bake it in the morning?
Yes, indeed! The casserole can be prepared up to the point of baking, covered, and refrigerated overnight. Bake it in the morning for a quick and delicious breakfast.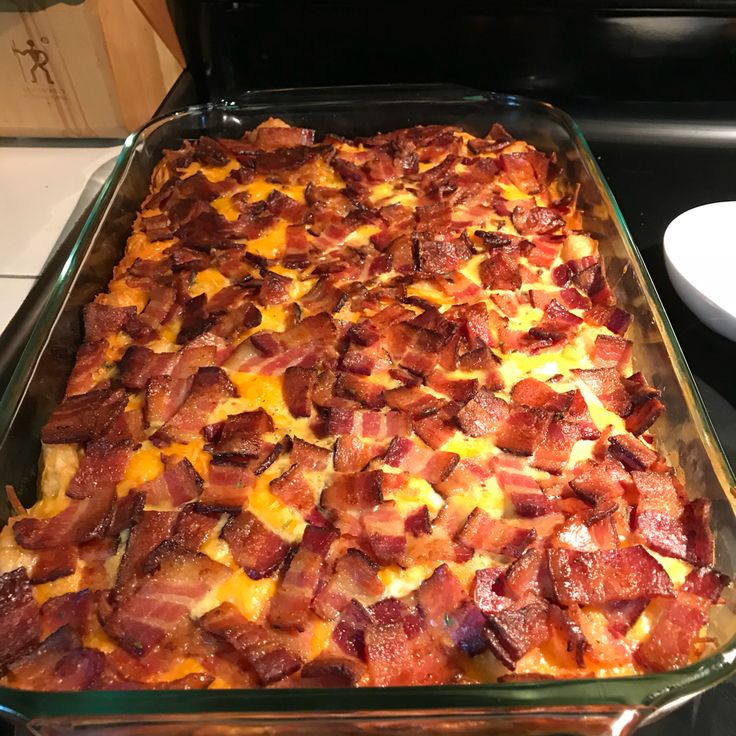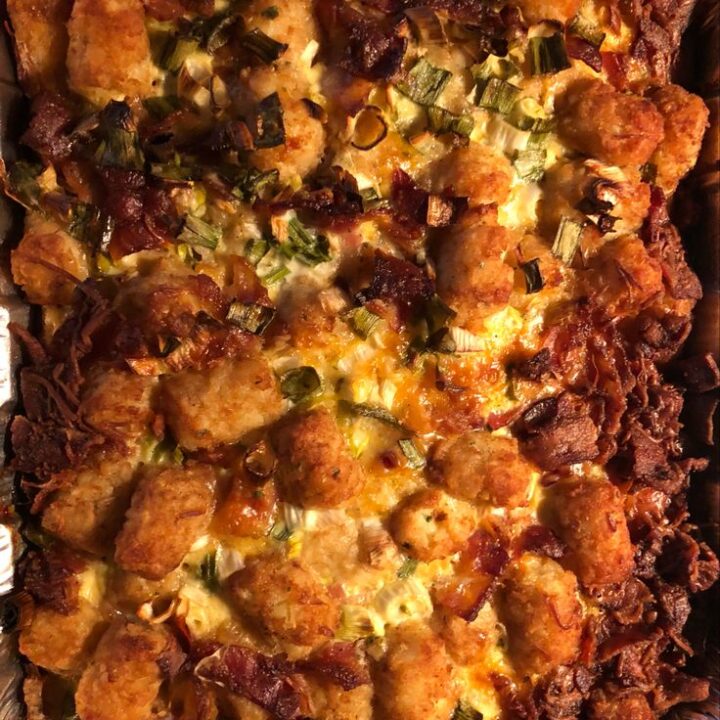 CRACKED OUT TATER TOT BREAKFAST CASSEROLE
Yield:
Approximately 8 servings
Total Time:
1 hour
10 minutes
Ingredients
2 lb bacon
1 (30-32oz) bag frozen tater tots
1 (1-oz) package ranch dressing mix
2 cups shredded cheddar cheese
8 large eggs
2 cups milk
Instructions
Preheat your oven to 350ºF degrees. Lightly spray a 9x13-inch baking dish with cooking spray.
In a large skillet, cook the bacon until crispy. Chop the cooked bacon into bite-sized pieces.
In a large bowl, toss together the frozen tater tots, cooked bacon, and shredded cheddar cheese. Pour the mixture into the prepared baking dish, spreading it evenly.
In a separate bowl, whisk together the eggs, ranch dressing mix, and milk. Ensure the ingredients are well combined.
Pour the egg mixture over the tater tot ensemble in the baking dish.
Cover and refrigerate at this point if you plan to bake it later.
Bake in the preheated oven for 50-60 minutes, or until the eggs are set. The casserole should be golden brown and irresistibly aromatic.
Notes
For added freshness, consider topping the baked casserole with chopped green onions or fresh herbs before serving.
Nutrition Information:
Amount Per Serving:
Calories:

0
Total Fat:

0g
Saturated Fat:

0g
Trans Fat:

0g
Unsaturated Fat:

0g
Cholesterol:

0mg
Sodium:

0mg
Carbohydrates:

0g
Fiber:

0g
Sugar:

0g
Protein:

0g