Chicken tacos are always a hit, but wouldn't it be cool to have something that helps enhance the rich texture?
This recipe does it, as it offers a rich, creamy taste from the cream cheese in this, but also the amazing, savory taste of a taco.
Corn tortillas are the best for this one, and you can also bake these too. You want to make sure the filling is thick with this, and that the chicken is properly combined. In this, we'll also tell you a little bit about how to prepare these tortillas in order to make it something savory, and something you will love.
Tips:
Do I have to use corn tortillas?
They are best because they give you exactly the kind of texture that you're going for with this. But if you'd prefer to use flour, that's fine, just adjust the cooking times as needed for this.
What are some good sides for this?
This is good with some rice and beans.
As for toppings, lettuce, tomatoes, avocado, and the like also are good. Salsa is also good if you want to add a bit of a kick to it. But eve on its own, it definitely delivers so it's something that you will definitely like and will enjoy, even if you just use the regular ingredients.
Can I fry the chicken?
It's best if you don't fry the chicken, however, if you want to let it sit and brown a little bit to get a deeper color to this, then by all means, go for it. You want to make sure you don't deep fry your chicken, but instead let it sit and have a light brown texture to it. That way, it gives that little bit of crunch that's great for these tacos, but also is not so browned it ruins the texture of the cream cheese sauce.
Print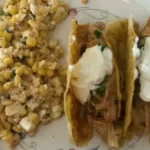 CREAM CHEESE CHICKEN TACOS
---
(1) (8 oz.) pkg. cream cheese
2 c of deli rotisserie chicken or leftover roast/baked chicken shredded
(2) clove garlic, minced
(1) bunch green onion, thinly sliced
1 cup shredded cheddar cheese
(10) medium corn tortillas
1/2 tsp salt
1/4 tsp pepper
canola oil for frying
---
Instructions
Get your oven preheated to 425
Get a skillet, heat about a tablespoon of the oil you have, and once it heats up, fry the tortillas, once every time, and keep this on the heat until they become a little bit brown. You can add a little bit of oil to this if they require more. put the tortillas on a paper towel to get the oil off that and properly drain it.
In a small saucepan, heat up your cream cheese on a heat that's low, stirring this until you melt the mixture completely.
Add in the garlic, the chicken, the green onion, along with the cheese together into this, and let it sit to combine. Take the saucepan off the heat once it's combined, and then, make sure everything's properly blended.
Put the tortillas onto a baking dish, and then, put the chicken in between the shells.
Put this in the oven once it's finished heating up, baking this for about 10 or so minutes or until the shells start to brown a deep color to them.