Made with garlic, pasta and parmesan, this delightful recipe is one that will leave the family asking for more. This recipe is a perfect diner option on weeknight or weekends when you're feeling lazy.
This Creamy Garlic Pasta is the easiest pasta dish you'll ever make. It's loaded with garlic flavor and takes only 20 minutes to prepare. With a tomato salad and a bottle of Spanish wine, this pasta dish is wonderful for a relaxed evening supper, but it's also assertive enough for an elegant weekend lunch.
I used spaghetti to prepare this meal. You may, however, use any variety of spaghetti noodles you choose. In any case, double-check the package directions on the pasta you're using. You want your pasta to be al dente. You'll wind up with mushy spaghetti if you overcook it.
Tips:
From start to finish, the cream sauce should take roughly 8 minutes to prepare. As such, once the pasta starts to cook, start preparing your sauce. This way, the pasta should be cooked after the sauce has come together, and the sauce will not become cold.
Prep: 10 mins
Cook: 20 mins
Total: 30 mins
Servings: 4
Print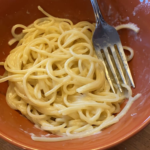 CREAMY GARLIC PASTA
---
8 oz uncooked spaghetti
2 tbsp virgin olive oil
1 head garlic
1¼ cups low-fat milk
1 tbsp all-purpose flour
1 tsp dried oregano
2 tbsp finely chopped, fresh parsley
Salt and black pepper, to taste
---
Instructions
Step 1:Fill a stock pot halfway with cold water, season generously with sea salt, and cook it over high heat.
Step 2:Meanwhile, separate the cloves from a head of garlic, remove the skins, and coarsely chop the garlic, as well as finely cut a handful of fresh parsley.
Step 3:Once the water has boiled, add 8 oz of uncooked spaghetti and toss it around in the boiling water so it is well coated. Cook until al dente (check package instructions).
Step 4:While the pasta is cooking, heat a fry pan over medium heat and add 2 tbsp olive oil, and 1 tbsp all-purpose flour. Mix continuously and cook for 2 minutes, then add 1 tsp dried oregano and 1 1/4 cup milk. Mix continuously, about 4 minutes until the mixture thickens up, then season with sea salt and black pepper.
Step 5:Drain the spaghetti in a sieve and shake off any extra water before adding it to the pan with the creamy sauce and 2 tbsp finely chopped parsley. Toss everything together until thoroughly combined.
Step 6:Transfer to small dishes and serve right away.
Notes
Nutritional Information:
Per Serving:
543 calories; protein 17.3g; carbohydrates 46.8g; fat 31.7g; cholesterol 98.5mg; sodium 1388.1mg.