Savor the simplicity of a dish that marries ease of preparation with rich, creamy indulgence – our Creamy Skillet Noodles with Peas. In this delightful recipe, fine egg noodles dance in a velvety concoction of butter, cream, and peas, creating a symphony of flavors that's both satisfying and soul-soothing. Let's embark on a culinary journey that celebrates the beauty of uncomplicated yet utterly delicious meals.
Resume of the Recipe:
Our Creamy Skillet Noodles with Peas is a testament to the magic that happens when a handful of humble ingredients come together. The dish starts with a duet of butter and canola oil in a hot skillet, setting the stage for the star of the show – fine egg noodles. As these noodles sizzle and transform into golden perfection, frozen peas join the party, infusing a burst of sweetness. The orchestra is completed with the addition of chicken broth, half-and-half cream, salt, and pepper, creating a harmonious blend that turns a simple skillet into a haven of comfort.
Closing:
Our Creamy Skillet Noodles with Peas is not just a side dish; it's a celebration of simplicity and flavor. Whether served alongside your favorite main course or enjoyed on its own, this dish brings a touch of elegance to any table. Elevate your dining experience with the comforting allure of creamy noodles and the pop of sweetness from tender peas.
Frequently Asked Questions:
Can I use a different type of pasta for this recipe?
Certainly! While fine egg noodles work beautifully, feel free to experiment with your favorite pasta shape.
Can I make this dish ahead of time?
Absolutely! Prepare the noodles and peas ahead, and gently reheat with a splash of cream before serving for that fresh-from-the-skillet taste.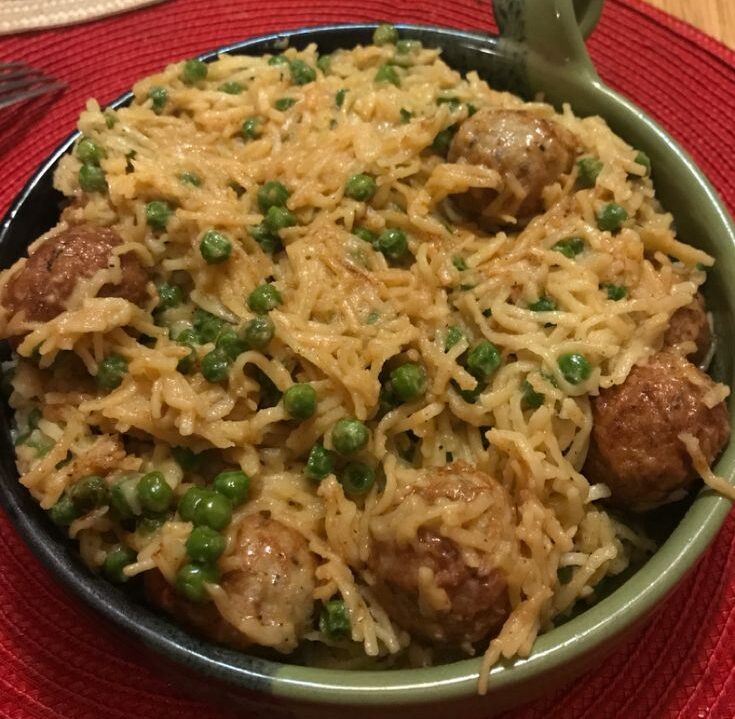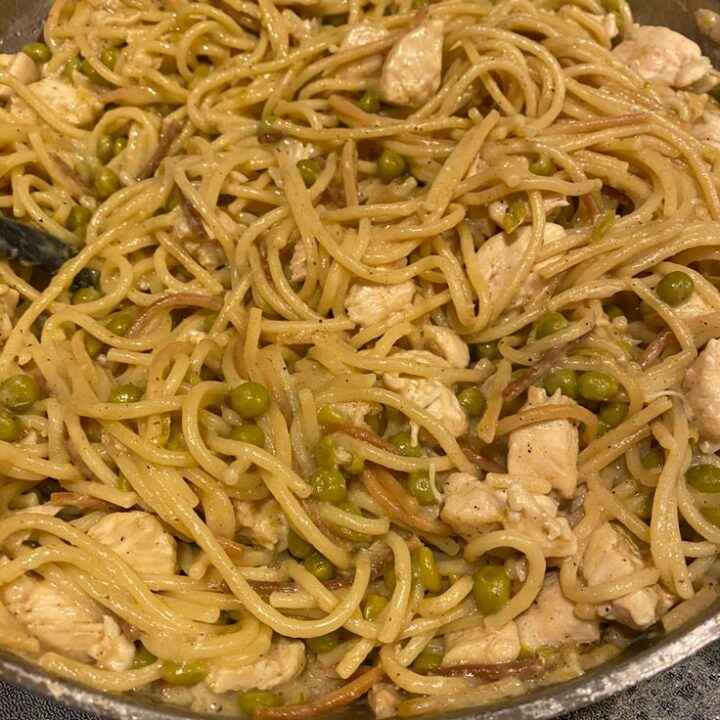 Creamy Skillet Noodles with Peas
Ingredients
1/4 cup butter, cubed
2 tablespoons canola oil
5 cups uncooked fine egg noodles
2-1/2 cups frozen peas (about 10 ounces)
2-1/2 cups chicken broth
1 cup half-and-half cream
1/2 teaspoon salt
1/4 teaspoon pepper
Instructions
In a large skillet, heat butter and canola oil over medium heat.
Add the fine egg noodles; cook and stir for 2-3 minutes or until lightly browned.
Stir in frozen peas, chicken broth, half-and-half cream, salt, and pepper.
Bring the mixture to a boil. Reduce heat; simmer, covered, for 10-12 minutes or until the noodles are tender, stirring occasionally.
Notes
For added richness, sprinkle a handful of grated Parmesan cheese over the finished dish before serving.
Nutrition Information:
Amount Per Serving:
Calories:

0
Total Fat:

0g
Saturated Fat:

0g
Trans Fat:

0g
Unsaturated Fat:

0g
Cholesterol:

0mg
Sodium:

0mg
Carbohydrates:

0g
Fiber:

0g
Sugar:

0g
Protein:

0g