Delicious recipe packed full of proteins. This meal is made with three types of beans, beef and bacon and is an excellent meal for growing kids. Prepare this when going for picnics, tailgating or potlucks.
Jill introduced me to this recipe when visiting for thanksgiving last year. I guess she had just discovered it and was so eager to share with me. She used Butter beans and baked beans, ground beef and a couple other pantry ingredients, waved her magic wand and voila! We got this. I was so pleased by how good this tasted (checks note.. another recipe to my arsenal!), but I guess I was more pleased by how sumptuous my kids found this. Any source of proteins for their growing muscles is welcome for me, and between the beans and the ground beef, this recipe is packed with proteins.
Since Jill introduced this, I have made some tweaks to that initial recipe, adding chilli beans to it, and also introducing bacon and I must say that this is just delightful. I can't wait to sow it to Jill when she comes over this year, and I'm sure her mind will be blown. This should be on your recipe bucket list and I promise you won't regret it. Oh! Did I tell you how easy it is to prepare this? Well, in under 20 minutes, you've had everything ready and cooking slowly in the crockpot.
Prep Time 20 minutes
Cook Time 4 hours
Total Time 4 hours 20 minutes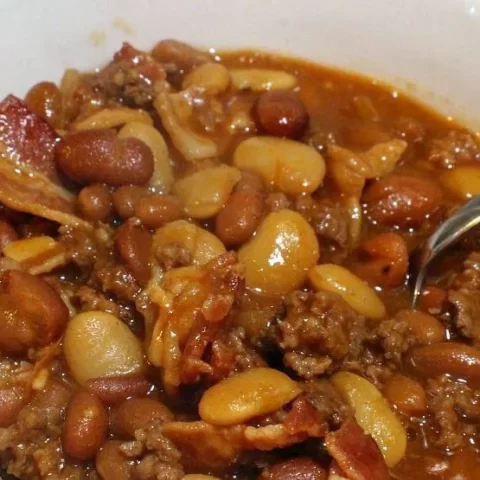 CROCK POT LOADED BAKED BEANS
Ingredients
1 Can Bush's Chili Beans
1 Can Bush's Butter Beans
1 Can Bush's Baked Beans
1 lb. ground and drained beef
1 lb. of bacon sliced
1 tsp. onion powder
1 tbsp. minced garlic
½ cup of ketchup
1 tbsp. brown mustard
½ cup of brown sugar
1 tsp. white vinegar
Instructions
Step 1:
The first step is to brown your hamburger and cook up your bacon, then drain. Spray your crockpot with a non-stick spray. Then open your cans of beans and dump them all into the crockpot.
Step 2:
Add in the rest of the ingredients and stir. Allow to cook on low for about 4-6 hours and serve!
Nutrition Information:
Amount Per Serving:
Calories:

0
Total Fat:

0g
Saturated Fat:

0g
Trans Fat:

0g
Unsaturated Fat:

0g
Cholesterol:

0mg
Sodium:

0mg
Carbohydrates:

0g
Fiber:

0g
Sugar:

0g
Protein:

0g