I remember when a friend first told me about using ranch packets to make delicious chicken and, to be honest, I was skeptical. It sounded odd but I tried it and became a huge fan. When I decided to try Crock Pot Ranch Chicken Tacos, I was a little hesitant (I am an overthinker!) The recipe is too easy not to try it out and I am glad I did, I make extra and freeze it to use in other recipes. You would think the seasoning would not go well in other dishes but you will be surprised. It is amazing when you find a recipe that is easy to make, delicious, and the leftovers are versatile and can be used in most any dish.
The fact that this is a taco recipe brings it even closer to my heart since I make different variations of tacos 2-3 times a week. If I stuck with one version, my family would boycott – I am constantly trying to find unique recipes! Currently, this is their must-have taco version, and I cannot believe they want to stick with the same version but I am not complaining.
When there are leftovers, or I make a double batch, I love having the chicken in other dishes. We also make nachos with it and that is delicious. Be creative, make extra, and be thrilled that you have cooked chicken ready to go!
Notes:
• Lettuce or Cabbage: Iceberg lettuce is the best type for tacos in my opinion! Either shred the lettuce yourself or grab a bag of shredded lettuce from the store. I am a shredded cabbage fan when it comes to tacos. I love the crunch and you don't wind up with wilted lettuce. I shred my own cabbage very thin, but you can also grab a bag of shredded cabbage if that is easier for you.
• Kick up the Heat: For spicier chicken, add cayenne pepper along with the taco and ranch seasonings, use a spicy taco seasoning mix, or shake some of your favorite hot pepper sauce. If others who do not have a love of all things spicy will be sharing the chicken, then you can set out some hot pepper sauces and let everyone choose their level of heat.
• Leftovers: Store the leftovers in an airtight container in the refrigerator for up to 4 days. You will be amazed at how well this chicken works in other recipes and with it already cooked, you will save time.
• Double the Recipe: If you want to have leftovers, doubling the recipe is easy. You will need a Crock Pot that holds 6 quarts or more. Also, increase the cooking time by about an hour.
• Freezing the Cooked Chicken: Once the chicken is completely cool, transfer to airtight containers or freezer bags. I would divide it and freeze amounts that you will need for a recipe – this way you can pull out and thaw just what you are needing.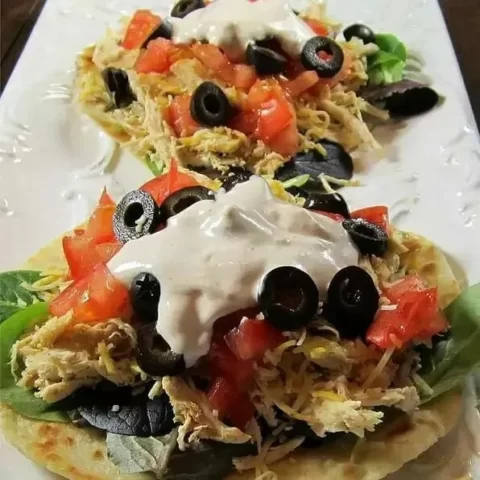 Crock Pot Ranch Chicken Tacos
Ingredients
4 boneless skinless chicken breasts
1 cup chicken stock – low sodium if you prefer
2 tablespoons low sodium taco seasoning – (or 1 packet of taco seasoning)
1 packet ranch seasoning
8-10 small taco-sized flour tortillas or corn tortillas
Optional Accompaniments
Shredded cheese Diced avocado Diced tomato Shredded lettuce or Shredded cabbage Red onion – thinly sliced Cilantro leaves – chopped
Instructions
Place chicken breasts in the bottom of the slow cooker.
Pour in the chicken stock, then sprinkle the chicken breasts with taco seasoning and ranch seasoning. Cover and cook on high for 3-4 hours or on low for 6-7 hours.
About 20 minutes before serving, use a slotted spoon to transfer chicken to a bowl, shred with 2 forks, then return to slow cooker and stir.
When ready to serve, fill tortillas with shredded chicken and let each person choose their toppings.
Enjoy!
Nutrition Information:
Amount Per Serving:
Calories:

0
Total Fat:

0g
Saturated Fat:

0g
Trans Fat:

0g
Unsaturated Fat:

0g
Cholesterol:

0mg
Sodium:

0mg
Carbohydrates:

0g
Fiber:

0g
Sugar:

0g
Protein:

0g