These pork chops are so easy, incredibly delicious, and fall into the comfort food category – Southern comfort food. I am not usually a fan of using all canned ingredients and packets of seasoning, but I like this recipe because there is a balance of fresh and canned ingredients. The pork chops are so tender, and the gravy is flavorful and just delicious. I love serving this over egg noodles, but mashed potatoes are great too, especially with the gravy. Speaking of gravy, my kids like to have French fries with this meal and dip the fries in the gravy. I'll admit it is fabulous this way!
Until I came across this Crock Pot Smothered Pork Chops, this dish was a Sunday dinner meal, something special. Everyone looked forward to it and the wonderful smell while we waited for it to finish cooking is in my memory forever. Now, I make it more often because it is so quick to get going and I don't have to watch over it for hours.
This is a meal people go back for more so it is unlikely you will have leftovers! Be prepared for requests to pour in because it will be a winning meal everyone will love.
Enjoy!
Notes:
• Pork Chops: The pork chops that work best include blade chop, shoulder chop, sirloin chop, or tenderloin chops – and thick cut. Well marbled cuts are the ones that are tender when slow cooked. Leaner cuts do work but the results are not as tender, and it is easier to overcook these, and the meat will be tough.
• Best Cooking Method: For the most tender pork chops, cook on low. The slower the cooking, the more tender the meat.
• Leftovers: Store in an airtight container in the refrigerator for up to 2 days. You can also make individual serving containers for a quick lunch.
• Soups: Do not add any milk or water to the cream soups. They are meant to be used directly from the can. You can substitute another condensed cream soup if you prefer – the Cream of Mushroom and Cream of Chicken combination is what we love but feel free to get creative!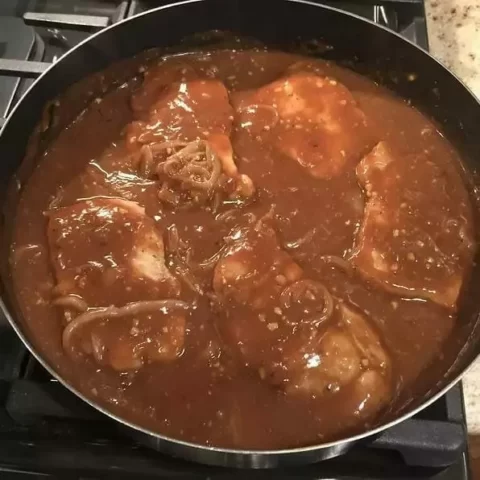 CROCK POT SMOTHERED PORK
Ingredients
4 – 6 Boneless Thick Cut Pork Chops
2 cups sliced Baby Bella mushrooms
1 medium onion – sliced
1 (10.5 oz.) can Cream of Mushroom Soup
1 (10.5 oz.) can Cream of Chicken Soup
¾ cup beef broth – low sodium preferred
2 tsp. minced garlic
1 tsp. paprika
1 tsp. ground pepper
Instructions
Place the pork chops in the bottom of a 6-quart crock pot.
Place the mushrooms and onions on top of the pork in the crock pot.
In a medium size mixing bowl, whisk together the Cream of Mushroom Soup, Cream of Chicken Soup, beef broth. garlic, paprika, and pepper.
Pour this mixture into the crock pot.
Cover and cook on low for 6-8 hours (low is best) or on high for 3-4 hours – the pork must have an internal temperature of 145° F.
Serve over mashed potatoes, egg noodles, or with French fries. Roasted asparagus or green beans complement the pork chops well.
Nutrition Information:
Amount Per Serving:
Calories:

0
Total Fat:

0g
Saturated Fat:

0g
Trans Fat:

0g
Unsaturated Fat:

0g
Cholesterol:

0mg
Sodium:

0mg
Carbohydrates:

0g
Fiber:

0g
Sugar:

0g
Protein:

0g