Crockpot Cheese Tortellini and Sausage recipe. Bursting with flavors, this dish marries the simplicity of a slow cooker with the richness of Italian cuisine. Imagine tender cheese-filled tortellini, savory sausage, vibrant spinach, and creamy cream cheese all melding together in a symphony of tastes. This effortless recipe promises a hearty and satisfying meal for any occasion.
Why You'll Love This Recipe:
This dish is a testament to the beauty of slow-cooked meals. Not only is it incredibly easy to prepare, but it also delivers a luxurious taste experience. The cheese tortellini adds a delightful cheesy surprise with each bite, while the sausage brings a robust, meaty character. The freshness of spinach and the creaminess of the cream cheese elevate this dish to gourmet heights. Plus, the convenience of the crockpot ensures your dinner practically cooks itself!
Recipe Tips and Variations:
Add Some Heat: Spice enthusiasts can toss in a pinch of red pepper flakes for a subtle kick.
Cheese Variations: Experiment with different types of cheese tortellini for a variety of flavors.
Why This Crockpot Cheese Tortellini and Sausage Stands Out:
Effortless Elegance: It's a dish that tastes like you spent hours in the kitchen, yet it's incredibly easy to make.
Family Favorite: Kids and adults alike will love the cheesy tortellini, making it a hit for family dinners.
One-Pot Wonder: Minimal cleanup is required thanks to the simplicity of crockpot cooking.
What to Serve With This Recipe:
Pair this creamy delight with a side of garlic bread or a crisp garden salad for a well-rounded Italian meal.
Remember it later
Like this recipe! Pin it to your favorite board NOW!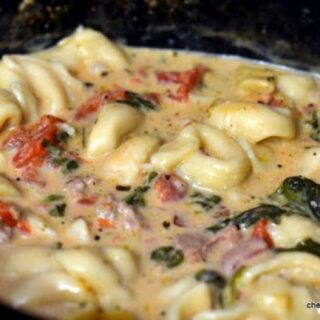 Crockpot Cheese Tortellini and Sausage
Total Time:
5 hours
15 minutes
Make some Italian food tonight with this easy Crockpot Cheese Tortellini and Sausage recipe. Serve with a side salad and some hot bread for a quick dinner any night of the week. Top with shredded parmesan cheese or chopped fresh parsley for an added elegant touch.
Ingredients
1 (19-ounce) bag frozen cheese tortellini
1 pound sausage (preferably Italian)
1 (10-ounce) bag fresh spinach
2 cans Italian style diced tomatoes
2 (12-ounce) cans low-fat chicken broth
1 (8-ounce block) cream cheese, cut into cubes
Instructions
In a skillet, brown the sausage until cooked and crumbled. Drain any excess fat.
Crockpot Magic:
In a 6-quart slow cooker, combine the cooked sausage, frozen cheese tortellini, fresh spinach, Italian style diced tomatoes, low-fat chicken broth, and cubed cream cheese. Stir gently to combine all the ingredients.
Slow Cook to Perfection:
Cover and cook the mixture in the slow cooker on low for 5 hours, stirring twice during cooking to ensure everything blends beautifully.
Serve and Savor:
Ladle the creamy tortellini and sausage concoction into bowls. Garnish with a sprinkle of grated Parmesan cheese and fresh basil, if desired. Serve hot and revel in the flavors of this Italian-inspired masterpiece.
Nutrition Information:
Amount Per Serving:
Calories:

0
Total Fat:

0g
Saturated Fat:

0g
Trans Fat:

0g
Unsaturated Fat:

0g
Cholesterol:

0mg
Sodium:

0mg
Carbohydrates:

0g
Fiber:

0g
Sugar:

0g
Protein:

0g
Remember it later
Like this recipe! Pin it to your favorite board NOW!