This recipe is comfort food, and it is easy. It is the perfect nexus point of chicken pot pie and old-fashioned Southern chicken and dumplings. Each of those hold a special place in my heart, but they are both somewhat time and labor intensive. This recipe brings them together brilliantly, the whole family loves it, and that makes me happy!
The ingredients are simple and easy to keep on hand. When I was a kid, I always wanted to cook dinner and I would dig through the pantry looking for ideas. I then realized that my husband and kids could make this recipe and it would be ready when I got home from work.
Since there is very little prep and everything goes into the Crockpot, I was feeling confident. I came home and saw their beaming smiles, I could smell comfort food waiting in the kitchen, and I must admit that the dumplings were perfect!
Notes:
* Boneless, skinless chicken thighs work great as well and can be substituted.
* Other vegetables such as green beans are delicious in this as well. If you want to switch out the vegetables or have some that you want to use, please do!
* Alternatively, if you want to leave out the vegetables, you can, and it will be delicious and very similar to classic chicken and dumplings.
* If you do not have refrigerated biscuits, other options work just as well. Crescent rolls, homemade biscuit dough, and frozen biscuits (thaw slightly) are a few alternatives.
* Not only does this make a perfect family meal, but it is also a great recipe for anyone wanting to begin learning how to cook!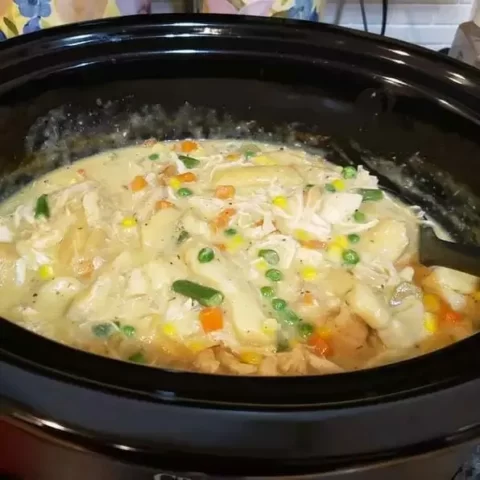 CROCKPOT CHICKEN AND DUMPLINGS
Ingredients
4 boneless skinless chicken breasts
2 cans Chicken Broth (14.5 oz. each)
2 cans Condensed Cream of Chicken Soup (10.5 oz.)
1/2 cup of chopped carrots
1/2 cup chopped celery
1/2 cup frozen peas
1/2 cup diced onions
1/4 cup cooked and crumbled bacon
1 tsp. parsley
1/8 tsp. garlic powder
1/4 tsp. salt
1/4 tsp. pepper
1 16 oz. can refrigerated biscuits
Instructions
Place chicken breasts in bottom of Crockpot.
Pour chicken broth and both cans of cream of chicken soup over the chicken.
Add in the carrots, celery, and onion.
Then add the garlic powder, salt and pepper and parsley flakes.
Place the lid on the Crockpot and cook on low for 6 hours, or on high for 3 hours.
At the end of the cooking time, carefully remove the chicken and either chop or shred it. Return the chicken to the Crockpot with the crumbled bacon and the peas, stir together.
Cut the biscuits into quarters and place on top of the other ingredients in the Crockpot.
Cover and cook on high for 60-90 minutes until the biscuits are cooked through (stir occasionally during this cook time).
Add salt and pepper if needed.
Serve warm and enjoy!
Nutrition Information:
Amount Per Serving:
Calories:

0
Total Fat:

0g
Saturated Fat:

0g
Trans Fat:

0g
Unsaturated Fat:

0g
Cholesterol:

0mg
Sodium:

0mg
Carbohydrates:

0g
Fiber:

0g
Sugar:

0g
Protein:

0g